Rezone Route 59 Corridor To Include Light Industrial and Office Uses
By Rick Tannenbaum
If you plant one crop in a field, the land becomes a monoculture, a singular environment that lacks diversity and the flexibility to shift with ease. Clarkstown's Route 59 retail corridor runs the risk of becoming that monoculture if it continues to over-rely on a homogenous mixture of retail and fast-food restaurants, particularly as large chains and big boxes are disappearing.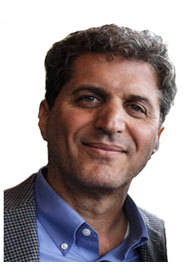 Understandably the easy fix for another shuttered store is to fill it with more retail, frequently with more down market tenants. Fast food and big boxes generally pay low wages and hire few employees. A case in point is At Home, the home goods retailer that will be leasing 100,000 square feet in the former Macy's building but employing between 35 and 40 workers.
Examine the possibility of rezoning parts of the retail corridor for light industrial, office, and other nontraditional uses.
What if Clarkstown's leaders thought outside the box and examined the possibility of rezoning parts of the retail corridor for light industrial, office, and other non-retail uses such as manufacturing, business incubators, maker-spaces, and TV/film studios?
According to New York State Department of Labor's Hudson Valley profile, entry level food preparation and serving workers including fast food earn only $21,632 per year. Experienced workers earn $26,850 per year.
Retail sales wages fare only slightly better with entry level wages comparable to food service wages. More experienced retail salespeople can earn up to $34,550 per year.
Compare those wages to office workers (entry level: $25,250, experienced workers: $52,040) and production workers (entry level: $23,380, experienced workers: $51,140).
In fact, the median wages for office workers is $39,100 and for production workers, $35,800. Compare that to median wages for food service of $24,700 and retail of $24,570.  Production and office jobs provide incomes that are about 50% higher than food and retail jobs.
In addition to wage disadvantages, big box stores provide fewer jobs per 1,000 square feet of floor space. Discount stores on average employ 1.3 employees per 1,000 square feet. In contrast, light industrial companies hire 2.5 employees per 1,000 square feet. Office employers have 4.17 employees per 1,000 square feet. Even higher are medical practices, which employ 4.3 employees per 1,000 square feet.
At Home, as noted above, plans to hire between 35 and 40 workers—an employee ratio of .375 workers per 1,000 square feet. That's less than the average number of employees a discount store typically hires.
Let's look at Ocean State Job Lot, which is replacing Toys "R" Us.  The company typically staffs it stores with 37 employees per store. In its new 38,000 square foot location on Route 59 it will reportedly employ just one worker per 1,000 square feet, better than At Home but even fewer than non-discount retailers, and far fewer than typical office and light industrial companies.
Chasing low staffing retailers who offer meager wages is not a formula for economic success.
Clarkstown has recently formed an economic development committee to study the way forward for the Route 59 corridor, and its impact on the town and the county.
Hopefully, these esteemed individuals will think about new ways to shape the future through rezoning, economic incentives and outreach. As Clarkstown embarks on an effort to rezone 38 acres around the Nanuet train station (Transit Oriented Development), town leaders should cast a wider net, and think about relocating the lost light industrial acreage elsewhere in the town. After all, the intended purpose of the TOD is to wipe out the existing industrial buildings through rezoning. Perhaps those jobs can find another home elsewhere in Clarkstown in another LOI zone.
---
New Thinking Over How To Use Glut Of Empty Bank Buildings (January 31, 2019)
When Fair Leasing Terms Are a Workout (January 2, 2019)
Finding Balance in Scaffold Law Reform (December 11, 2018)
Economic Vitality Depends on Affordable Housing Options (November 26, 2018)
Opportunity Knocks on Haverstraw's Door  (November 4, 2018)
Real Estate Investors Rejoice Over New Depreciation Opportunities (October 23, 2018)