Duo Who Run The Souk Will Hold Information Session March 16th
By Tina Traster
It all started with a house – as so often a great adventure does.
Joe Serra and Bill Walsh fell in love with an 1868 Gothic Victorian pile along the Sparkill Creek in Piermont. After much debate, they also bought the commercial building next door that had housed a garden store for 50 years. The same seller owned both buildings.
Serra and Walsh were not in the market for a dilapidated 2,500-square-foot commercial building but they figured it made more sense to maintain control over who would rent the building that sat aside their domicile.
What they couldn't have seen is that they would be the ones to occupy that former garden shop, and organically grow a business that included rental space, tropical flowers, artist galleries, an espresso bar, and a farmers' market under its roof. Collectively, it's called The Outside In at 249 Ferdon Avenue.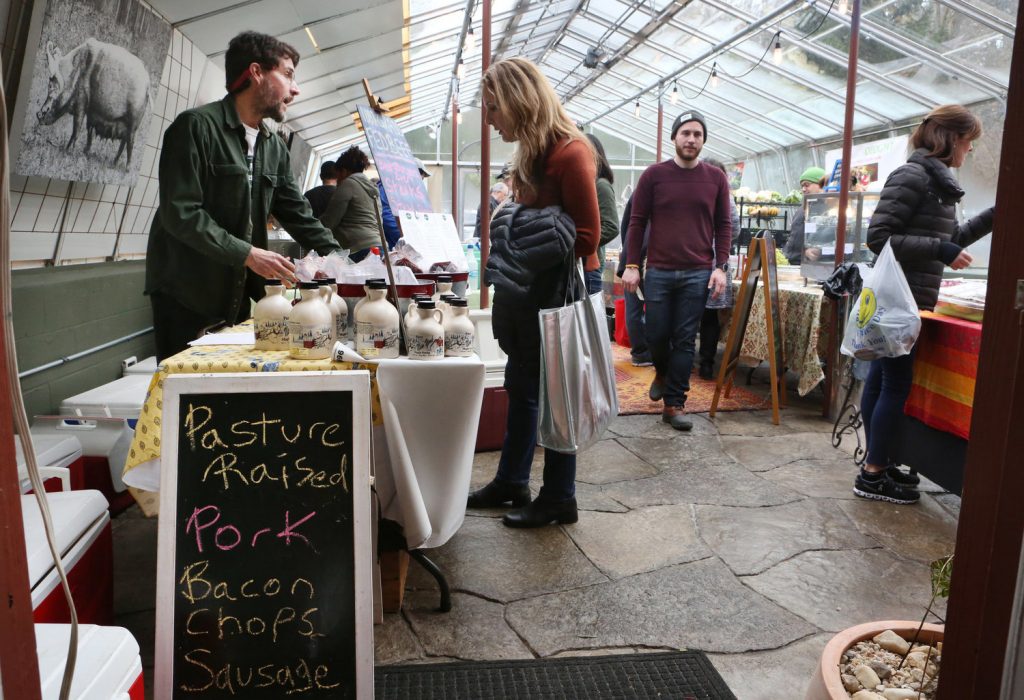 The long and winding road of being once gainfully employed in corporate and healthcare jobs to taking a daring entrepreneurial odyssey has been a trying but satisfying journey for both men, who are each in their mid-50s. Now another challenge awaits. The pair have convinced M&T in Piermont bank to sever its ties with Down To Earth, the company that for 14 years ran the outdoor Piermont Farmer's Market in the bank's parking lot and allow them to operate it instead.
"We've made a series of decisions. We've trusted ourselves. Gone out on a limb."
On March 16th, the pair will host an open house at The Souk from 2 pm to 3:30 pm to talk about their new stewardship of the outdoor market. An M&T representative is expected to be there to talk about the change.
Serra and Walsh are not amateurs when it comes to thinking creatively. A year after the acquisition of their house in 2007 they learned from their lawyer the commercial building they bought would revert back to being zoned residential if it went unoccupied for a year.
"We were shell-shocked," said Serra. "We had to open a legitimate business. We didn't know what we would do. Neither of us had worked in retail. Because it was a florist before, and because we didn't have significant capital to invest in renovating or in inventory, we tried to continue what had been there."
The need to protect the zoning status led to a hunt for consigned "outsider" art and objects like sculpture and birdbaths to open what was effectively a gallery. The pair discovered a knack for bringing artists to their space.
"There was no shortage of great work to be shown – just a shortage of places to show it in," said Serra, adding that The Outside In at one point was showing the works of at least 100 artists.
By 2011, Walsh quit his nursing job, while Serra continued to work in IT for Verizon.
In 2014, saddled with costs, the pair made a big push to diversify. Serra left Verizon. Again, the pair looked around Rockland and saw what wasn't there. The versatility of the three-room space led to a winter's farmers' market and occasion rentals.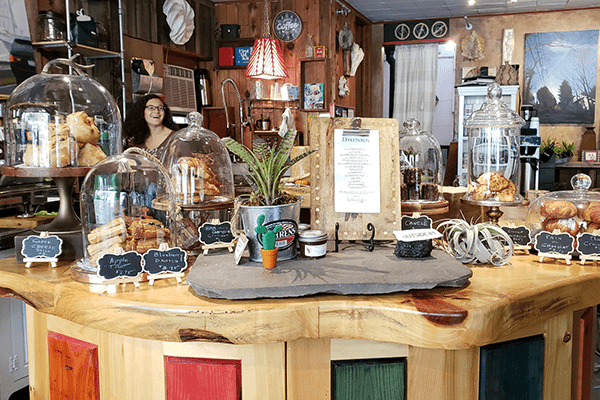 There was no indoor Sunday farmers' market, and certainly not one where people could gather in a quirky space with lots of light, art on the walls, and a wood-burning stove. The espresso coffee bar became another magnet. They named the market "The Souk", to denote a remote place where tradesmen gather. The market typically hosts about 12 vendors. It has been a big success for both Walsh and Serra, as well as vendors who are looking to test-drive their products. The Souk welcomes "new entrepreneurs rather than established ones," said Serra. Rockland Roots food truck, for example, used the market to gain brand awareness.
The Souk is as much about selling products as it is about selling brand. It's designed for networking because it's small, intimate and open to new concepts — all philosophies Walsh and Serra have plied themselves.
"Everything has evolved organically," said Walsh. "Even now, there's not a specific game plan. Rather, we've made a series of decisions. We've trusted ourselves. Gone out on a limb. Basically we were taking what we've had and whatever worked, built on it."
Looking forward, the pair see opportunity in the espresso bar and the outdoor Piermont market. No doubt the request to commandeer the market was a bold one but the duo say they have proven to be an incubator for local companies, and that a farmers' market should intrinsically be about giving back to the community.
"We wanted to be considered," said Serra, of his successful request for the market. "We live here. We run The Souk. We have a nonprofit. All their (Back To Earth) vendors were outsiders. With this market, we want to promote Piermont."