Clarkstown Plans To Create New Position For Economic Development
By Tina Traster
The Town of Clarkstown has formed a business and economic development advisory committee to stimulate commerce in the Nanuet/Route 59 corridor and to weigh in on the updating of the town's comprehensive plan. The committee, comprised of business and government leaders, is tasked with studying ways to keep Nanuet, the heart of Clarkstown, a viable retail and development hub.
Nanuet's commercial base, said Clarkstown Town Supervisor George Hoehmann at a press conference today, accounts for over 60% of the county's ratables." He added Clarkstown is the "envy of other town supervisors" for its central location, its commercial infrastructure, and its access to all forms of transportation.
The committee will submit a report within six months to examine a host of logistics and provide recommendations to improve the way the town promotes and facilitates approval processes, study retail trends and develop marketing plans to court retailers. The report will also study a framework for the town's comprehensive plan, which begins work in 2020, and will propose potential changes to the building and zoning laws to "promote business and development within the town," Hoehmann added.
"Clarkstown sends the message it's open for business."
Meanwhile, efforts to create a Transit Oriented Development (TOD) are forging forward with studies, planned zoning changes, and discussions with developers looking to get in on the ground floor. Clarkstown is plowing ahead with a proposal to rezone a 38-acre area group of parcels around the Nanuet train station into multi-family, mixed use development, and prohibit any future industrial uses. The proposed zoning will be up for a vote within the next couple of months, and is expected to pass. However, there is widespread agreement that train service on the NJ Pascack Valley line is inadequate.
The 13-member advisory committee, which includes town planner Joe Simoes, chief of staff Albert T. Moroni, and Director of finance and strategic communications Robert Alberty, will be chaired by Howard Hellman, chairman of All Bright Electric.
Clarkstown Plans To Create New Position For Economic Development
The committee is comprised of business owners, representatives from countywide economic planning boards, as well as Chamber of Commerce heads. Committee members will volunteer their time but Hoehmann said the town plans to create a full-time economic development appointment next year. The supervisor said he would apply for CFA funding to pay for that position.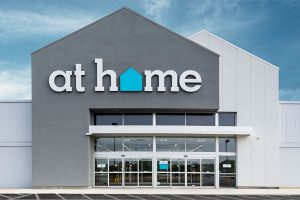 Metropolitan Reality Associates CEO Joseph Farkas, who has brought At Home, the Texas-based home furnishing retailer to lease the ground floor of Macy's, said there has been great interest in the upper floors over the past two months since At Home closed on its lease. "That's because Clarkstown sends the message that 'it's open for business.', Farkas said."
The Route 59 corridor has seen its share of big box and department store closings or bankruptcies including Macy's, Toys "R" Us and Sears. Ocean State Job Lot, a Rhode Island-based discount closeout retailer, has bought the former Toys "R" Us Nanuet location for an undisclosed sum.
Job Lot, as well as At Home, the Plano, Texas-based home decor superstore retailer that is taking 100,000 square feet in the former Macy's store on Route 59, and Bob's Discount Furniture, which has replaced Baby's "R" Us, hint at the kind of retailers reshaping Rockland County's main shopping hub. All target discount shoppers with a warehouse-style or big-box shopping experience.
This has been a brutal year for store chains. Chains have closed more than 5,000 stores, while smaller regional retailers have been going dark too.
"There is fear about the internet and other challenges to retail but brick and mortar is not going anywhere," Hoehmann added.
Also read:
Proposed Zoning Change Would Dramatically Alter Nanuet Business Streetscape