New Law Would Be Needed To Allow Food Trucks Around Train Station
By Tina Traster
He's 30, doing what he always wanted to do, and hungry to do it bigger and better.
Frank Ficcarra, a Pearl River native and resident, opened Dill Mediterranean Grill in New City 18 months ago after a long effort to find the right space and then a frustrating slog outfitting it for a restaurant. But he's determined to keep building his brand of fast casual Chipolte-like Mediterranean fare with additional brick-and-mortar locations and possibly a food truck.
Ficcarra at a town board meeting, asked the board to consider proposing and passing legislation that would permit food trucks on or near town property in the downtown. The restaurateur would like to set up a food trailer to serve the late-night bar crowd and early-morning commuters.
Town officials acknowledged his request does not fit into the standard peddlers' license and said they would have to take his request under advisement.
Ficcarra is hoping to tap into the growing momentum to make Pearl River a more dynamic hub. Two breweries, hip restaurants, a new farmers' market, and plans to build housing downtown around the train station represent opportunity for entrepreneurs. Ficcarra's vision is to convince Pearl River to allow food trucks, food cars and food trailers to cater to bar patrons from 10 pm to 3 am – a window when restaurants have already closed but people are looking for late-night grub. Similarly, a truck parked near the train station could serve early morning commuters.
He is not asking Pearl River for the exclusive right to have a truck – he sees the potential for multiple vendors to add a cool millennium vibe to the hamlet.
"This is something you see in Boston or New York City," said Ficcarra. "Pearl River should be the crown jewel in Rockland County. We have the St. Patrick's Day parade, a night scene, but we should bring what we love about other places to where we are."
The visionary is aware that one or multiple food trucks will cause concern among some who will raise issues over parking and noise but he said clustering trucks downtown would mitigate disturbance to residents. Still, he's prepared for the back-and-forth discussion he hopes will take place. And soon.
"If Orangetown passed laws allowing this, I would go do the health department tomorrow, and then I'd pick up a trailer," said Ficcarra, adding he'd start with an 8 foot by 4 foot trailer. "I'm ready to rock."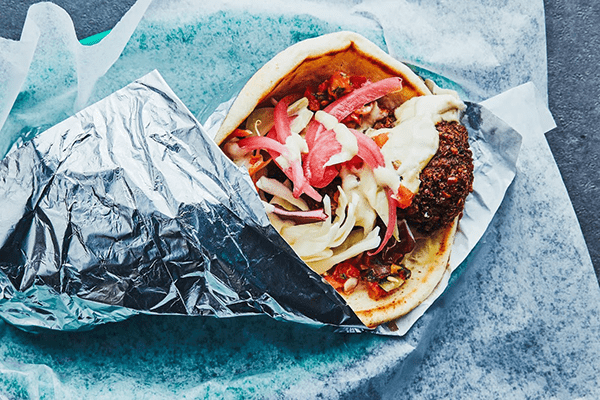 Dill's founder says a food truck enables a restaurateur to show off his cooking abilities, to build his brand. He believes Pearl River draws from a larger population of northern Bergen towns. Ficcarra doesn't have a specific plan on how he wants to grow, he only knows that he does.
A CIA (Culinary Institute of America) graduate, Ficcarra cut his teeth at 8 North Broadway in Nyack, and later as a manager of Chipolte in Woodbury Commons, where he learned the fast casual food business. While studying abroad in Italy in 2009, he sampled Turkish Doner Kebabs, and later thought "there's nothing like this in America." Dill is his attempt to replicate that concept in Rockland County.
It took two years to open his restaurant, which he financed with the help of friends, family and investors. He had a particularly hard time getting gas lines installed. He did some marketing, and relied on his wife's teaching job to weather the start-up process. Today the eatery on North Main Street has more than a dozen employees and is becoming a go-to for falafel.
In his short journey as an entrepreneur, Ficcarra learned that his patrons don't necessarily find him; he needs to go out and find them. He believes a good product always wins the day. And finally, he's discovered a well of strength from within he ever imagined he had.
The Dill brand needs to be targeted to a younger demographic in high density areas. The food truck, he says, will capture the night creatures frequenting bars.
Whatever road he travels, Ficcarra, a scrappy foodie, is like a Shark Tank contestant. He's out there to make his dreams come true.
see also:
AJ's Kitchen Serving Up Locally-Sourced Food and Drink In Pearl River