Foodie Brothers Tapping Into Pearl River's Emerging Scene
By Tina Traster
The brothers who've been feeding Pearl River and beyond home-made comfort food for six plus years are cooking up a new venture.
The popular AJ's Catering and Takeout is closing but CIA-trained chef AJ Servidio and his brother Doug Faehndrich are opening AJ's Kitchen at 17 North Main Street within the next couple of weeks. The duo believe Pearl River is ready for a full-scale restaurant that emphasizes locally-grown foods, wine and craft beer.
After a successful run in catering and takeout, the brothers scouted around for a site but ultimately felt Pearl River was the place to be. Not only have they built a loyal customer base, they believe Pearl River is on the cusp of a downtown revival, and wanted ground-floor admission.
"New York has a thriving brewing and wine industry, and we want to highlight them
Faehndrich, who spoke with RCBJ, believes Pearl River is poised for a new chapter. There is talk of turning the downtown area into a "Transit Oriented Development," which would add multifamily housing and retail to the hub around the train depot. Both Defiant and Gentle Giant breweries have brought new energy to Pearl River. Mickey's Tavern and Dean's Coffee have added cache to the street.
But the renaissance is still early. For better or worse, Faehndrich notes parking is easy and too many retail spaces are empty.
"There's great room for growth," said Faehndrich." We're excited about Defiant and Gentle Giant, the new coffee shop, and plans for downtown housing."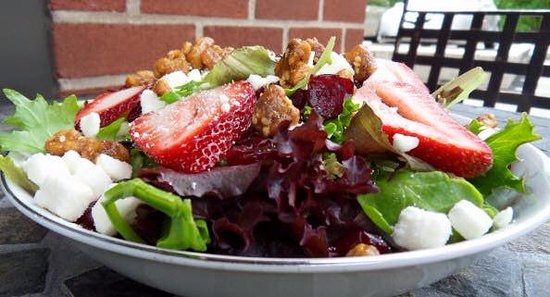 Bringing locally-sourced, New York-centric foods to Pearl River will put AJ's Kitchen in the vanguard of the hamlet's changing food and beverage scene. The chef will source the majority of his produce from New York farms, and the restaurant intends to serve only New York made craft beers and wines.
"New York has a thriving brewing and wine industry, and we want to highlight them," said Faehndrich. AJ's Kitchen will have six beer taps, as well as cans and bottles, and a similar number of wines. "New York wine is underappreciated," he added.
Faehndrich, like so many entrepreneurs in the food and beverage business today, understand that restaurants are not single entities that feed people. Rather, they are "community members" that cross-fertilize with other like-minded purveyors of goods and services that key into the experience they are selling. Making locally-sourced part of their narrative gives AJ's a platform to showcase New York State, as well as other businesses participating in this trend. They intend to serve beer brewed at Pearl River and other Rockland breweries.
The brothers have put a lot of skin in the game. They've invested $150,000 to gut-renovate the 1,750 square-foot space, which they've leased for 10 years. Previously occupied by butchers – which have mostly disappeared from most main streets – the duo have used reclaimed wood to build a bar. The interior evokes the industrial rustic vibe with exposed concrete walls, and Edison bulbs.
AJ's Kitchen, with seating for 40, will serve lunch and dinner seven days a week. Sandwiches will cost around $8, dinner plates will average $15.
"We think Pearl River is ready for a locally-sourced restaurant," said Faehndrich. "We don't look at ourselves as pioneers. We're opening the kind of restaurant we'd want to go to."
At the heart of the local food movement is a desire to know where your food is coming from and how it's been grown.
And if Faehndrich worried that other downtown business owners would feel uneasy or competitive, he says he couldn't be more wrong.
"It's been just the opposite," he said. "We've been meeting the local business owners and everyone's been supportive and excited because in the end of the day what everyone wants is for Pearl River to be a vibrant place."
Read Also:
Downtown Revitalization On Track, Even If Train Service Is Poor
Nyack's Travis Koester of The Local Taphouse To Open A Brewery In May At Former Bourbon Street Location