RCBJ-Audible (Listen For Free)
Concessionaire Jason Donofrio Steps Up Food, Music And Operations To Make Enterprise Profitable
By Tina Traster
A reboot at Tallman Beach and Pool Club has breathed new life into a Rockland County asset that has been through a metamorphosis over the past five years. Jason Donofrio, a concessionaire at Rockland State Park, has partnered with Billy Procida, to take the Piermont facility to the next level by mixing up the food, beverage, and music offerings, as well as improving operations and infrastructure.
Despite the pandemic, the pool club, which sells season and daily passes, is thriving, and its co-operators both have an optimistic outlook for its future.
"Jason is doing great," said Procida, the Piermont financier who signed a 20-year lease in 2015 with the Palisades Interstate Park Commission to take over what was then known as Tallman Mountain State Park Pool. "The place is running better than ever. It looks better than ever. I'm so happy he and I found each other."
By Aug. 2019, Procida, a man with big dreams and a big persona, had come to realize how difficult it was to run a swim club.
"He contacted me that summer," said Donofrio, referring to Procida. "I told him if you want to get the club up and running right, you need an experienced operator. Billy appreciates candor. I told him he's got to make changes. It wasn't making money."
Donofrio, who runs the concessions at Rockland Lake State Park and the state park's golf course, hit the ground running. He ditched the "bougie" menu and replaced it with burgers, fries, chicken wings, empanadas, and pizza. He eliminated table service, reorganized staff, and focused on poolside drink service. He pared waitstaff but added bussing. He brought in a POS system called Toast to digitize food and beverage service.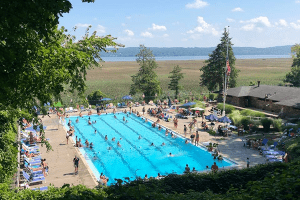 "Food sales in its best years had netted $700,000," Donofrio said. "Last year, during COVID, over just six weeks, we cleared $850,000, and this year we're going to do over $1 million.
Donofrio gave the place a fresh shine, adding 100 umbrellas with a uniform design rather than ad hoc motifs. Music from the 70s and 80s plays throughout the day, "creating a little vacation oasis," said the operator. To appease Piermont residents who've been bothered by noise, the music stage has been re-located away from the village. Spectators listening to bands are now seated in chairs facing the river rather than toward the buildings.
"We've made common sense changes," said Donofrio.
The club operator has stepped up nighttime entertainment, more than tripling its investment of up to $2,500 a night for acts like Stone Flower, The Peach Project, Tito Puente Jr.
Donofrio also took a good look under the hood and made improvements to both the kitchen and the pools, which had mechanical problems.
"We have made a massive investment, but I believe we will get it back tenfold," said Donofrio. That included a big push on social media to promote the club with drone footage of the facility.
The efforts appear to be paying off.
Donofrio said seasons passes, which range in price from $580 for an individual and $1,290 for a family, nearly doubled this summer compared to last. Day passes remained steady year-to-date, but the operator says the pool has so far closed 18 days due to rain.
Come the fall, Donofrio will assume the mortgage on the facility, which Procida will guarantee.
"Billy has really helped me learn the administrative side of the business," said Donofrio. "He's helped me with P&L reports, dealing with banks, the finances. But I'm a good operator. Everybody's got a lane. I just took the canvas and made it what it should be. We've created an actual paradise."
To close out the season, Tallman Beach and Pool Club will donate the day on Sept. 11th to Alumni in Recovery, Rockland and Bergen, a nonprofit that works with schools to promote substance awareness. And though he'd thought about keeping the club open through October for concerts, Donofrio said he felt nervous about the rising cases of COVID and the Delta variant. Instead, he is planning for the 2022 season with another round of changes including relocating the bar, extending the kitchen for a pizza station, and planning for better staging and lighting in order to create a premiere venue for concerts.