RCBJ-Audible (Listen For Free)
Rand Commercial's Debbie Binstok Says Landlords Should Consider Repurposing Their Space
By Judith Bachman
For years prior to the pandemic, suburban office leasing languished in the doldrums.
By 2019, rents per square foot in the Hudson Valley office sector hit bottom.  Prior to the pandemic, office complexes close to transit hubs – – near train lines or major highways – – tended to do well; but those farther flung ones could never command high rents.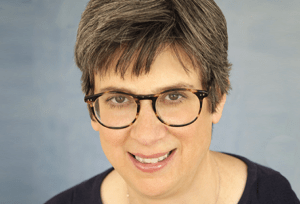 Many spaces remained vacant and potential tenants were scarce.
When COVID hit, many landlords and commercial real estate brokers hoped that there would be an uptick in the suburban office sector.
Debbie Binstok, a commercial real estate broker who specializes in office leasing at Rand Commercial, noted that many suburban landlords hoped that those fleeing New York City would take office space locally just as the housing market heated up.  The pandemic- fueled theory was that as people relocated to suburban areas, they would seek office space near their new homes.
Unfortunately, that theory did not materialize.
While Binstok did see a few COVID-related office relocations, the transactions were often under short term leases or sublets.  And as pandemic fades, Binstok is seeing those businesses leaving the local office market to return to New York City.
"Many businesses are stuck in long term office leases in New York City," said Binstok. "They have to go back for economic reasons.  And their younger employees want to be back in the city or they never left."
However, there is a bright spot for the suburban market.
Binstok says landlords and localities should refresh their approach because there may still be an interest in suburban leasing.  She believes people will crave the camaraderie that offices offer and that office complexes that put in amenities such as collaborative workspaces, gyms, food offerings, and conference space will outperform competitors in the local market.
She also says local governments need to facilitate repurposing an excess of space.  Just as in the retail sector is having to rethink how it functions, , office space too can be converted to hotel or residential use, which could provide a labor force to fill the remaining office space.  Those conversions could only be done though if there are zoning changes that permit such uses.
This is not the first time Binstok has hoped for transition in the office market.  She has been a commercial real estate broker for nearly 40 years.  She noted that in the 1990's there was talk of repurposing office space.  While it did not happen en masse then, she sees a more fertile playing field for change.
Judith Bachman is the founder and principal of The Bachman Law Firm PLLC in New City. judith@thebachmanlawfirm.com 845-639-3210, thebachmanlawfirm.com