RCBJ-Audible (Listen For Free)
Valley Cottage Homeowner Gets More Time For Court Case
A Valley Cottage homeowner who removed large swaths of vegetation and trees from both his land and adjoining town-owned land on West Hook Mountain is being given more time to prove that a stormwater management plan will resolve his case in town court.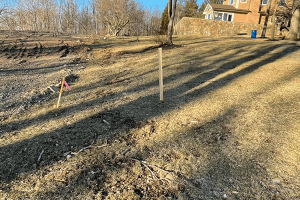 On June 29, Town Justice Scott Ugell granted Attorney Donald Feerick, Attorney Donald Feerick, who is representing the homeowner Edward Teitel at 20 Old Stone Road, a third adjournment on the case. The next hearing is scheduled for July 27.
Feerick originally asked for another 30-day adjournment to "wrap up the case."
Town Attorney Leslie Kahn said there is no settlement with the homeowner.
Kahn, Feerick, and Ugell, went into private chambers for nearly 20 minutes to discuss the case. Feerick told the judge his client is working on temporary fixes.
The drainage issue is one of three Teitel has pending with the town, but the land-filling violation is the only one before the court. The other issues pertain to the second-floor addition built without permits and the unpermitted felling of trees on his property as well as on town parkland.
Kahn said "the town DEC (Department of Environmental Conservation) is reviewing the submitted plan.
The stormwater management plan would address and mitigate runoff from the property in accordance with the town code, according to Feerick, He also said his client has already taken action to seed and straw the land to prevent runoff.
---
Monsey Developer Pays $11.2 Million For Vacant Land Off Route 208 In Orange County
A Monsey developer made the latest in a recent string of big land purchases in and around the village of South Blooming Grove, paying $11.2 million last month for 84 acres of mostly vacant land off Route 208.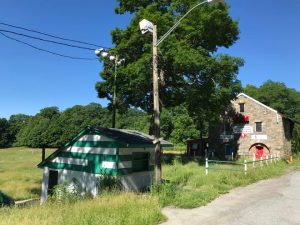 The property is the site of a closed driving range and boxing gym, surrounded by woods and close to the busy interchange where Route 208 meets Route 17.
The owner, David Plotkin, had listed the land for sale for $8.5 million in 2017. A deed transfer filed in June with the Orange County Clerk's Office indicates the newly formed Orange Industrial LLC paid him almost $3 million more than that for the property on May 13.
That company's Monsey house address and a lawsuit filed one week after the sale indicate that Abe Brach was the buyer, according to the Times Herald-Record.
In that pending case, a Blooming Grove real estate company claims it was hired to negotiate the land sale to Brach but never paid the commission it should have gotten under its six-month contract. Blooming Realty is accusing Plotkin's land-holding company – Infinity Holdings Northeast LLC – of breach of contract and seeking at least $600,000 in damages.
---
HGAR Donates $1,500 to CCCSR in Haverstraw

The Hudson Gateway REALTOR® Foundation, the charitable arm of the Hudson Gateway Association of REALTORS®, has donated $1,500 to the Catholic Charities Community Services of Rockland (CCCSR) in Haverstraw.
CCCSR provides quality human services to any resident of Rockland County who needs help- non-Catholic and Catholics alike. They work to assure that the needy and vulnerable in Rockland have the basic necessities of life –food, shelter, and emergency assistance in times of crisis.
Their services include homelessness and eviction prevention, a food pantry, nutritional outreach education programs, a community garden, emergency financial assistance, money management workshops, emergency warming center, immigration legal services and much more.
On average, CCCSR serves 4,000 families and 1,200 individuals annually. More than 6,000 pounds of fresh vegetables were distributed to food pantry participants, much of which were grown in their own garden last year. More than 160 struggling families and 700 children were "adopted" for the back-to-school season and Christmas holidays as part of their "Adopt-A-Family" program.
"The support of the Hudson Gateway Realtor Foundation will make a real difference for many of our families struggling to provide basic necessities, such as diapers and baby food, as well as paying their rent," said Dan Eudene, Executive Director. "We are grateful to the Foundation for their commitment to our community and to be included amongst their partner agencies."
For more information or to apply for funding from the Hudson Gateway REALTOR® Foundation, visit www.hgrealtorfoundation.com