RCBJ-Audible (Listen For Free)
Restaurants Close Partly Due To COVID Strains, Which Have Shuttered More Than 100,000 Restaurants Nationally
By Tina Traster
There is less pizza in Piermont, but the Village's restaurant scene is alive and forecasted to come through the pandemic with new restaurants and via the continued grit and talent of existing ones.
Within the last couple of weeks, DVine Pie and O Lar, two high-profile destinations for brick oven pizza and other creative fare, have packed it in.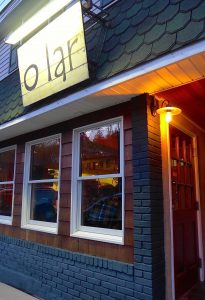 Both drew crowds locally and regionally but have perished due to COVID, and other financial circumstances.
DVine Pie's co-owner Doug Stone told RCBJ the restaurant at 453 Piermont Avenue closed because "we ran out of money." Insiders say O Lar too was having difficulty juggling the demands of COVID restrictions in his tiny restaurant at 587 Piermont Avenue.
Sidewalk Café is also closed for now though village insiders say the restaurant will reopen in the spring.
"Piermont is a foodie town," said Piermont Village Mayor Bruce Tucker. "We've developed a reputation as a food destination, especially from North Jersey, Manhattan and Westchester. It's an important part of our economic engine."
Tucker is confident Piermont's food scene will continue to thrive.
Throughout the pandemic, the village has stepped up to help restaurants reinvent themselves with outdoor seating. Roads were closed. Accommodations were made to create patio dining.
A new Moroccan restaurant, Mazagan Restaurant co-owned by New Jersey resident Omar Echchelh, is due to open Feb. 4th at 506 Piermont Avenue, the former location for Xavier's, Seasons of Piermont, and most recently The Kitchen, which lasted less than two years. The chef is Hanan Aloui, who last worked in restaurants in Casablanca.
His first restaurant, Echchelh said he fell in love with Piermont and its diversity of restaurants.
"A broker took me there and I just felt like I belonged."
Asked if he felt concerned about the pandemic, he said "People says I might be committing suicide opening at this time. But I believe you have to be a risk taker. Nothing stays forever. We are bringing something new to Piermont. We are excited."
The Mayor said the opening indicates Piermont's vitality.
"We've had two recent losses, but I'm not concerned at all," said Tucker. "There's always going to be turnover. Some places make it, some don't. Piermont always seems to attract restaurateurs."
There's already been inquiries for DVine Pie's space, he added.
The Village may be luckier than many towns and cities, where the wrath of the coronavirus has devastated the food and beverage industry.
"We are proud to say that most of our restaurants thrived through the summer and fall, thanks to the village's implementation of street closings," said Piermont Chamber of Commerce president Peter Helou.
Helou also says restaurants were given a lift by a social media campaign created by Timothy Morales, who owns the digital media company Synchronous: The Social Media Group.
And let's not forget 'Mother Nature,' Helou added, which blessed restaurants with an extended outdoor dining season.
Many existing and new restaurateurs are putting faith in the distribution of the vaccine, along with a new administration that is promising economic relief for small businesses. It is vitally needed, particularly for restaurants.
The National Restaurant Association says one in six restaurants nationwide have permanently closed because of the pandemic
The nationwide tally is among the findings of a survey released last month by the National Restaurant Association. The figure was up from about 100,000 shutdowns in a September survey.
Restaurant sales declined for the third consecutive month in December, with total industry sales losses reaching $240 billion in 2020. Business conditions in the restaurant industry deteriorated rapidly as 2020 came to a close, according to an analysis of data from the U.S. Census Bureau. After reaching a pandemic-era peak of $55.7 billion in September, eating and drinking place sales trended sharply lower during the final three months of the year.
Moreover, sales losses accelerated each month during the fourth quarter.
The restaurant industry's road to recovery will be long but foodie enclaves like Piermont and other upstate Hudson Valley towns, will continue to rely on community support, ongoing promotion of its village, and its physical assets, which will continue to bring visitors even while the state and nation emerge slowly from COVID's long dark tunnel.