RCBJ-Audible (Listen For Free)
Bill And Wendy Einhorn Are Serving Up Slices Of Americana In Pearl River
By Tina Traster
Some retired folks head to the Carolinas to play golf. Others gas up the RV in search of Americana. At the very least, many slow down.
Not Bill and Wendy Einhorn, who are living Bill's lifelong dream of owning a hot dog establishment. In fact, this is Bill's version of Americana.
For decades, Bill Einhorn, 65, coveted Fort Lee's Hiram's, the counter-serve joint on Palisades Avenue serving deep-fried hot dogs since 1932. For Einhorn, who had been working in the food business since he was 12, Hiram's was the golden ring.
"I've visited Hiram's since I was a kid," said Einhorn. "I've always loved the concept. Hot dogs, hamburgers. Fries. A simple menu. I always knew I wanted to do this. It was always in the back of my mind."
Bill, and his wife Wendy, a retired math teacher, opened Hot Dog Express at 184 Brightwood Avenue in Pearl River less than two years ago. Though the tiny depot for hot dogs, French fries and salads – yes salads are a key part of this joint – had the right setup for pandemic take-out, the couple closed down until July out of an abundance of caution for Bill's elderly mother.
Customers began streaming back in the summer, and the Einhorns are confident they will make it through the COVID challenge. They are only too aware of how many restaurants have suffered but believe they have the right takeout format for a still-skittish public awaiting COVID vaccinations.
"Business has picked up and we're starting to turn a profit," said Einhorn, adding he's installed plexiglass and implemented mask and glove restrictions to deal with the virus. "Before that, we're were doing okay. We were always breaking even. I wasn't expecting to become a millionaire doing this. I'm doing this because I love it," he says.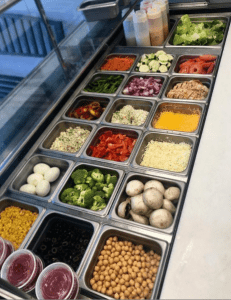 And Wendy Einhorn adds, "And they love him," referring to repeat customers and the following the team is building.
Hot Dog Express is a lifetime in the making but the search for space began nearly eight years ago. Originally, Einhorn considered a food truck but found permitting was too complicated. The restaurateur looked at every sign on a closed restaurant. He followed every lead until one day he saw the 400-square-foot store in Pearl River.
"I ran home to Wendy to tell her I'd found the place," Bill recalls. "Next day, I went back, bought a soda and told the guy 'I'd like to buy your store.'" The guy was the owner of AJs Catering, who at the time was moving around the corner.
Hot Dog Express is not Einhorn's first rodeo. After getting a taste for the restaurant business as a teen washing dishes for $2 an hour, the entrepreneur worked in a French classical restaurant, and in 1980, he graduated from the Culinary Institute of America in Hyde Park.
"Going there was the real deal," he says. "The experience opened my eyes to all the craziness that goes on in the kitchen."
He was hooked.
Einhorn owned a full-service restaurant in Florida for 15 years, and later owned Billy's Place in Warwick. After closing down in 2000, he spent the last 20 years working for the Boar's Head Company, learning the procurement side of the business.
"They made me an offer I couldn't refuse," he said.
But in his early sixties, he felt the time had come to give in to his dreams.
"I love the idea of people coming up to the window and throwing hot dogs or French Fries at them." And salads. Yes, the ladies want salads. "I love spending my days talking to people. "
These days it's a little harder for people to linger for relaxed gabbing through COVID masks and to enjoy the true experience of an American hot dog stand but the Einhorns say they've got what people really need right now.
"We've got a lot of blue collar people, fireman, policemen, healthcare workers, some of whom have been laid off," said Einhorn. "They can come in here and feed a family of four for $25."