Boating Entrepreneur Doing What He Was Taught To Love
By Tina Traster
A good sailor knows which way the wind is blowing.
Sensing a change of winds in Nyack five years ago when condo development was proposed and waterfront revival was a hot topic Doug Foster thought it made sense to locate the first commercial boat charter at the village-owned marina.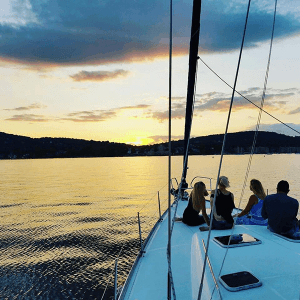 This spring, Nyack Boat Charter, owned by Foster and charter industry-veteran Rob Bellanich, will for its fourth season run river cruises on the Hudson. While three of its boats sail or cruise from Nyack Marina, its newest offering, a dinner yacht named "The Festiva" that can accommodate more than 100 will dock in Alpine, NJ.
Business plans are often a combination of foresight and circumstance. The decision to start a boating company, which is a high-stakes gamble for any entrepreneur, grew out of a lifelong passion for sailing. But it was Foster's skill set that led him to the river's edge during his term from 2010 to 2017 as Nyack Village Board trustee.
"This was a wasted resource," said Foster. "To me it was crystal clear. We had to do something for the community."
Foster grew up on the water in Michigan. His father, William, a Navy veteran of World War II, and an attorney, sailed the family around the lakes and in the Caribbean. Foster recalls a summer when he and his dad sailed together to Maryland, bonding like they had never done before.
"When I spoke at his funeral in 2001, it was all about that," said Foster.
In 2006, Foster and his wife Rosemary, moved to Nyack, partly for the progressive vibe but largely to be aside the Hudson. Foster had worked as an urban planner in Ithaca but by now was doing web development and database marketing for JP Morgan Chase. He kept sailing because it was in his blood.
While serving on the Village Board, Foster spent an inordinate amount of time trying to revive Nyack's decaying public marina.
"This was a wasted resource," said Foster. "To me it was crystal clear. We had to do something for the community."
Foster turned to his friend Bellanich, who with his wife Lezlee Peterzell-Bellanich, owns New York Boat Charter, which cruises the Royal Princess, a 120-foot luxurious motor yacht. Foster and Bellanich both recognized that Nyack's rising profile, helped along by a robust "Visit Nyack" advertising campaign, was bringing visitors to the village who wanted to do more than eat and shop. Additionally, Tidewater, a new waterfront condo would include a riverfront walkway. Bar Taco was supposed to open a restaurant, though the hospitality group pulled out of the agreement last year, and plans for the dilapidated building remain uncertain.
"What I envisioned was a business that was part of the community," said Foster. Nyack Charter sources locally from food and wine sellers, barters with businesses like Industrial Arts Brewing Company, and offers gratis rides to many nonprofits. "This is not just a business," said Foster. "It's a mission-minded business."
Ironically, shortly after starting his business, Foster was advised that running an enterprise at the village-owned marina and serving on the Village Board would create a conflict of interest should he be called upon to make decisions regarding the waterfront. Foster chose the water. He left in the middle of his term. He kept his "day job" as a marketing specialist for JP Morgan Chase.
After three seasons, Foster concedes it's tough to turn a profit at boat chartering, largely because so much of the revenue needs to be re-invested in maintenance and upgrades. Additionally, the expenses of docking and wintering the boats, insurance, personnel, and the 5% of the company's revenue the company pays Nyack for a license fee, add up. Exacerbating that is a short season, from May to October, and unpredictable weather.
Foster is hoping The Festiva will be the game changer. It will extend the sailing season into December, cater to large groups, and offer something unique out of Alpine.
"Charters are very competitive down in the city," said Foster, explaining the Festiva will cruise south along the river to Upper Manhattan or north to Nyack. "The boats down in the city are all about the Statue of Liberty and tourist sites. What we're offering is a peaceful, pleasure cruise of the Hudson."
At 55, Foster has learned that being in the boat charter business is all-consuming and challenging. The uphill climbs are mighty but the joy of doing what he loves while paying tribute to his father's memory are likely to keep him on the water, no matter how choppy it gets.
And if The Festiva really does turn the tide in his charter business, perhaps Foster will quit his day job.