Garnerville Brewer Will Open Beer Garden And Events Space At Beacon Facility
By Tina Traster
Rockland County's hottest brewery, which opened less than three years ago in the Garnerville Historic District, is having growing pains.
Industrial Arts Brewing Company is taking an additional 5,000 square-feet of space at its current facility but the business is moving most of its production, and adding other beer and entertainment-related elements, to a leased 50,000 square-foot space in Beacon.
Sofia Barberesco, Industrial Arts' manager, said the company's growth has outpaced expectations.
"We originally thought we'd reach capacity within a decade but it's looking like it's going to be closer to five years so we're planning ahead," she said.
Founded in 2016 by veteran beer maker Jeff O'Neil, Industrial Arts has quickly grown into one of the most talked-about brewing successes in the region. The company's top seller is Wrench, a fruity IPA concoction sourced with West Coast hops.
Barberesco says production for Wrench, Metric and Tools of the Trade, the most popular offerings, will be made in Beacon once the factory opens in 18 months. The Garnerville location will continue to be used as a creative hub for cutting- edge fermentation and hopping techniques. It will also use the new facility, which was a former point-of-purchase plastics manufacturing facility, for entertainment.
"We cannot do tastings and production at the same time," said Barberesco. "It's slowing us down."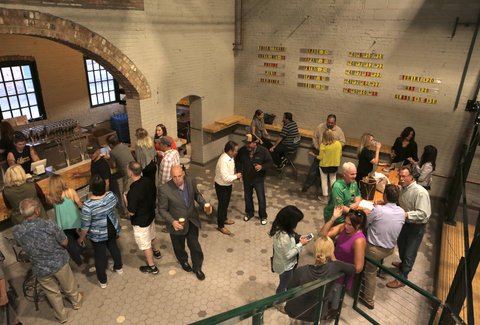 Industrial Arts is taking over 5,000 square feet of additional contiguous space in Garnerville because popular tastings events from Thursdays through Sundays are cutting into valuable production time. "We cannot do tastings and production at the same time," said Barberesco. "It's slowing us down."
Brew production will be moved to the new 5,000 square-foot space, which will be roped off, but remain visible to those who come for tastings.
Industrial Arts distributes beer throughout New York, Connecticut, New Jersey, and is expanding into Rhode Island.
In scouting for its new production/entertainment facility, O'Neil, a Cold Spring resident, wanted to be closer to home. But Beacon is also a hot destination for millennials who come up on weekends by the MetroNorth train to amble along the trendy Main Street, visit DIA, or hike and bike. Boutique hoteliers have repurposed old factories and the city has become a foodie magnet.
The new Industrial Arts facility, however, is located off-the-beaten track in an industrial park at 511 Fishkill Avenue. Industrial Arts will be the anchor tenant and co-owner of the 150,000-square-foot facility overlooking Mount Beacon. Diamond Properties partnered on the purchase and is currently offering the remaining 73,400 square feet of warehouse for lease.
By the summer, Industrial Arts will open an outdoor beer garden serving New York State beer, wine and cider. The company will ramp up its "merch" offerings, as well as canned and to-go products. The company will partner with food-truck vendors.
The second phase of the build-out, planned for completion in 2020, will include a large, versatile events center, smaller private spaces for events including film screenings and concerts, a distribution center, and a state-of-the-art production brewery capable of producing in excess of 50,000 barrels annually.
"This is an amazing opportunity for us to continue to innovate and grow well into the foreseeable future," said O'Neil. "The site has all of the characteristics a modern brewery needs to thrive. We'll continue investing in people and technology while creating this dynamic hub of brewing and hospitality for the Hudson Valley and beyond."