How The "Visit Nyack" Campaign Is Transforming A River Village
By Peter Saluk and Art Clark
In every sense of the word, a hamlet, a village or a town is an asset that has the potential to be marketed and promoted for tourism, which inadvertently converts some tourists to residents. Because government is not tasked with this job, doing so often requires a motivated and orchestrated effort undertaken by local volunteers who work with government and business to shape a narrative.
The Visit Nyack campaign is the poster child for how to do this successfully.
Five years ago, a group of concerned stakeholders (ACADA, Nyack Chamber of Commerce, Nyack Hospital, Nyack Library, Village of Nyack, Friends of the Nyacks), who noticed a growing number of empty storefronts, and declining foot traffic,  met to discuss the state of affairs. They began to talk about a branding campaign to promote tourism that would reach well beyond Nyack and the county. They asked questions: How do we market Nyack? Where would we get funding? How would we create a cohesive message?
They needed answers. Visit Nyack's founders began by commissioning market research to find out whether Nyack had "name brand recognition" in the New York City, Westchester and Northern New Jersey region. The market research sought to shed light on Nyack's profile: Why do people come to Nyack? What was their experience in the village? What was the takeaway? Would they come back? Would they recommend Nyack as a destination location to friends?
Like any product, be it a car, a hotel or a village, understanding your audience prior to launching a campaign is essential. Early research revealed that despite many of its charms, Nyack was not broadly known to New York City folks and beyond. People had a vague idea that it was somewhere "upstate" but brand awareness prior to the campaign was lacking.
With data in hand and analyzed, a tagline was born: "Art and Soul on the Hudson." Nyack tapped into its rich history and vibrant art scene with its messaging. Next, Visit Nyack launched a website offering visitors sample itineraries, information on things to do and see, and a business directory. Visit Nyack engaged local business and community members to centralize a calendar of all Nyack events. Today, the Visit Nyack calendar continues to be the "go-to" destination for everything happening in the area.
It takes a village to market a village
Without buy-in from merchants and influencers, you cannot have a successful campaign. Years after the initial launch, many businesses in Nyack continue to display Visit Nyack stickers and posters in store windows.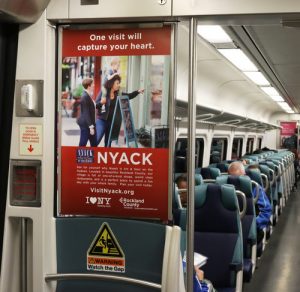 Visit Nyack has sought and received state and county grants to support its advertising campaigns. The group hired Saluk Advertising to help develop a targeted advertising program. The agency works closely with Visit Nyack to identify the audience, uses Visit Nyack's market research to identify proper messaging (Key Performance Indicators), and identifies outlets for cost-effective reach. Location-based mobile, programmatic, and targeted streaming were used to spread the message to the appropriate audience.
Over the past five years, the advertising campaign has delivered over 50 million impressions of the Visit Nyack message, partly from its advertising campaign on the MetroNorth.
The agency also worked hand-in-hand with Visit Nyack to develop a fully integrated creative campaign across digital, streaming, radio and social media to target the NYC Metro area. With the glut of media that people are exposed to on a daily basis, it is important to have multiple touchpoints and compelling creative messaging to break through the clutter.
Website data provides immediate performance indicators, allowing for real-time optimization of media and messaging. Each campaign is followed by Visit Nyack meetings with business and community members to get a better understanding of the campaign's effect on local business bottom lines.
The results have been very positive. Beyond consistent traffic growth to the Visit Nyack website (see graph), the site's engagement metrics have improved as well. Time spent, pages viewed, organic visits (which indicate an awareness of the brand) have all increased.
Additionally, social media check-ins to Nyack have grown by 128% over the past two years. Visit Nyack's main social media platforms (Facebook and Instagram) have also seen a significant growth over the past two years, with Instagram followers increasing by 120% and per-post engagement growing by 47%.
Additionally, media outlets including The New York Times, Wall Street Journal, Time Out New York, and other high-profile publications, have been covering Nyack.
Merchants report upticks to their village stores and hotels.
Both the " I Love New York" tourism campaign and Rockland County Tourism,  feature Nyack in their promotions and provide financial support.
To market a village or destination location, consider the following:
Establish a board of individuals/businesses who share a common goal for the village.
Engage in research/data collection to understand the point of differentiation for your village, and what attracts visitors.
Disengage from your personal sentiments about the village. Your perception might not be the best selling point.
Partner with experts in their field to help establish goals, programs, and deliver results.
Utilize targeted media to reach people who are more likely to visit your village, and serve those people content that corresponds to their target profile.
Work closely with your community so businesses and influencers become ambassadors, and fulfill the brand promise set forth in your communication.
Create as much content as possible for people to consume.
Make sure the content represents your village/location in the best light.
Finally, don't rest on your laurels! Continue pressing forward with the communication campaign to widen your target market.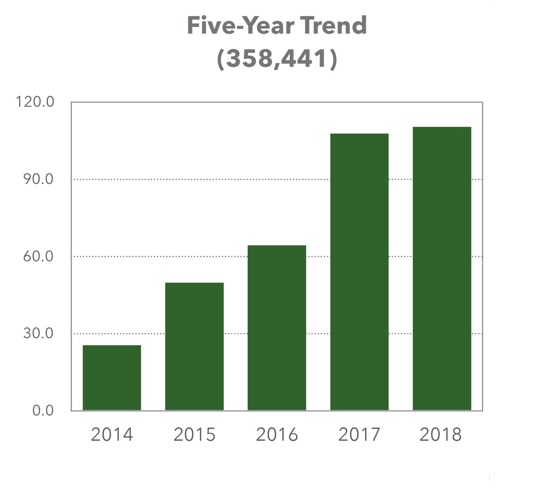 Saluk Advertising is a full service agency based in New York City and Nyack, NY specializing in advertising, design, and media planning.
Art Clark is a co-founder of Visit Nyack.