Rockland Villages Jumping On "Transit Oriented Development" Bandwagon
By Tina Traster
A renewed interest in downtown revitalization around train hubs in Rockland County makes perfect sense. Commuters, especially millennials working in New York City, are looking for places to live. So are empty nesters who want to downsize but stay in the suburbs. Multi-family housing and retail brings more life and consumers to downtown.
And the trains already run.
But what if they don't run often or efficiently? What if the prospect of ever having a one-seat ride to Manhattan is a generation away? Or never happens?
"You do need to have sufficient transit to call it a TOD, but that doesn't mean that it doesn't make sense to build housing and mixed-use in a downtown."
Where does this leave developers and town planners who are hot on the topic of a TOD – or "Transit Oriented Development"? The NJ Transit commuter trains to the city run through Nanuet, Pearl River, Suffern and Spring Valley. TOD's are being talked about, or planned, in these communities.
But is it genuinely a TOD, if the "T" is lackluster at best?
"It's a legitimate question," said Christopher Jones, senior vice president and chief planner at the Regional Planning Association. "You do need to have sufficient transit to call it a TOD, but that doesn't mean that it doesn't make sense to build housing and mixed-use in a downtown."
All eyes are on the Gateway Project, the planned phased expansion and renovation of the Northeast Corridor rail line between Newark, New Jersey, and New York City. The massive project involves fixing the existing tunnel and constructing a new tunnel under the Hudson River. Rockland commuters will only see a one-seat ride if a new tunnel is constructed. The existing tunnel cannot handle additional capacity, according to Jones.
The fate of the $30 billion tunnel-and-bridge project depends on the Trump administration, but a House of Representatives that's friendlier to big cities and civic projects is more likely to pressure the president to move the project forward.
Still, Jones says there is no visible progress at the moment.
"I can't point to anything that's likely to happen in the short-term," he added.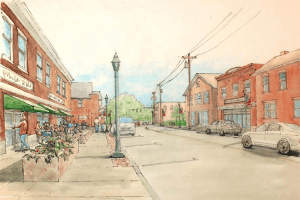 Meanwhile, efforts to create TODs are forging forward with studies, planned zoning changes, and discussions with developers looking to get in on the ground floor. Clarkstown is plowing ahead with a proposal to rezone a 38-acre area group of parcels around the Nanuet train station into multi-family, mixed use development, and prohibit any future industrial uses. The proposed zoning will be up for a vote within the next couple of months, and is expected to pass.
"The town has no influence over NJ Transit," said Town Councilman Patrick Carroll. "We need better service, more express trains. We have poor bus and train service but the TOD is still an improvement. Once development is rolling along, though, we're hoping this will stimulate improved transit."
Jones calls the commuter conundrum a chicken-and-egg problem. The transit systems want to see more ridership before adding more frequent service. But wouldn't towns and developers be more motivated to improve and build if the train service were better?
Commuters at the Nanuet station complain about few trains and unreliable service.
Joshua Goldstein, president of Lynmark Group LLC, in Suffern, sited The Sheldon, a 91-unit rental apartment building with upscale amenities paces from the train station. "We get the concept of the TOD," said Goldstein. "It's nice to walk out your front door and have the train and restaurants. But we started on this project five years ago, before we even knew what a TOD was."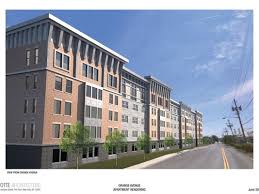 Judging from rental deposits in advance of the planned March opening, Goldstein says he's "blown away" by the response for rentals ranging from $1,750 to $2,400 a month. As for the Gateway Project, the developer believes "one day it will happen."
The Pearl River Chamber of Commerce, along with Orangetown officials, say the driving force for a TOD is the need for millennial and empty nester housing. The Town of Orangetown has recently completed a "Pearl River TOD Opportunities Analysis," which will trigger rezoning proposals, infrastructural improvements, land-use assessment, and community input. The study reveals Pearl River is "well positioned physically and economically for some kind of infill redevelopment." The land in and around the train station "could accommodate a greater mix of uses, higher intensity of land use, and taller buildings."
The study also says, "The scale of redevelopment must keep in line with the community character."
"We're moving full steam ahead," says Town Supervisor Chris Day. "Not going to sit on it because inaction causes problems."
The study overwhelming revealed residents are unhappy with the commuter train. Some 35% of residents want improved pedestrian crossings and sidewalk space, increased frequency of train service (31%), and a need for amenities, such as coffee shops, better waiting areas, and the need for better schedule information. Overall, the survey showed a dissatisfaction with the Pearl River train and 53% of residents reporting not using the train.
The stalled $175-million TOD project proposed in Spring Valley, is also aimed at building housing around a train hub. Developer Eric Jacobov of Concord Capital New York says train service is "not great" but there is good bus service. Trains and buses take between 1:15 to 1:25 to Manhattan. At the same time, Jacobov says there's a severe housing shortage. "I don't see poor train service as an obstacle. Westchester has a leg up when it comes to transportation but, in due time, we'll get there," he added.
Nevertheless, the Village of Spring Valley Urban Renewal Board, approved the project but the developer says the village has not been responsive since. "We're in the dark," he said. Spring Valley Village Attorney Amy Mele did not return calls last week.
Read also:
Proposed Zoning Change Would Dramatically Alter Nanuet Business Streetscape
Nyack's Travis Koester of The Local Taphouse To Open A Brewery In May At Former Bourbon Street Location