RCBJ-Audible (Listen For Free)
Editor's Note: The words and opinions below belong to the author. RCBJ welcomes personal essays for its "Your Voices" column
Hell is Empty, and all the Devils are Here
By Ari Rosenblum
As our plane approached the coast of Israel, we turned north, and unlike the many times I have landed in Israel, we approached the airport from due north, descending rapidly, maneuvering to present the smallest and quickest profile to avoid incoming rockets from Gaza. Even before we landed, I knew things would be vastly different, and to loosely paraphrase Shakespeare: 'hell had emptied its fiery pits into the tunnels and lairs of Hamas.'
The arrival hall at Ben Gurion Airport is usually bustling, full of tourists, new immigrants, welcoming groups of families and others – loud and even festive. When Jewish Federation board member Greg Karzhevksy and I got there on Monday, it was mostly empty.
I flew to Israel this week with Greg, one of our board members for many reasons. First, we wanted to – needed to – demonstrate our solidarity with our sisters and brothers in Israel. Those who are grieving, those whose entire communities have been destroyed, those among the thousands wounded on October 7th, those whose loved ones are being held in Gaza by the very butchers who murdered their parents or their kids or their friends.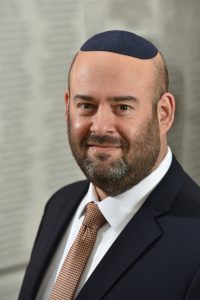 Even those who did not have a family member or close friend among the 1,400 killed, 4,000 wounded and 240 taken hostage that day, who are now in uniform readying for battle, or who are spending all day, every day, caring for the displaced or the traumatized – they needed to know we are with them too.
Second, we in Rockland have raised over $500,000 locally over the last three weeks to meet the immediate needs for medical care, shelter, security, transportation, trauma counseling, housing, education, childcare, medical equipment, blood services and much more confronting those I described above, as well as more than 200,000 internally displaced refugees in Israel. We spent time with several of the agencies whose work Rockland donors are directly funding. We heard from the organizers and practitioners, from seasoned care providers and from first time volunteers.
Our campaign continues, and we are aiming to raise at least $1 million in Rockland.
Third, we wanted to see and experience Israel at war firsthand, because the best way to advocate, raise awareness, and raise funds is to be there, to speak to those most tragically affected, and to bring those stories back to share with our community and beyond.
Finally we need to be able to make sense of what has happened and what is happening – both for ourselves and our community. I'm not sure we were able to do that, but we do have a better understanding of the October 7th invasion and massacre, and the incredible resilience of the Israeli people in the face of both what happened and what is to come.
I'll pause here to say a few things that need to be addressed, at the right time. Israel's vaunted military was unprepared for the events of October 7th. That is clear. It will have to be investigated and conclusions will need to be drawn. What is also clear to most Israelis is that from the moment the first individuals and units began to coalesce and fight back – a matter of minutes and hours, the strength of the military began to restore itself, and the people of Israel resolutely understood what was needed, what was expected of them. Nearly 400,000 reservists have been called up, affecting every family, business, community, home. The economy, only a month ago a powerhouse of high tech and surging tourism, has contracted, if not evaporated. Israel's government is focused on fighting a war against an implacable, genocidal enemy it had vastly underestimated, and its capacity to effectively adapt and apply new paradigms to the needs usually met by many government ministries has been greatly diminished.
We spent a little less than two days navigating across the center of the country, visiting the new blood services center of Magen David Adom, serving the entire country and fully equipped to operate even under rocket attack; meeting with new immigrant families from Ethiopia who had to relocate from their absorption centers in Ashkelon because of the unrelenting barrage of rockets from Gaza, still falling today; seeing the rehousing and social services being provided to internal refugees by a community center in the mixed Arab-Jewish town of Lod, and more.
One of the most remarkable places we saw was the Jerusalem volunteer command center. On the campus of an arts and theater school in the heart of the city, volunteers had come together to aid individuals or families from devastated or evacuated communities who were temporarily in Jerusalem. They developed an app in a day to streamline outreach, communications, and organize to meet needs, from clothes to food to counseling to medical and psychological care, from ensuring soldiers had enough personal necessities when heading to the front to ensuring that those with family members wounded and in hospital had places to stay – all organized by volunteers, hundreds of them in this location. They are remarkable, devoted people who love their countrymen and women, and who will not stop, just as their sisters and brothers in battle will not stop, until the war is won, and the needs are met.
We also met with several families and friends of those who were murdered, raped, tortured or taken captive by Hamas on October 7th. You may think that you have heard or seen the worst of what Hamas did that day – and what a second wave of non-Hamas Gazan 'civilians' did shortly after, following them into Israeli communities – but you have not. It was and is worse, and the fathers, mothers, and sisters we met shared their distress, anger, sadness, and growing resolve with us. They asked that we share the stories of their loved ones – artists, moms, peace activists, musicians, engineers – and preserve the memory of lives cut short.
These were some of the hardest conversations I have ever had. And remarkably, several of them, with their children held right now in Gaza, expressed their solidarity with us as Jewish communities, especially Jewish students across the world who are experiencing an unrelenting attack from verbal harassment to online bullying, from violent assaults to vandalized places of worship, and with precious little solidarity or support from individuals and groups they had stood or marched with in the past few years.
Jewish communities here feel vulnerable, but they also feel somewhat betrayed. And just as there will need to be a reckoning in Israel about what circumstances allowed October 7th to happen, there will be a reckoning here too, to understand the craven silence and blatant apologistics for utter evil revealing itself among some of those the Jewish community in this country have embraced.
We spoke with a young IDF reserve officer in the Home Front Command's search and rescue unit. He was among the first to enter the villages where the worst atrocities took place. What stood out to me was not the account he gave of the horrors he experienced. No. It was his determination, and indeed his capacity, to carry that experience with him and move forward toward healing and resilience.
That is what I bring back to Rockland
The needs are immense and growing, and good people have a part to play in raising the funds to meet those needs. The partners we have on the ground are incredible, effective, and full of compassion, whether they have been doing this kind of work for three decades or for three weeks. The bereaved, bereft, injured, and those in the agony of waiting for a loved one to come home – they shared reserves of empathy and strength that lifted us up. And the questions, well, we are left with the questions.
But one thing is certain, to me, to our partners, to every single person we met. Israel and its people will destroy Hamas. They will ensure that its allies, its paymasters in Iran, its confederates across the world will never be able to threaten Israel and Jewish lives in this way again. The Israel of October 6th was divided, weakened, distracted and unready. The Israel of October 8th is more united than I have ever seen in over 40 years of Jewish activism and leadership. The Israel of October 8th will not take anything for granted, even its own government. The Israel of October 8th will give strength and purpose and resolve to every Jewish community across the world. And none of us will look at those who threaten, demean, or demonize the Jewish people with complacency ever again. We are, and we will be, every bit as resolved as our sisters and brothers.
On Tuesday afternoon, as I walked to our bus to depart a beautiful kibbutz guest house where we had met with families of the hostages, we heard an alarm, and quickly turned back to the building to get into the shelter. Above us, the Iron Dome defense system intercepted three rockets. Boom, boom, boom around me, the girl with the bandaged nose, the young man with his arm in a specialized cast, the kid hopping off his bicycle. We all stood in the large-sheltered room. The survivors of Kfar Aza. We shared vulnerability, but, as we walked out among several soldiers who had joined us in the shelter, we shared a sense of unity and purpose that gave us all strength.
To help the over 200,000 internal refugees in Israel, visit please visit jewishrockland.org. Every dollar raised for our Israel Emergency Appeal will be directed to shelter, security, transportation, counseling, food, clothing, medical attention, childcare and more, for these and other Israeli families.
Ari Rosenblum is Chief Executive Officer of the Jewish Federation and Foundation of Rockland County
---