RCBJ-Audible (Listen For Free)
Rockland Community Foundation Announces 2023 Signature Awards Reception Honorees
The Rockland Community Foundation (RCF) will honor Tina Campbell, Alison Crowther and Suffrage Forward Fund Committee Members at its Signature Awards Reception on March 30, from 5:30 to 8:00 pm at the Crowne Plaza Hotel (Atrium Area), at 3 Executive Blvd in Suffern, NY.
The event celebrates individuals who have made a positive impact on the community through philanthropy, which this year includes two extraordinary female fundholders as well as a fund dedicated to female empowerment.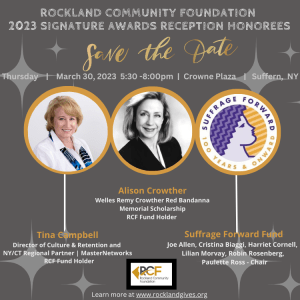 This year's honorees are:
Tina Campbell, Community Council Fundholder, TriState Master Networks
Tina launched the Community Council to enhance the organization's mission of "building a group of entrepreneurs and business leaders who are learning-based and community-minded." Her vision was to bring together member experts and volunteers with a passion for community outreach and create a grassroots effort to connect with those in need. Master Networks hosts a variety of events throughout the year, each of which has a community support component.
Alison Crowther, Fundholder of The Welles Remy Crowther Red Bandanna Memorial Scholarship Fund
Alison established the Welles Remy Crowther Trust in September 2001 to honor and keep her son's memory alive through good works benefiting young people. The Welles Remy Crowther Red Bandanna Memorial Scholarship is a tribute to the courage and heroism of 24-year-old Welles Remy Crowther ("The Man in The Red Bandanna"), who rescued many on 9/11 before he ultimately perished. The scholarship is awarded to a deserving high-school graduate choosing to pursue a career in fire and emergency services or health-related services.
Suffrage Forward Fund Committee Members Joe Allen, Cristina Biaggi, Harriet Cornell, Lilian Morvay, Robin Rosenberg, and Paulette Ross, Chair
Suffrage Forward was founded in 2020 to mark the 100th anniversary of the 19th amendment, which affirmed women's right to vote and granted them the power to shape policy. The Fund's Committee members take an active role in helping to further Suffrage Forward's ongoing mission to empower women and create awareness among all people of female strength and resiliency.
Tickets for the event cost $150 per person and are available https://rocklandgives.org/signature-award-2023/ . Attendees are treated to cold and hot hors d'oeuvres, dessert, complimentary wine or beer; the event also includes a silent auction, prizes, and more!
The Foundation also announced that it will be donating 10 percent of ticket sale profits back to each of the funds to reinforce their commitment to improving the community through philanthropy.
RCF is seeking event sponsors as well as journal ads for the event, offering a variety of sponsorship and advertising packages. For sponsorship questions or additional information, contact: Cara Kuo, cara@rocklandgives.org.

---
Dominican University New York Secures $1.98 Million Federal Grant For Enhanced Technology
Dominican University New York has been awarded a $1.98 million federal grant to provide the campus community with enhanced technology, increased broadband access, and additional IT training and support.  The grant is part of the Biden Administration's Internet for All initiative and comes from the Department of Commerce's National Telecommunications and Information Administration (NTIA).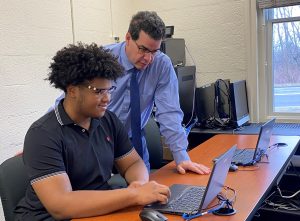 Last week, the NTIA announced that 61 minority-serving colleges and universities across the country received grants through the Connecting Minority Communities Pilot Program. Dominican University New York was the only institution of higher education in New York State to receive a grant, according to the University.
"We are so grateful to have secured this grant which will enable us to fund technological improvements on campus and will greatly enhance the educational experience of our students," said Sr. Mary Eileen O'Brien, O.P., Ph.D., President, Dominican University New York.
The project entitled "DU Connections: Building Broadband and IT Capacity" has a number of components.
Wireless access on the Dominican University campus will be improved with the addition of wireless access points.
The University will purchase hotspot access equipment, Wi-Fi extenders, and headphones to be lent to students for long-term use.
Additional IT staff members will be hired to offer technological training and support to students, faculty, and staff on internal systems such as Jenzabar, Blackboard, the DUNY app, and other software packages that support the educational mission.
Video cameras and podcasting equipment will be purchased to facilitate experiential learning with technology on campus and enhance remote learning.
Additional student interns will be hired in the IT office to offer additional assistance to the DU community and to strengthen their skills.
These activities will be developed and administered by a project leadership team that will be led by Russell Diaz, Chief Information Officer.

---
American Dream's Water Park Reopens After State Investigated Helicopter Accident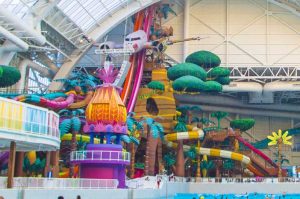 The Dream Works Water Park at American Dream has reopened after the New Jersey Department of Community Affairs (DCA) investigated an accident that injured four people after a large helicopter fell from the ceiling and into a pool in the indoor water park.
The DCA's investigation of the helicopter's components found that damage on the wire rope that held up the helicopter was a "direct contributing factor to the cause of the wire rope's failure" and the decoration has since been permanently removed," said DCA spokesperson Lisa Ryan.
Inspectors said the decorative helicopter was otherwise sound and safe to be used.
"Upon review of the reports and the engineering firm's findings, DCA has authorized the abatement of violations issued from the State Construction Office and from the Amusement Ride Safety Unit. All attractions located in the waterpark at American Dream have been released by DCA to continue operation to the public," Ryan said.
Authorities said none of the injuries were life-threatening.
---