RCBJ-Audible (Listen For Free)
A Local Business Built On The Notion That Community & Music Are A Uniting Force
By Tina Traster
Bear with us for a moment – we will get to the ribbon cutting of The Rock Shop that has relocated and expanded to 98 Main Street in Nyack in just a moment.
It is said that the late John Lennon titled his last album 'Double Fantasy' after seeing a 'Double Fantasy' freesia flower while touring a botanical garden in Bermuda. Whether or not it was in fact a freesia, a herbaceous perennial flowing plant from Africa, the flower appealed to him because its meaning is "trust and friendship."
At the bedrock of The Rock Shop, which sells and rents musical instruments, offers music lessons and rehearsal space, is an abiding belief that if you give to a community, it gives back. If you trust what you do and love, it will flower. That music is a uniting force. A catalyst for friendship and love and prosperity.
In a strange twist, a piece of John Lennon is entwined in the odyssey of this growing business that opened during the pandemic and has blossomed to the point where it has tripled its space.
On Friday at 11, when Nyack Mayor Don Hammond snips the ribbon to officially welcome the business to the Village, among the raffle perks will be a coffee table book filled with previously unpublished photos of John Lennon during the Double Fantasy New York recording sessions – Lennon's last album. Lennon: Reality or Fantasy is a limited-edition retrospective of more than 100 black-and-white and color photos that sells for $139.99. The photos were shot by celebrity photographer David Michael Spindel, who raised his family in Rockland County and now lives with his wife Barbara in Arizona.

It is his son Jeff Spindel, who partnered with his wife Caroline, and Dylan Kelehan to open The Rock Shop in Dec. 2020. Both men have a bit of that stardust essence. Spindel, a drummer and painter, grew up around the famous people his father photographed. Kelehan, a Massachusetts native, picked up the guitar as a boy. His love of music took a typical path: the garage band, local gigs, building a social circle around musicians. In the years leading up to the pandemic, Kelehen was touring with The Machine, a Pink Floyd Tribute band.
In late 2020, Kelehan and the Spindels signed a one-year renewable lease at 120 Main Street, and retrofitted the 1,000 square-foot space to make COVID-safe 10-foot by 12-foot plexiglass-divided sections for private lessons. To their surprise and delight, the appetite for lessons, the duo's bread and better, was strong, and kept growing more robust.
"We've been operating out of three rooms," said Kelehan. "The space just wasn't big enough for three teachers, three students, and three parents for everyone to be comfortable."

Kelehan said the handwriting was on the wall.
"It wasn't if, it was when," he said, adding "we could see that we were going to have to do this."
The hunt for space was a challenge, particularly because The Rock Shop wanted to remain in Nyack. When former owner of Hacienda Karim Deen suddenly passed away in January 2022, his space became vacant. The Rock Shop, which signed a five-year lease, was able to nearly triple its space to 2,500 square feet, with eight lesson rooms. The business also plans to more aggressively market its rehearsal space, and eventually turn a portion of that into a podcast and recording studio.
On Friday, at 4:00 pm, ribbon-cutting festivities will include a raffle, 10 percent off retail and new lesson sign-ups, live music by student bands and teachers, plus performances by Kelehan. Pizza and treats will be served.
"I'm a big believer in 'if you build it, they will come,' "said Kelehan. "With hard work, there's always a payoff. You just have to keep doing what you believe in."
His partner Jeff Spindel is of similar mind.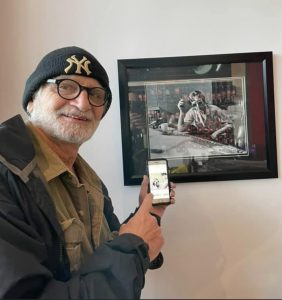 "I've learned from my Dad and Mom the importance of choosing a path where the things you are doing to make a living are things you'd be doing if you weren't getting paid at all. If you create community and connection, money falls into place."
Spindel says it's all about relationships.
Here's another quixotic anecdote from Spindel.
One day Rockland native Jack Douglas wandered into The Rock Shop. "He said to me, 'you're David's son," said Spindel, explaining that renowned music producer Douglas worked on Double Fantasy and also produced with Pink Floyd, proving there is always less than six degrees of separation or connectedness.
Douglas, Spindel recalled, was standing right under a photograph his father had taken of John Lennon, and Douglas said he'd been right next to the rock star when that picture was snapped.
Serendipity. A bit of magic. A love of music. The belief that music makes a community.
This is how three people doubled down on the fantasy of bringing musical joy to the place they call home.