RCBJ-Audible (Listen For Free)
Suffern Mayor Says Razed Sites Will Remain Vacant To Protect Against Future Flooding From Mahwah River
By Tina Traster
A federally funded buyout program administered by New York State following the destruction left by Hurricane Sandy a decade ago is finally complete with nearly 60 vacant properties along the Mahwah River transferred to the Village of Suffern.
The Housing Trust Fund Corporation, which is a public benefit corporation of the New York State Housing Finance Agency, transferred 58 flood-prone properties in the Squires Gate neighborhood located along the Mahwah River along Lonergan Drive and Temple Lane to the Village. The storm damaged properties, purchased by New York State through its New York Rising program, were razed, and will remain open space, according to Suffern's Mayor Michael Curley.
"These properties have just been transferred and we will make sure that nothing is built on them because we don't want to make flooding worse," said Curley. "These are now open parcels that we will take care of and maintain in order to protect the people who live in this neighborhood."
Prior to Hurricane Sandy, there were some 138 structures, mostly duplexes, situated in the floodplain. Homeowners who had damage equal to 50 percent of their home's value were eligible to apply for the buyout. About 65 duplexes were purchased and about 44 duplex homes remain. Purchased homes were demolished and grassy fields dot the streets between the remaining structures.

Curley said he was no stranger to that neighborhood, which long suffered from flooding from the Mahwah River.
"I grew up in that neighborhood," recalled the Mayor. "I remember one flood when was I was 11 or 12 and I was sent to the fire department to get a sump pump to help us pump out the water. I always had a certain love in my heart for the Hillcrest fire department. And I can sympathize with these people because I know what it's like."

Hurricane Sandy began as a tropical wave in the warm ocean waters of the central part of the tropical North Atlantic on October 19. The system traveled westward into the Caribbean Sea during the next few days and was classified as a tropical depression. On October 24, with sustained 80-mile per-hour winds, Sandy became a category 1 hurricane in the waters just south of Jamaica. By October 29, the storm worked its way toward the Mid-Atlantic States.
An estimated 8.5 million people lost electricity due to the storm. Several cities and towns along the Atlantic coast of New Jersey and New York were devastated, and the storm surge was made worse by high tides amplified by the full moon that occurred on October 29. Air, rail, and road transportation ground to a halt, with more than 20,000 flights canceled. In the immediate aftermath of the storm, property damage was estimated between $30 billion and $50 billion but grew to $71.4 billion by 2014.
The NY Rising Community Reconstruction (NYRCR) Program was a recovery and resiliency initiative established to provide assistance to 124 New York State communities severely damaged by Superstorm Sandy, Hurricane Irene, and Tropical Storm Lee. Participating communities have been allotted between $3 million and $25 million of Community Development Block Grant – Disaster Recovery (CDBG-DR) dollars to implement elements of their plans.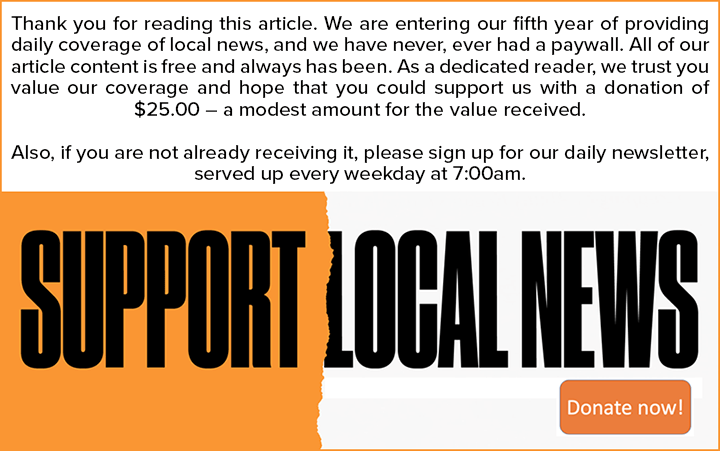 Suffern homeowners who sold generally received between $250,000 and $350,000. Funds to acquire the property came through block grants to New York from the federal government. The funding was used to create New York Rising, which managed the acquisition of the properties.
"Some people wanted to stay," said Curley, who added that there has not been any major flooding since Hurricane Sandy in the neighborhood.
Deed Restrictions On Transferred Property
The Suffern properties were transferred to the Village with deed restrictions limiting their use and transfer. Deed restrictions are recorded instruments notifying the world at large that a property may not be freely transferred to another party, and/or that certain uses are not permitted. These restrictions "run with the land" – that is, they affect future purchasers, owners, and tenants on the property.
"Homeowners need not fear," said the Mayor. "The properties that have been transferred to the village will remain open space."
Restrictions for the razed properties include that the property be "open space in perpetuity". Any use must be compatible with open space, recreation, or wetlands management. Parks for outdoor recreation, nature preserves, cultivation, grazing, and camping are also permitted, except where no early warning system is in place for prompt evacuation.
No new structures can be built on the properties except public facilities open on all sides, public restrooms, and structures related to flood control. Unimproved and unpaved parking lots are also permitted. No federal flood insurance would be available for the properties. The properties can be transferred to a nonprofit, a conservation organization, or a private entity or individual, but any such transfer comes with these use and structure restrictions.
Ba Mar In Stony Point
After Hurricane Sandy, only 30 of 150 manufactured homes remained at the Ba Mar neighborhood in Stony Point. Many homes were lifted off their footings, flooded, and damaged beyond repair.
Residents at Ba Mar were given three options by New York Rising: relocation to a new manufactured home outside the 100-year flood zone; accept assistance purchasing a new non-manufactured home; or accept rental assistance up to 42 months and help with demolition costs.
Unlike individual owners in Squires Gate, the private owner of the Ba Mar community had the option to rebuild. The owner raised the ground to mitigate future flooding risk, moved homes sites further from the south end of the property, which was more flood-prone, and redesigned and raised the main access and interior roadways. New homes were added to replace those lost to flooding. The newly re-designed Ba Mar Community & Marina has 135 homes sites, with manufactured homes starting at around $125,000, plus site rental fees.
---