RCBJ-Audible (Listen For Free)
ASHAR's Project Gets Preliminary Site Approval By Clarkstown Planning Board
The Town of Clarkstown's Planning Board this week granted preliminary site approval to a religious school that is planning an extension, worrying a citizens' action group that is concerned about a series of proposed projects for West Clarkstown Road and nearby roads.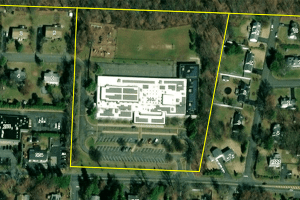 The board granted approval to the Adolph Schreiber Hebrew Academy of Rockland (ASHAR) to build a 2,640 square foot addition to an existing K-8 private school and add 17 new parking spaces at 360 New Hempstead Road in New City. The applicant must now go to the Architectural Historical Review Board for its next round of approvals.
The application states that the "school does not anticipate substantial population growth in the foreseeable future." The school says it will use the additional space for an indoor play ear for Early Childhood students.
The school, founded in 1954, and located on 6.5 acres, has a student population of over 500 and 81 employees.
The application also says the school is adding recreational space to provide room for "recommended daily physical activity during inclement weather."
ASHAR says it needs additional parking because it intends to lower its student to faculty ratio. The application says doing so would "increase the number of teachers, therapists and support staff on premise." The school has 65 parking spaces.
---
County Executive Ed Day Honors Latino Leaders For Notable Work, Especially During COVID
County Executive Ed Day and Deputy County Executive Guillermo Rosa marked Hispanic Heritage Month by honoring local Latino leaders who have made outstanding contributions to Rockland.
Honored during the ceremony this week were Miriam Avila, Family Resource Center Coordinator for BOCES in the North Rockland Central School District, Rosario "Charo" Urena, Proyecto Faro Executive Director, and Dr. Richard Hernandez Peralta. Their notable deeds during the pandemic were highlighted in the ceremony.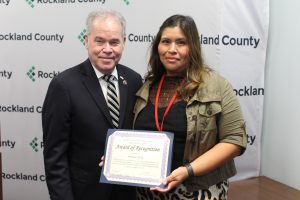 Avila made a tremendous difference in the daily lives of many when the COVID-19 pandemic struck Rockland, fielding phone calls and texts day and night from people who didn't know where else to turn. She collected and dropped off laundry detergent, shampoo, feminine hygiene products and anything that the families she served needed. She also helped set up mobile food pantries.
Proyecto Faro, a Stony Point-based organization whose name means Lighthouse Project, supports local immigrants in Rockland. During the COVID Pandemic, they saw that many more people were in need of food assistance than usual and launched a mutual aid-food relief program which distributes food twice a month, alternating between Spring Valley and Haverstraw. Building on these efforts, they opened the first community fridge in Rockland in July of this year to help anyone who is food insecure.
Dr. Richard Hernandez Peralta operates a medical practice in Haverstraw. During the pandemic he opened his doors to the community serving local residents at no charge. Dr. Peralta also used his practice, social media and local television to educate residents who were unsure what guidance related to COVID should be followed.
Hispanic Heritage Month, observed nationally from September 15 to October 15, celebrates the histories, cultures, and contributions of American citizens whose ancestors came from Spain, Mexico, the Caribbean and Central and South America.
Hispanic-Americans make up 19.6 percent of Rockland County, (66,451 out of 338,329), according to the 2020 Census.
"Our Hispanic-American population grew over 36 percent since the 2010 Census and shows how Rockland is changing demographically," said Day. "It also shows that we are getting an influx of talented, hard-working individuals looking to start lives and raise their families in this beautiful county."
---

Former WRKL Building in Pomona Sold For $750,000; Leased To A Chabad Pre-School
The building that formerly housed the studios of WRKL in Pomona and later a Polish-language AM station has been purchased and will be converted into a preschool.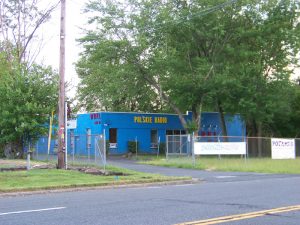 Former owners Polnet sold the property in May 2021 to Trophy LLC of Spring Valley for $750,000, according to Rockland County land records.
The 5,700-square-foot building off Route 202 has been leased to a new tenant who plans to modify the space to accommodate a Chabad preschool, according to an announcement from Rand Commercial, which represented the landlord.
The tenant's name was not disclosed, and it is unclear if any zoning changes will be required to permit a school to operate in the commercial building.
Broadcasting from 910 on the AM dial, WRKL featured Rockland County news coverage, call-in shows and other local programming from 1964 to 1999.
WRKL launched the careers of numerous on-air and behind-the-scenes staffers, including popular host Steve Possell, who recently retired from WRCR AM, meteorologist Mark Hanok, and WCBS AM's Sean Adams and Tim Scheld.
The station was bought in 1999 for $502,000 by Polnet Communications, a Chicago-based company that streams Polskie Radio online.