RCBJ-Audible (Listen For Free)
More Than A Dozen Debut Vendors Are Breathing New Life Into The Hudson River Village
By Tina Traster
At the height of the pandemic, store after store darkened in Nyack's business district, particularly those in the food and hospitality business. Now, in what appears to be an epic resurrection, new tenants are opening along Main Street and Broadway, pumping energy and hope into a village that should never be underestimated.
More than a dozen debut vendors have or are in the process of breathing new life into Rockland's Hudson River village. What's notable is the diversity of these enterprises – not only restaurants and bars but a new boutique catering to the outdoor lifestyle, a gaming shop, a co-working space, an atelier, a karaoke bar.
"Together we have gotten word out that the village is a safe haven," said Hammond.
Many in the business community credit Nyack's mayor Don Hammond for initiating the new Business Council, which brought together the business community to strengthen the vitality, accessibility, and creativity of the village's economic engines. Like many villages and towns in the Hudson Valley and beyond, Nyack maximized its assets, emphasizing the village's walkability and functionality during the pandemic with street events, outdoor dining, and traffic closures to create a communal feeling, street-fair atmosphere, to draw people from both near and far.
Marcella Mazzeo opened the Salonniere Coffee Bar on South Broadway in Oct. 2019. Everything was looking rosy until COVID-19 threw its horrid curveball. Mazzeo, along with neighboring women-owned businesses like Abigail Rose & Lily Too, formed Nyack Merchants United to drive traffic and increase visibility.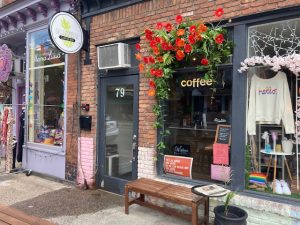 "The planning of the Nyack Masquerade was a game-changer," said Mazzeo, referring to an event that was meant to create some fun for Halloween in place of the village's iconic annual parade. "It wasn't that it drew that many people, understandably, but it helped us understand what it meant to unite, to put our heads together." From there, events like the Nyack Wanderland and the Spring Promenade/Spring Fling built momentum for the village and its vendors.
When it came to Spring Promenade, vendor selection was limited to local businesses.
"By not having external vendors, we removed the competition, which created a good solution for that moment, but might even be a solution for street fairs down the road," said Mazzeo. "We've learned lessons about keeping it local. We've learned that you don't have to bring in external people to get the crowds. There's power in the business community."
Nyack, already a "foodie" town, will add to its roster Big Jerk Caribbean Restaurant & Ice Cream and Nyack Grill on Main Street. Farina's Café, Mekong District, My Father's House, Flights & Pints, Woolworth Nyack Smokehouse Sports Bar & Brewery, and the social media savvy Breakfast & Burger Bar all opened during the pandemic. New boutiques include Hope Wade Designs and Modern Druid.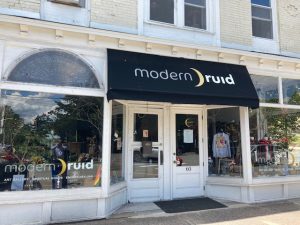 "The village over the decades has always bounced back from adversity," said Rand Commercial associate broker Paul Adler. "But I also believe landlords have come to a sense of reality, understanding that it is better to have occupied storefronts with viable businesses than to leave stores vacant."
Commercial real estate brokers estimate landlords are shaving 10 to 20 percent off leasing prices and offering upfront incentives such as a couple of months of free rent to fill vacancies.
Ray Lagstein has run a gallery on South Broadway for six years. During the pandemic, half a dozen tenants left the building where he leases space.
"I was worried," said the gallery owner. "I saw the stores emptying out. It was sad to see businesses close. But in the last six weeks, I've seen the entire building fill up. I believe we are having a strong recovery. I can feel the revitalization."
Nyack's Village Planner estimates the commercial vacancy rate to be less than 10 percent.
In Nov. 2020, Mayor Don Hammond said the village had lost at least 25 small businesses. In response, he initiated a business council made up of representatives from Village of Nyack, Chamber of Commerce, Nyack Merchants United, ACADA, and Visit Nyack to work to strengthen the village's economic fiber. The group continues to meet and strategize for a post-pandemic world.
"Together we have gotten word out that the village is a safe haven," said Hammond. "The cooperative spirit among business owners has shown what it means to work together and to be successful. We've created a new vibe in the community."
Hammond points out that merchants have used cross-promotion to stimulate commerce, with a boutique and a restaurant pairing together to offer incentives. Eat here and enjoy a $50 coupon off a piece of jewelry. Or purchase a piece of jewelry and get a discount on a meal.
"Nyack put out the welcome mat," adds Adler. "Nyack has that ability to offer an experience. It's not just about going to a restaurant. It's the idea of walking along the street, being part of something, whether it's a firemen's parade or a PRIDE event."
Those in search of co-working have also discovered Nyack.
"When the pandemic hit, many of us had to make adjustments to working from home," said Julia Khomut, co-owner/operator of Hudson1Nyack and a local architect who has transformed a portion of their office on Hudson Avenue to co-working. "Being part of the Nyack business community for several decades, we realized our space had a new potential to contribute to our community." Both GMG Public Relations and New City attorney Serrano & Associates have taken offices in Hudson1Nyack.
Though it is not in the heart of the village, the Time Hotel Nyack, has been rebranded under Hyatt's "Joie de Vivre" signature line in a franchise agreement – adding hope that the village will retain one of two hotels.
Nyack is no stranger to interesting boutiques but those tracking the village's comeback are heartened to see the addition of stores like Dragon's Den & Dungeon's Hall, a gaming shop and eatery, as well as the forthcoming Long Path Outfitters, a hiking and outdoor gear shop slated to open in September.
Laura Neil, the proprietor of Long Path Outfitters, which will fill the space Maria Louisa has vacated and consolidated into one storefront, strongly believes Nyack needs a shop to cater to people who love to hike and kayak.
"People are grasping for things that are safe and familiar," she said. "Nyack is the gateway to the Hudson Valley. Hook Mountain is the jewel in the crown. We have access for kayakers."
Mazzeo, who says her sales projections are back on track, is witnessing a constant flow of patrons coming from the city, still seeking refuge from the urban complications revealed during the pandemic.
"Every weekend we see couples that come up and stop for coffee and tell us how much they love Nyack," she said. "They say 'we'll see you next week,' and they come back and tell us that they've rented a house or bid on a property. This is a great opportunity for Nyack's business community."