RCBJ-Audible (Listen For Free)
82 Percent Of Homeowners Who Sold In Last Six Months Accepted Offers At Listing Price, According To National Study
REAL ESTATE NEWS
The real estate market for single-family homes in the Hudson Valley area is still afire even though New York vaccination rates have risen to 70 percent, commuters are commuting again, and life is turning back to normal.
From May 2020 to May this year, the median sales price and the number of single-family homes sold are up by as much as 50 percent in Westchester, Rockland, Putnam, Dutchess, Orange and Sullivan counties, according to the real estate trade group Hudson Gateway Association of Realtors (HGAR).
HGAR also reported the median sale price in all six counties it covers – Westchester, Rockland, Putnam, Dutchess, Sullivan and Orange – is higher than it has been in a decade. The market is hot because city dwellers continue to migrate to the suburbs, eager to escape the confines of tight living quarters and less in need of commuting to city offices. Many are in search of second homes, even in the lower Hudson Valley.
The median sale price (the point that indicates the exact middle of the market) of single-family homes in May in Rockland County increased by 13 percent to $525,000 from $463,750 last May.
Total single-family homes sold in Rockland County to date this year increased 46 percent to 975 from 666 over the same period last year.
Total single-family homes sales in Westchester County from May 2020 to the end of May this year increased 28 percent to 7,352. The median sale price in the county increased by double digits during the same period to $755,000 and reached $810,000 for the month of May alone.
Meanwhile, the average number of days from when a buyer makes an offer to closing on a home decreased by as much as 40 percent.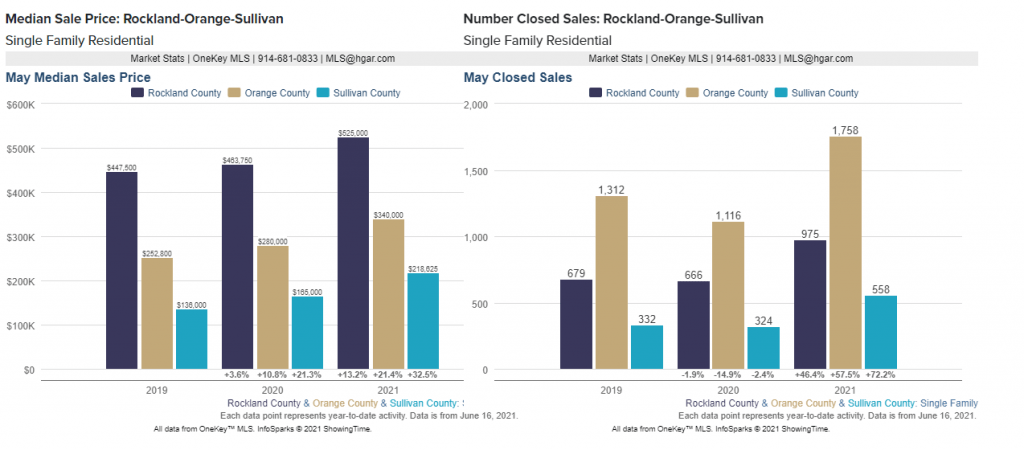 The strong showing by the single-family home market follows a first quarter of 2021 that exceeded expectations among brokers.
The current housing market is paying hefty dividends for sellers, prompting many homeowners to put their homes up for sale sooner than planned to take advantage of market conditions.
A homes.com nationwide survey found that 82 percent of homeowners who sold in the last six months accepted offers at listing price (33 percent) or above (49 percent), nearly half of them sold in less than a month, and a quarter of them had five or fewer showings before finding a buyer — reflecting both the low supply of available homes and the rush to buy when new listings hit the market.
The survey also found a strong correlation between the number of showings sellers' homes had, and the number of offers they received. A third of sellers said they sold their homes within the first five offers received, and nearly two-thirds wound up selling within the first 10. This roughly correlates to the number of showings, indicating that sellers received bids after virtually every walkthrough.
When sellers were asked how long their homes were listed before they sold, 22 percent said the process took less than two weeks, 25 percent were on the market between two and four weeks, and 27 percent for between one and two months. In other words, only less than a third of sellers' listings were on the market for longer than two months.
While homebuyers during the pandemic largely coveted single-family homes in the northern suburbs of New York City, the condominium and co-op markets have been comparatively softer in Westchester and a whole other story in the rest of the Lower Hudson Valley.
A total of 670 condos sold in Rockland County in the last 12 months, according to HGAR, while 199, 243, 535 and four condominiums sold in Putnam, Dutchess, Orange and Sullivan counties, respectively.
HGAR reported only one co-op unit sold in both Putnam and Sullivan counties in the last 12 months, while total co-op sales in Rockland (83), and Dutchess (30) are up by 2.5 percent and 58 percent respectively.