RCBJ-Audible (Listen For Free)
2020 FOURTH QUARTER RESIDENTIAL REAL ESTATE SALES For Westchester, Putnam, Rockland, Orange, Sullivan, and The Bronx
Single-family home sales in Rockland County increased 14.7 percent for the year, with 36 percent of those sales taking place in the fourth quarter. Unit sales for the year were 2,327, as compared to 2,028 in 2019, according to Data provided by OneKey™ MLS.
The median sales price of $500,000 represented a nearly 10 percent increase compared to last year's median of $455,000.
Counties throughout the Hudson Valley performed similarly as the coronavirus pandemic drove urban dwellers to the suburbs and exurban communities. New buyers were fleeing cramped apartments and close living circumstances as the pandemic drew on, suggesting that lifestyles and commuter patterns may be changing for more than just the short haul.
Like Rockland County, Westchester, the largest market in the region, experienced a year-over-year increase in single-family residential sales of 14 percent or 6,657 units as compared to 5,839 for 2019.
There were 2,232 single-family sales in the fourth quarter as compared to 1,415 sales in Q4 of 2019, a 57 percent increase. Year over year, the median price of a single-family home in Westchester increased over 12 percent to $735,000, compared to $655,000 for 2019.
Every county in the region, with the exception of the Bronx, which falls in the city category, experienced year over year increases in residential home sales. All regions, the Bronx included, also saw increases in median sales prices.
Initially, COVID-19 shut down of real estate activity in the second quarter. But creativity and technology matched with a strong desire from new buyers, resulted in a boom year.
The days a property stayed on the market were down in all market areas and properties sold very close to and in many instances above list price, according to Hudson Gateway Association of Realtors (HGAR).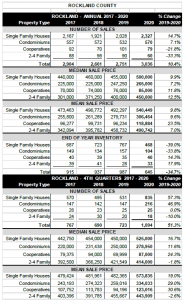 Inventory is at an all-time low, which may negatively impact sales and put upward pressure on prices which, in turn, affect affordability. This is somewhat offset by the low interest rate environment. A higher than usual unemployment rate for the area remains a concern, but commercial activity in the lower Hudson Valley remains strong and should bode well for the residential sector, HGAR predicts.
Putnam County, one of the smaller markets in the region, had an annual increase in single-family sales of 20 percent, rising from 1,050 units in 2019 to 1,261 units in 2020 with a median price increase of 6 percent or $380,000, as compared to $358,000 in 2019.
Year over year, single-family sales in Orange County increased 8.5 percent to 3,984 units from 3,673 units in 2019, the highest number of single-family sales ever recorded for one year in Orange. Again, 36 percent of those sales took place in Q4. The median sales price in Orange increased by 19 percent to $330,000 from $277,250 in 2019, finally surpassing a high of $322,500 in 2007.
Not surprisingly, Sullivan County, the northernmost in the region and a magnet for second home buying, had the highest percentage increase in sales for the year. Single-family sales of 1,232 units surpassed 2019's number of 979 by 25.8 percent, with a median price increase of 36.8 percent to $195,000 from $142,500 in 2019.
Condominium unit sales were mixed, but prices increased in all markets both for the fourth quarter and year over year.
Rockland County condo sales increased year over year by 7 percent, while prices went from $247,250 in 2019 to $265,000 in 2020.
Conversely, Westchester County condo sales were down by 6.8 percent for the year, but showed strength in Q4, increasing 48 percent with an annual price increase of 5 percent to $404,500 from $385,000 in 2019.
Condo sales were strong in Putnam, up 37.3 percent to 173 units from 126 units in 2019.
Like Westchester, Orange County condo sales dropped almost 11 percent for the year but showed some strength in Q4 increasing by 10 percent to 151 units over Q4/2019.
Westchester and Bronx Counties continued to see their co-op markets slide with a drop of 16.7 percent in Westchester (1,559 units sold in 2020 as compared to 1,871 units in 2019) and a drop of 27 percent in the Bronx (391 units as compared to 537 units sold in 2019). Co-op prices rose in both counties.
Multi-family (2-4 units) sales were down in all areas (with no change in Sullivan), but prices continued to increase in that category as well.