RCBJ-Audible (Listen For Free)
Music Store Is A Pandemic Pivot But Owner Dylan Kelehan Has The Chops
By Tina Traster
Making and teaching music is how Dylan Kelehan, 35, has earned a living since he left college. A father of three children, the musician has used a combo of talent, entrepreneurialism, and shapeshifting flexibility to keep the lights on.
Last month, in an effort to stare down the pandemic and compensate for the erasure of live gigs, Kelehan opened The Rock Shop in Nyack at 120 Main Street, a music store that sells and rents instruments and accessories. But the real bread and butter is private lessons, particularly for kids.
Kelehan has worked in several music stores. He also developed a robust music lesson business, Dylan's School of Music, that operated out of Alto Music's former location in Monsey. Founded in 2012, the musician rented space in the store and taught guitar, base, and drums while subcontracting with other musicians to teach other instruments. In 2017, he sold his concern to his colleague Rob Spameinato, who now runs Rob's School of Music in Suffern.
Over the past couple of years, he's had the privilege to refocus his time and career goals playing live, most recently with a band he coveted for many years, The Machine.
He remembers their last show in early March.
"The hand sanitizer was everywhere," he said. "We were doing elbow bumps. We really left it on the stage. We knew it would be the last show."
For the first time in his life, the "next thing" wasn't right in front of him. The musician had trouble landing a full-time job. There were no live gigs. He picked up some part-time work at a music store, but his savings accounts were depleting. With young children at home, and a stay-at-home wife to support, Kelehan took a leap of faith by assuming the overhead commitment of a retail store for the first time in his life.
"I really felt that I didn't have much of a choice," he said. "I could watch my life savings disappear or get a job that would crush my soul. But this would be the opposite of what I set my life up to do since my early twenties."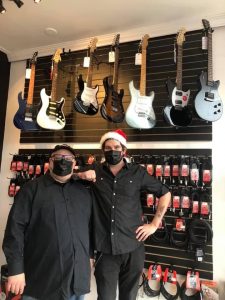 Kelehan recruited his music buddy Jeff Spindel to invest in the endeavor. He took a one-year lease on the retail store in Nyack and retrofitted the 1,000 square-foot space to make COVID-safe 10-foot by 12-foot plexiglass-divided sections for private lessons.
And the students have been coming, hungry for interaction, eager for non-virtual music tuition.
"We've had ten students sign up within a couple of weeks and I'm feeling optimistic," said Kelehan. "The only thing I fear is another lockdown."
Kelehan became an accidental guitar player when he was ten. His older brother had been taking guitar lessons in Braintree, MA, where they grew up. He'd broken his hand in a fight with neighborhood kids and the school had a strict cancellation policy. His stand-in gig opened a vein. Kelehan discovered a passion for playing, and thus began the typical path: the garage band, local gigs, building a social circle around musicians.
In 2005, he graduated with a degree in audio production from the New England Institute of Art.
"But I didn't want to be an engineer," he said. "I wanted to play."
Kelehan has been in more bands than a reporter can keep track of. He kickstarted his career in Ireland, where he was discovered busking. He came back to Massachusetts for a while but ultimately landed in Nyack when he played with a band called Glint.
From the earliest of days, he always had a dollar in his pocket. By the time he joined The Machine, a Pink Floyd tribute act, in 2018, he'd sold his music school, and was touring nationwide.
"I had seen the band two years earlier," Kelehan said. "Now I was on stage. Coming through the stage door with the roadies and the lights and the catering. It was the most exciting thing you can imagine."
Running a retail enterprise might not have the glamour of the hot lights and adoring fans but Kelehan knows this is an important brick in his wall.
"I'm feeling a great response from the community already," he said. "I'm still doing something I really love to do."