How A Village Is Remaking Itself For A COVID Winter Season And Beyond
By Tina Traster
A village is like a family: when it comes to a crisis, it will be tested.
Piermont, one of Rockland's most picturesque Hudson River villages, gets high marks to date for banding together like a tight-knit clan to fight the ongoing economic impacts of the coronavirus pandemic. What it has going for it is a strong business community led by the Piermont Chamber of Commerce and an engaged government that has proactively supported local commercial enterprises.
"Our restaurants are the backbone of our local economy," said Peter Helou, the Chamber's president.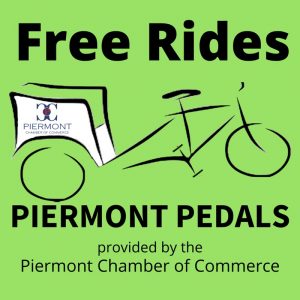 In recent months, the two entities have worked closely to redirect $13,000 in economic development funds that were to be used for a series of fall and winter events to purchase infrastructure including cement road blocks and tents to help restaurants and merchants thrive. They have also raised money through sponsorships to keep the local economy ticking. Most of the restaurants have thus far survived the pandemic, though a few boutiques and galleries have shuttered.
To keep consumers engaged, the Chamber of Commerce is sponsoring the Piermont Holiday Bazaar at Flywheel Park every Saturday (noon to 7) and Sunday (11 to 5) starting Thanksgiving weekend and running through Dec. 20. Using economic development funds from the Village, the Chamber recently purchased tents for more than 36 vendors selling crafts, art, jewelry and other holiday items.
Brick and mortar stores that belong to the Chamber will display wares for free. Chamber members without a store will be charged $50 per day and non-chamber members will pay $100 a day. There is still time to sign up to participate in the market.
Prior to the pandemic, the Chamber had hoped to use economic development funds to stage a Bastille Day event, Rockland Arts Festival, a Ladies Night Out, and an Octoberfest. Hewing to the CDC guidelines and a New York chastened by a virus, Chamber members pivoted and thought about a new way forward.
In the spring, the Village invested in concrete blockers to roadblock Piermont Avenue from traffic and set up barricades in front of several restaurants to create an outdoor dining scene.
"Our restaurants are the backbone of our local economy," said Peter Helou, the Chamber's president.
As the warm weather gives way to colder climes, the Village has helped restaurants and merchants navigate village building and fire codes in order to set up outdoor heating elements.
Even before COVID, the Chamber had been wrangling for better Christmas lights and decorations. The village's "Charlie Brown Christmas tree" will be replaced by a 30-foot fir situated in an empty lot across from Village Hall.
And in a modern twist of Central Park horse-drawn carriage meets Christmas postcard sleigh ride, the Chamber will be offering free pedicab rides to visitors during the holidays – and beyond. The human-propelled cabs will be located at Piermont Bicycle Connection on Ash Street. Riders will be ferried village-wide, from the decorated tree to the Christmas bazaar to restaurants along the northern stretch of the river.
Helou said the pedicabs, at $4,500 apiece, were purchased from a New Jersey business owner who ran a pedicab business down the Jersey shore.
"The tents, the pedicabs, the concrete blocks – this is the kind of infrastructure we are investing in," said Helou. "These are not one-time purchases. These assets will help us weather COVID and beyond."
---