Elisa Boutique Focuses On Unique Pieces And Personal Service
By Sierra Petro
Elisa, the newest boutique to open in Piermont, is a curated mix of clothing and jewelry from around the world. Joining other mom-and-pops in the vibrant village, owner Elisa Leeshin is counting on foot traffic from tourists, day-trippers, and regional fashionistas who alight on Piermont for its beauty, restaurants, art galleries, and its proximity to the Hudson River.
But Leeshin also plans to borrow a concept from Paris ateliers and high-end department stores: developing a loyal customer by offering highly personalized service that mixes a cup of tea, conversation, and special attention to outfitting women who want something more than pret-a-porter.
"Ladies like me spend a lot of time working and raising their kids can now dedicate time to moving their spirits by spending their money on something special for themselves," said Leeshin. "At this age, I'm working to make people happy, and making people feel special makes me happy."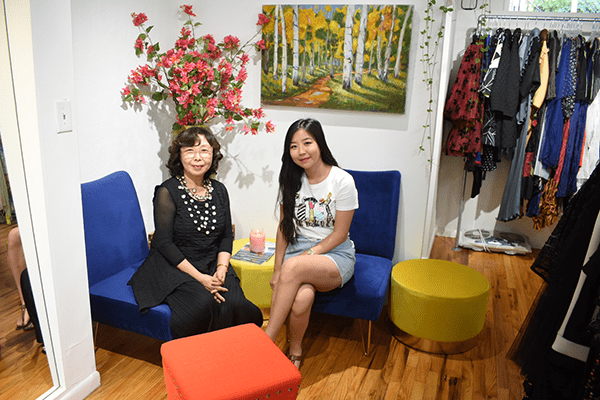 Leeshin, who opened the boutique at 510 Piermont Avenue, the storefront that had been unoccupied for six months, began to learn about fashion when she was a young girl. Born in South Korea, Leeshin's mother moved to Brazil. Leeshin followed in her mother's footsteps, running a fashion wholesale business in Brazil for two decades where she managed more than 300 employees. The products were "designed and manufactured, similar to Forever 21."
For her boutique, Leeshin is pivoting to a curated assortment of products that have a more unique signature, rather than a mass-manufactured feeling. The boutique owner trolls trade shows for pieces made in Korea, Germany, and domestically, particularly in California. Clothing and jewelry collections are hand-made and limited. There are some factory-made items. Prices at the store range from $150 to $800.
Leeshin has created a dedicated sitting area in the 650-square-foot space for tea and conversation with clients who want one-on-one attention, a refreshing touch in an off-the-rack world. What Leeshin understands is that people who come to Main Streets like the ones in Piermont are not only looking for something that feels special and unique, they also want to be treated that way.
"When clients are trying on, it's my job to look at their body types and think about what they're looking to buy to make quick suggestions" Leeshin said.
The boutique, which opened last week, sits at the entrance to the village. Leeshin has felt welcomed by the community and by those who popped in to see what has filled the coveted space in the village. The boutique owner, who has been in the fashion business for decades, knows how difficult it can be to survive in a competitive retail environment but she is counting on a combination of her chops, a vibrant village that values individuality, and an attention to service and detail that will cultivate a customer base that is looking for that great boutique conversation piece.