Cargus International's Bryan Markiet Is Tapping A Hot Trend
By Tina Traster
Bryan Markiet grew up in the dental supply business his parents built over four decades, Cargus International, Inc. in Congers. He and his siblings are carrying the torch, but Markiet is pivoting into one of the hottest markets – CBD — and he's tapping into Cargus' deep database to build a brand.
More than 90% of dentists retire with neck, hand or back pain, Markiet explains. "CBD is an alternative to popping pain pills, or using Advil, which ultimately burns a hole in your stomach."
Cargus has a mailing list of nearly 80,000 dentists nationwide – a target Markiet views as a built-in client base. "We know dentists have a high suicide rate," he said. "Patients are often anxious, so dentists constantly feel the stress."
Markiet is also marketing Mark3 CBD Oil to local pharmacies like Shultz Pharmacy in Garnerville and Congers Pharmacy, as well as to wellness centers including Two Rivers Acupuncture in Nyack. Markiet is also teaching the county about CBD at local street fairs. The company sells the product on its website: www.MARK3CBD.com
"We rolled out the product at the Greater New York Dental Meeting at the Jacob Javits Center last November, where we got a lot of good feedback, a lot of interest, and a lot of questions," said Markiet. "A lot of people in California and Colorado know about CBD, but we need more education here on the East Coast."
At the time of the conference, CBD was not yet legal. However, in December 2018, the Agricultural Improvement Act, better known as the farm bill, de-scheduled certain cannabis products from the controlled substance list.
Understanding that there are many mysteries surrounding CBD, and there are no recommended dosages, Markiet recommends users start with one full dropper under the tongue and hold it there for 60 seconds. Then, increase by half a dropper if the oil is not responsive to pain. Mark3CBD Oil retails for $84.99 for 1ooo milligrams; and $49.99 for 500 milligrams.
Markiet says his doors at Cargus are open, and encourages the public to come by and learn more about the product.
Cannabidiol, or CBD, is an increasingly popular natural remedy used for common ailments including anxiety, pain, inflammation and sleeplessness. It is not regulated, nor have any large studies confirmed its benefits but some scientific studies report it may help treat a variety of ailments including epileptic seizures.
CBD is one of the 104 chemical compounds known as cannabinoids found in the cannabis or marijuana plant, Cannabis sativa. Tetrahydrocannabinol (THC) is the main psychoactive cannabinoid found in cannabis, and causes the sensation of getting "high" that's often associated with marijuana. However, unlike THC, CBD is not psychoactive. CBD oil is made by extracting CBD from the cannabis plant, then diluting it with a carrier oil like coconut or hemp seed oil.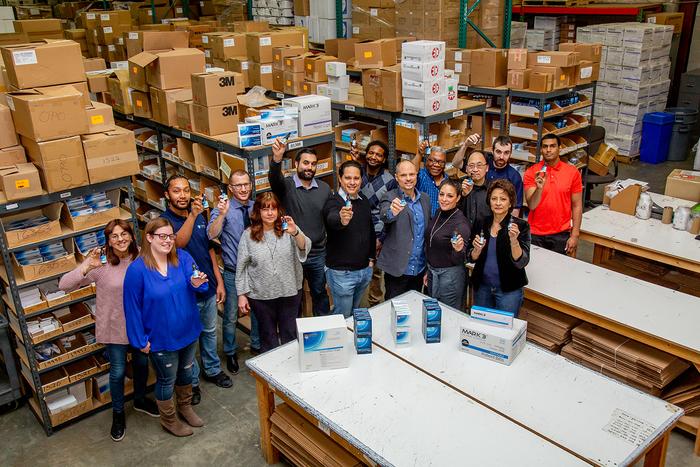 The cannabidiol (CBD) industry is expected to be worth $2 billion by 2022 according to new data from New Frontier Data. In 2017, the CBD industry grew by 40% and hit $367 million in sales.
"We hope to build a $35 million company within the next three to five years," said Markiet. Though the CBD oil is being marketed under Cargus' Mark3 brand, Markiet co-owns the CBD oil company with partner Chris Lewis. The CBD oil is harvested and manufactured in Oregon, and bottled and packaged in California. It is then shipped to Cargus' 15,000-square foot warehouse for distribution and marketing.
Entrepreneurs who are venturing into the CBD market see a wide-open playing field but recognize "big pharma" could lobby the FDA to make it a schedule-1 drug.
Still, Markiet is confident and says  "the market is so big right now, and we're going to carve out a niche."
It is expected that U.S. consumer sales of CBD will reach around S1.8 billion by 2022 – an increase from $500,000 million in 2018.
For those who'd like to learn more about CBD, or like Markiet, get in on the action, consider going to the Cannabis World Congress & Business Exposition (CWCBExpo) in New York City from May 29 through June 1, 2019 at the Jacob Javits Convention Center.