Close-Out Retailer Opens Second Store in Clarkstown, Rockland County
By Tina Traster
Ocean State Job Lot, a Rhode Island-based discount closeout retailer, has bought the former Toys "R" Us Nanuet location for an undisclosed sum. This marks the company's first foray into Rockland County along the Route 59 retail corridor where major chains have disappeared over the past couple of years, but the store's second in the county.
The 41-year-old family-owned company, which will have 140 stores in eight states, also purchased five other Toys "R" Us locations in the northeast and has leased one in Massachusetts. The Toys "R" Us acquisition expands Job Lot's presence in New York and New England, and represents its first entry into Pennsylvania.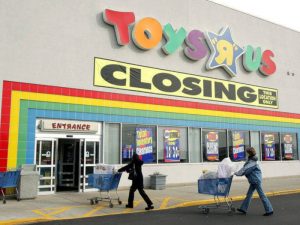 The closeout retailer will open in Nanuet sometime in the first half of 2019 in the 38,058 square-foot Toys "R" Us location and employ roughly 50 employees. The deal was done directly between Job Lot and Toys "R" Us, and without a local broker, according to the company's spokesman.
The closeout retailer will open sometime in the first half of 2019 in the 38,058 square-foot Toys "R" Us location and employ roughly 50 employees
Job Lot, as well as At Home, the Plano, Texas-based home decor superstore retailer that is taking 100,000 square feet in the former Macy's store on Route 59, and Bob's Discount Furniture, which has replaced Baby's "R" Us, hint at the kind of retailers reshaping Rockland County's main shopping hub. All target discount shoppers with a warehouse-style or big-box shopping experience.
"The recent closure of Toys "R" Us retail stores has allowed Ocean State Job Lot to acquire seven outstanding locations at an extraordinary price," said Marc Perlman, Principal Owner and CEO, Ocean State Job Lot. "In an ever-changing retail environment where many retailers are struggling, Ocean State Job Lot has been able to adapt, enter new markets, reopen closed storefronts, and create new job opportunities. We realize that people work hard for their money, and those retailers who are able to provide exceptional value will be rewarded by their customers."
The company, which employs approximately 5,000 employees, and has annual sales exceeding $675 million, is seeking vacant storefronts across the Northeast. Ocean State Job Lot looks for an average footprint of 40,000 square feet to site its stores, which sell name-brand household goods, apparel, pet supplies, seasonal products (holiday, gardening, patio, pool and beach supplies), and kitchen pantry staples at low, close-out costs.
The 28,000-square-foot Job Lot store in the Stop & Shop Center in New City, which employs 30, opened in 2015. A company spokesman said the store will not be affected. Job Lot has three stores in Long Island, one in Fishkill, and five in New Jersey
This has been a brutal year for store chains. Sears, Toys "R" Us, and others have closed more than 5,000 stores, while smaller regional retailers have been going dark too. While At Home has committed to 100,000 square feet of ground-floor space at Macy's, the rest of the building will need to be rented. At Home is a "self-help," warehouse-style home décor superstore that generally sells more than 50,000 home furnishing items in a variety of styles and for low prices.  Offerings include furniture, mirrors, rugs, art, housewares, patio, and seasonal products.
The website MoneyWise, has compiled a list of 30 major chains that are currently dying off the fastest, and the list bodes ill for The Shops of Nanuet, Rockland County's most upscale retail hub. Eight of the 30 retailers on the list have, or had stores at the Shops of Nanuet: Victoria Secret, J. Crew, Michael Kors, Gap/Banana Republic, GNC, Ann Taylor, and Teavana.
---
Read also: Dying Chain Stores May Bruise The Shops At Nanuet
Read also: Proposed Zoning Change Would Dramatically Alter Nanuet Business Streetscape
Read also: At Home Superstore Will Take Macy's Ground Floor In 2021