Why Have We Never Heard Of the Juggernaut Retailer At Home?
By Tina Traster
One of the nation's fastest growing retailers you may have never heard of is taking over the ground floor of the Macy's location at The Shops at Nanuet. Macy's announced this week that it is closing after a half century.
This is the first store At Home (NYSE:HOME), the Plano, Texas-based home decor superstore retailer, will open in Rockland County, and the 78h in New York. The chain, which has 177 locations in 36 states, opened a superstore in Middletown last August, and is underway with another in Long Island. They plan to grow the chain 20% annually to 600 stores.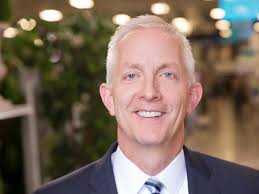 "The Nanuet market is vibrant," said At Home CEO Lee Bird. "We like lifestyle centers with open mall concepts. The (Macy's) store was the right size, and we are excited about the New York Metro area."
At Home is scheduled to open the 100,000-square-foot store here in 2021, according to a company spokesperson. The company has signed a 10-year lease. At Home is waiting for Macy's to vacate the premises, and to decommission the escalators that connect the second and lower floor, so the space can be sealed off. Once they have an open-box format ready to go, it takes about four months to open.
the Macy's location will have 35 to 40 employees, compared to a typical big box that employs closer to 200 workers.
The brand is a "self-help," warehouse-style home décor superstore that generally sells more than 50,000 home furnishing items in a variety of styles and for low prices.  Offerings include furniture, mirrors, rugs, art, housewares, patio, and seasonal products. At Home does not sell online. The company believes women, who comprise 85% of its consumer base, want a tactile shopping experience. More than 400 new products arrive on the shelves weekly.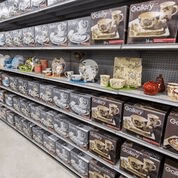 The big box store's formula pairs private-label design with low prices – cutting competitors by 30%. The CEO says the "super low-cost structure" is what allows the brand to compete. The company looks for second-generation box stores to locate in. It keeps its team small – the Macy's location will have 35 to 40 employees, compared to a typical big box that employs closer to 200 workers. Between four to six sales people will work the floor, rising to 8-10 during busier retail seasons. Employees will be paid market-rate wages with benefits, Bird said.
The company has been an interesting one to watch as it has been on a steep upward trajectory at a time when so many other big boxes are going for bust. Bird says the company's big box is built to weather economic downturns because the merchandise is geared toward "life chapters" like redecorating the teen room, the college dorm, the existing home. Even if people feel trapped in their homes, unable to buy or sell, they still want to decorate their spaces. The average store item costs $15; the average purchase is $65.
The highly-fragmented home furnishings market is a $180 billion market in annual revenue, with a growth rate of about 3% a year. New At Home stores generate between $4 and $6 million in the opening year.
The CEO isn't worried about the brand's lack of name recognition. "We are still young and people are learning about us," he said. He's confident At Home will fit into The Malls at Nanuet's high-end retail mix. "Consumers are very careful with their money, especially since the great recession," said Bird. "Value players (like At Home) mix well with moderate and luxury brands."
The company was founded more than 35 years ago as the Garden Ridge brand, which filed for Chapter 11 bankruptcy protection in 2004 amid failed lease negotiations and underwent a major reorganization that included closing ten stores. After the reorganization the corporation emerged from Chapter 11 in 2005. Garden Ridge cycled through two new owners until its current investor team bought it and the converted its stores to the At Home brand. In August 2016, the company went public.
Prior to heading up At Home, Bird served as president of Nike Affiliates for Nike Inc., chief operating officer at Gap, and chief financial officer at Old Navy
At Home's stock is down to 28.50 from a high of 42 this summer, and its earnings per share are down 32 cents to 13 cents. Nevertheless, Wall Street analysts are bullish on At Home, viewing it as an outlier in the vulnerable big box category that is well positioned to capture the trendy but price-conscious market.
Since Lee Bird took the reins as chief executive at the beginning of 2013, At Home has delivered revenue growth at a 20% compounded annual rate over the past four years. "We've had 18 consecutive quarters of positive comparable store sales growth, and 17 consecutive quarters of 20 percent revenue growth," said Lee. "We believe we have a successful concept."