Supercross Cup Brings 1,000 Weekend Visitors To RCC Campus Annually
By Tina Traster
An annual event on RCC's campus on the November weekend before Thanksgiving may be an untapped opportunity for Rockland's food, hospitality and tourism businesses. The Supercross Cup, a cyclocross racing event, will bring more than 1,000 participants from the tristate area and New England to compete and spectate. Many of these visitors will need hotel rooms, restaurants, gas, possibly biking gear, and other weekend-away accouterments.
How many of Rockland businesses get involved – or even know — about this event?
"Rockland is an away game for us," said Romanow
Myles Romanow, the events director for Supercross Cup, which is sponsored by the Kissena Cycling Club and Hampton Velo, is not local. Neither is his group. Typically, he says, less than half a dozen Rockland residents participate. He doesn't know how many come to spectate but he's the first to admit his volunteer organization does not have the marketing muscle to widely promote this unique event to Rockland's business community.
"Rockland is an away game for us," said Romanow. Some 60% of cyclists come from New England, where the organizers have deep roots, and another 40% draw from New Jersey and New York City.
While the county's tourism officials have been supportive, and some budget hotels have inadvertently benefited, local businesses, including Airbnbs, could be capturing an annual influx of visitors who will spend money. Romanow says visitors who stay overnight typically spend around $200 per day.
"It's a chicken-and-egg thing," said Romanow. "We'd love to see small businesses showing some love to this event but we're not integrated into the community. We don't live here. Business owners don't necessarily have a connection or a reason to think about sponsorship."
But should they?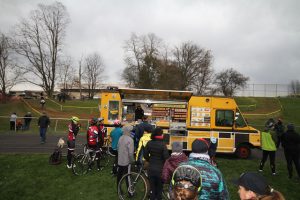 "It is a really cool event," Romanow added. "It's free to come and watch. And if there's a Boy Scout troop looking for a project, this is a great way to knock off Merit Badge awards."
Cyclocross is comparable to a steeplechase with road bikes on a 2km course. It dates to the early 1900 when French army Private Daniel Gousseau rode his bicycle alongside horseback-riders through the woods. It's a popular winter race among cyclists, but it is, as Romanow says, a "fringe sport."
Races typically take place in the late fall or winter, and consist of many laps around a short course, which could be paved road, wooded trails, grass. Obstacles require riders to dismount, and carry the bike while circumventing whatever's in their way. Like a triathlon, cyclocross mixes riding and running with skillful bike handling. There are serious races throughout the weekend but also fun opportunities for families and children.
The event has been in Rockland for six years, the first three at Anthony Wayne Recreation Area, and the past three at RCC – a time of the year when the campus is largely empty. The Supercross Cup's website features one hotel, The Quality Inn on Route 59. Jason Quinones' Five Senses Food truck will be a food vendor, and a second food truck is from New Jersey. The coffee vendor, Endgrain Coffee Bar, also is from New Jersey.
Two years ago, Romanow said he was looking for food truck vendors. "I spent two days on Google looking for Rockland food trucks. There was no business directory. No easy way to find them."
Ultimately he found Five Senses Food, a local food truck that mostly parks in the Haverstraws and does events, and Fork in the Road. He recalls talking to another food vendor who told him he had a prior commitment to feed a couple of dozen kids at a soccer game. "I understood that even though it was 20 kids, compared to 1,000 people, business owners have loyalties."
Rockland is already a cycling paradise for serious city riders who come up on weekends. That footprint will likely expand when the Shared Use Path on the Mario M. Cuomo Bridge opens next spring. Businesses that throw their weight and wares behind cycling and industry events may just be riding a profitable wave.