Five Senses Food Truck is a Staple of the Haverstraws
By Tina Traster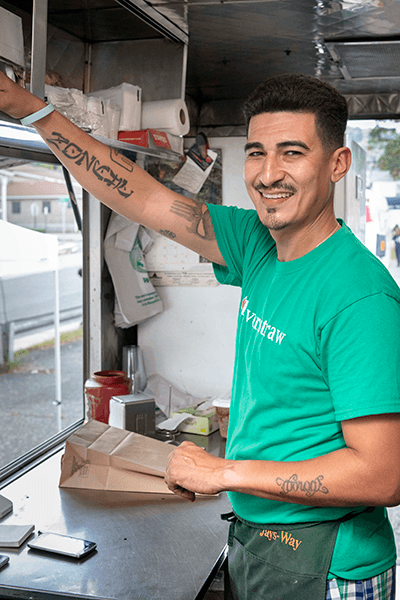 Sometimes an accidental question puts you on an unexpected road. For Jason Quinones, that road is 56 West Broad Street in the Village of Haverstraw, where he parks his food truck five days a week.
Four years ago, the 37-year-old Stony Point resident had been working for Beckerle, where he did a little bit of everything. He happened to notice a customer who regularly came around to get propane, showed up one day without his taco food truck, El Pastor. Quinones innocently asked "Where's your food truck," The customer responded, "Do you want to buy it?"
Quinones wasn't in the market for a food truck or an entrepreneurial career move but the idea lit a fire inside. He told his best friend Melissa Llanos about the truck, and the pair decided to venture into the unknown. Llanos had worked in a pizzeria for years, but this was new territory.
The two paid $25,000 for the 1986 Chevy P30 food truck with 300,000 miles, and invested another $5,000 to install a water heater, fix dents, install a fridge and repaint the exterior. The food truck entrepreneurs hit a few bumps in the road. El Pastor had been parked at 56 West Broad Street for years. Quinones at first assumed he didn't need a new permit, but found out he did. At first, he met with some resistance with the permitting process but he went before the Village Board and spoke passionately about his project. "I told them I was a member of the community, that I coached, that I knew we'd do well because of our menu," said Quinones. "I spoke from the heart."
Five Senses parks for $300 monthly diagonally across from the Village Hall from 11:30 to 8 pm year round. The food truck owner's permit allows it to park in the Villages of Haverstraw and West Haverstraw. He is not allowed to be within 200 feet from another food establishment. 
"I like working for myself," he said. "We move as we please. We make up our own rules. What work we put in is for ourselves."
The food truck also travels to food truck fairs and caters. The eclectic menu is Puerto Rican-American fusion featuring classic steak in between plantains, as well as signature sandwiches, quesadillas, salads, wraps, chicken wings, mac-and-cheese, mozzarella sticks. The menu changes every day, with the exception of rice and beans with chicken chunks and plantains. Quinones says he is one of half-dozen food truck vendors in the county.
"This has been a great experience," he said. "Customers are thankful for the food and we are thankful for them. The hardest thing is the hours. They are long. I have two kids, teenagers. They say kids need you when they're young. But they also need you at every age."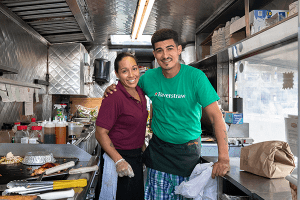 Food trucks have a hipster vibe but they are hard work. It's hot in the summer, cold in the winter and the hours are long. Quinones says he and his partner were able to recoup their initial investment right away. "We were never in the red." Sales revenue has increased 5% annually. Now the two are talking about hiring, and potentially eyeing another food opportunity – though not one on wheels.
Quinones estimates the pair spend about $600 monthly on fuel. But because the truck already has 300,000 miles, he keeps catering jobs within 45 minutes. What will happen when the truck dies? "We'll get another one," he said.
The entrepreneur has a go-with-the-flow approach. Perhaps that's why he was able to leap into the abyss. "I'm not a long-term planner. I fell into this." But the experience has emboldened him, and his future endeavors are likely to be self-propelled.
"I like working for myself," he said. "We move as we please. We make up our own rules. What work we put in is for ourselves."
Jason Quinones, Five Senses Food Truck, 56 West Broad Street, Haverstraw, (845) 461-6423 | 11:30 – 8:00pm, Available for catering/events.