EVgo Charging Stations Installed At The Shops At Nanuet Improve Continuity in Route 59 Corridor
By Tina Traster
Electric charging stations are good for the environment. They offer a convenience to the small but growing number of drivers who've gone electric or hybrid. But they're also a clever business tool for shopping malls because it takes at least 30 minutes to recharge the car, which means drivers need to fill their time too.
What's a better built-in distraction than shopping or having a bite to eat?
"We want to do right by the environment, and be a good member of society and the business community."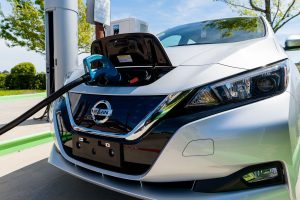 The Shops at Nanuet figured out this home run. Six EVgo Charging Stations were installed this past summer, adjacent to Banchetto Feast. The response has been positive, according to a spokesman for the Simon Property Group, which owns the mall. Les Morris said Simon's goal is "to have an EV charging station at every one of our properties by 2020." Including The Shops at Nanuet, there are 525 charging stations at 108 properties. In just the third quarter of 2018, Simon added 12 stations.
The EVgo chargers at The Shops at Nanuet are strategically located along the I-95 corridor. Morris says the roll-out has been "good for us, and good for shoppers who worry about where to charge up, and who can spend time at the mall while waiting."
He added, "We want to do right by the environment, and be a good member of society and the business community."
The cost to charge with EVgo is comparable to filling up the car with gas. But the price is lower for those who buy contracts.
There are less than a handful of charging stations in Rockland County, including an on-site station at the Warren Hill apartment complex in Nyack.
Morris said the installations fit in with the company's corporate efforts to be good environmental stewards. Last month, the company was recognized at Rockland Business Association's (RBA) 9th Annual Green Council Awards for "Transportation Improvement". Introducing the awardee, Scott Case, general manager at Instrumentation Laboratory, said, "This project contributes important and necessary charging infrastructure to the heavily-travelled I-95 corridor.
EVgo, the nation's largest EV fast charging network, has more than 1,000 chargers in 34 states. The fast chargers offer 50 kW to all EVs, including Leaf's, BMWs, Bolts and Teslas.
3.2 million Electric Cars
The number of electric cars worldwide rose to 3.2 million, according to a count taken at the beginning of 2018 in a survey conducted by the Centre for Solar Energy and Hydrogen Research Baden-Württemberg (ZSW).  Some 1.2 million are on the road in China, followed by 750,000 in the United States of America. The United States held onto second place with 751,510 e-cars, including last year's 195,140 newly registered vehicles. Germany remains in eighth place with just short of 93,000 cars. Last year was a record-setter with 1.2 million new registrations.
"If the rate remains anywhere near that, the number of electric vehicles registered annually will exceed 25 million by 2025," said Prof. Werner Tillmetz, a member of ZSW's board of directors and head of the Electrochemical Energy Technologies division.
Last year's most successful Western automaker Tesla retained the top spot this year with 86,700 new registrations, despite the delays in the Model 3's rollout. BMW finished fourth, followed by VW in fifth place.
July 2018 marked the first time plug-in sales made up 2% market share in the U.S. The record share of over 2.1% was achieved thanks to record sales of 29,514 plug-in cars, which is roughly 90% more than a year ago. At the same time the overall car market decreased by 3.7%.
---
Read also, New Shared Use Path (SUP) Likely to Stimulate Local Economy