Entrepreneurs should throw their hats in the ring to benefit from SUP
By Tina Traster
The anticipated completion of the new biking/walking path on the Mario M. Cuomo Bridge for the second half of 2019 is likely to represent opportunity for a handful of entrepreneurs who want to cater to the hoped-for crowds that will be streaming back and forth between Westchester and Rockland counties.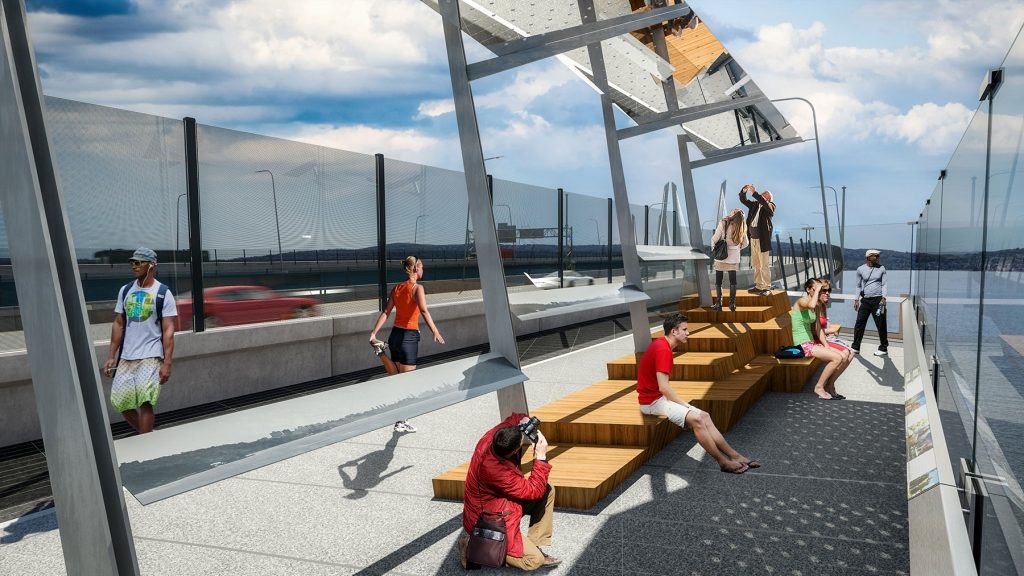 The "shared use path" or the SUP, also may be a boon to the Village of Nyack, and beyond, as the new linear park draws curiosity seekers and recreational users.
What's known as "Interchange 10" in South Nyack is going to be transformed into Rockland Landing, which will include a welcoming center, a kiosk with wayfinding, and 60 parking spots. There will also be picnic areas with seating. Thruway officials say there will be space for at least two food truck vendors and a mobile bike rental outfit.
"There's still plenty of time for business owners to let us know if they are interested," said a Thruway official.
The SUP will flow directly into South Nyack, but there will also be a "side path," a spur off the main path, that will connect walkers and bikers to the Esposito Trail. The spur will be paved and bike-friendly, and end at the corners of South Franklin and Clinton Avenues. This is good news for the Village of Nyack.
"The SUP is going to have a favorable impact on Nyack," said Art Clark, director of Visit Nyack. "If we're good at marketing this asset, it should be a great success."
Visit Nyack has spent several years promoting Nyack to New York City and the Hudson Valley region with a tourism campaign on MetroNorth, NJ Transit, NY Magazine digital ads, NY Times digital ads, Pandora, Peak radio station, and now on the NYC subways. Visitor counts are on the rise, with a 6.5% increase in 2017, or 258,000 visitors, compared to 2016. Clark says the SUP is likely to push visitor counts closer to a 10% increase in 2019.
Those with their finger on the pulse says the new path is great news for Nyack's shops and restaurants. "This will bring fresh eyes to the Nyacks," said Nyack Chamber of Commerce Roger Cohen.
Cohen also said the path will be a good draw for those who will soon be renting some 400 to 500 new housing units that are being built in Nyack.
Time Hotel manager Anthony Damiano also hopes to benefit from this attraction. The hotel which is in Chapter 11, is seeking ways to move forward. "This path represents another way for us to market the hotel," said Damiano. "We are sold out on weekends. We get a lot of people who come up from the city who want to bike. This is a great tourism feature."
Those who compare the SUP path to Walkway Over Hudson, which connects Highland and Poughkeepsie, shouldn't. That extremely successful 1-mile path has no vehicular traffic, and is very alluring for recreational ambiance. The 3.6-mile Mario M. Cuomo Bridge SUP will be situated on the northern span, and will be separated from traffic with a barrier. There will be six bump-out areas for relaxing and viewing. No doubt the vistas will be spectacular but at times the conditions on the 139-foot bridge will be windy in the channel. On the other hand, the new bridge was built with less grade, making the path manageable for many levels. "The grade was designed with the recreational cyclist in mind," said a Thruway authority official.
"The SUP is going to have a favorable impact on Nyack," said Art Clark, director of Visit Nyack. "If we're good at marketing this asset, it should be a great success."
Mike Benowitz, former president of Rockland Bicycling Club, believes the path will draw three types: families going for a stroll or a casual ride, perhaps riding to the first or second bump-out and back. Secondly, he thinks there will be commuters like himself who will use the path to get to work in Westchester. And of course he is expecting the Spandex cyclists, who will now be able to ride up from the city on weekends.
However, Benowitz is concerned about the hours for the path. "If it's only open dusk to dawn, it will not be reliable for commuters." No decision has been made yet on hours.
Of course there are skeptics, and those who wonder if they will benefit at all. Some says many people will do the walk or the bike once, but they're not sure it will become a regularly-used path.
James Skelley, owner of Nyack Bicycle Outfitters, says bikers may come to Nyack and eat and drink too much. "They may need an Uber van to go back," he said. On the other hand, perhaps he should up his selection of electric bikes. "I'm really not sure if we're going to see a boon because of the path," he said. "Let's wait and see."