RCBJ-Audible (Listen For Free)
Entrepreneur Understands The Value Of Telling A Good Story, Especially When Mission Is Tied To Medicine
By Tina Traster
Gloria (Glo) Janata made practical career choices, working for three decades shaping the messaging and healthcare policy for pharmaceutical giants. But the PR maven's story is woven with kindred connections, a passion for Siberian Huskies, a focus on good medicine, and a fairytale highlight of Disney proportions, quite literally.
Janata is the CEO and president of TogoRun, a Nyack-based marketing company that was once a health and well-being communications and public affairs division of  Omnicon Media Group Holdings Inc. After years spent at American Cyanamid (now Pfizer) and The Chandler Chicco Companies, Janata in 2012 joined TogoRun. She worked her way up to becoming President and Senior Partner.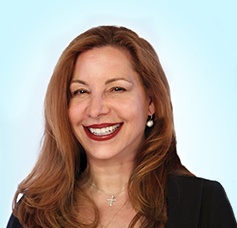 But in 2020, amid the upheavals and disruptions of the COVID-19 pandemic, she unhitched TogoRun's sled from Omnicom and has since led the smaller but more agile company on a challenging but rewarding trek. Janata remembers when she was first hired by Omnicom to run TogoRun, thinking how coincidental it was that she should find a company with a name that has a spiritual connection to one of her greatest passions: Siberian Huskies. She had two at the time, but Togo, for whom TogoRun  was named, became her spirit animal. Togo was a sled dog who embodied forbearance, heroism, and pluck. But he is also the posterchild of the underdog that is still seeking his place in the pantheon of celebrated pups – and who better than a PR expert to take up this cause.
If you don't know who Togo was or have not seen the Disney movie "Togo: The Untold True Story" starring Willem Defoe, a quick history lesson first.
In 1925, a devastating case of diphtheria broke out in the isolated Alaskan village of Nome. The village was inaccessible by plane or ship, leaving only sled dog teams to relay medicine across the frozen tundra. The notable hero of this well-worn tale is a dog named Balto, who ran the last 55-mile leg of the race. But a lesser-known 12-year-old canine named Togo, and his team, ran the bulk of the journey for five days until a driver named Gunnar Kaasen and a lead dog named Balto pulled into Nome, serum in hand. Newspapers screamed "Balto crosses the finish line." And that, as they say, was that. Balto became a household name. Balto has a statue in New York City's Central Park. Togo is still waiting for more than his 15 minutes of fame.
Modern-day serendipity and the quick instincts of a seasoned PR woman breathed life into Togo's story. About five years ago, Janata was on a flight from Los Angeles to New York. A seat mix-up – the universe making its mischief – put Janata next to Sean Bailey, president of Disney Action Films. Janata started with the opening line: What are you going to do in New York? He rattled off a list of entertainment-oriented pleasures. Janata asked what he did for a living. He told her he produced action films for Disney. Janata's mind sprinted as fast as a dog-sled runner, and for the rest of the flight, she regaled him with the unsung story of her heroic Togo.
"A month later, I got a call from Sean Bailey," she said. "He wanted to produce the film. It was released in December 2019." Janata earned herself an associate producer credit on the film.
Public relations is not always an understood profession. At its best, it is led by people with keen instincts who understand the heart of a good story. Janata, who was born on Cape Cod and grew up on Long Island, found her way to Rockland County in 2000. She is married to author, Hank Whittemore and they have a son. Originally studying law, Janata began her career in Washington DC working on big pharma accounts in public relations and public affairs. In the early 1990s, Janata served as Lederle's (American Cyanamid) head of public relations and community affairs, shepherding Lederle's methotrexate, which went on to become a leading cancer killer still used as a mainstay in chemotherapeutic cocktails. The drug ended up saving her father's life when he was faced with an aggressive lymphoma a decade ago.
She also worked on the SUPRAX Family Health Fund, developed to provide health care to homeless and indigent children around the country.
"My feeling has always been that medicine saves us from so many hardships and horror," said Janata. "My father was given three to six months to live. But I knew about methotrexate He is 86 years old today."
The TogoRun agency was founded in 2009 by Omnicom. When Janata joined in 2012, she was excited to work with the global network, and a division that was named after a sled dog.
"How can I resist an organization named after Siberian Huskies?" she mused. "It's moments like this when you know the universe is talking to you."
But she'd always dreamt of having her own agency.
"During the pandemic, Omnicom was shifting its brands, consolidating," said Janata, explaining that FleishmanHillard, the agency's sister, gave Janata the opportunity to run with the brand.
It was time to leave the comfort zone.
"My father, an attorney and entrepreneur, told me from the time I was two that I must be independent, professional, to call the shots, to make a difference, to serve others," said Janata. He promoted the idea of equitable abundance rather than scarcity. "To go big or go home. He called it 'Freedom Road' and wanted me to own it and blaze it."
Like Togo, Janata has made tracks, leaving the cloisters of corporate life for the open road that is every entrepreneur's journey. Her staff of roughly 20, work remotely, and she is growing her team. No longer based in Manhattan, the firm's client roster has become more Hudson Valley centric.  The client list includes Jaguar Health, Pure Earth, and Candesant Biomedical. But Janata also feels called to give back, to honor Togo, to tell his story, to help animals. She is on a mission to get a statute erected for Togo, possibly in Rockland County or the Hudson Valley. She's also working on an animal registry that tracks cancers in dogs.
The company, Janata said, donates 11 percent annually of its time to pro bono services including Mission Plasticos, Pure Earth, and Conservation Legacy.
TogoRun was named to the Inc. Magazine 2022 Best in Business list in the Marketing category and to the 2023 list for Best Workplaces in advertising and marketing.
Almost always, it's about the mileage. One step in front of another. Putting in the time. The 10,000 hours Malcolm Gladwell talks about. Keeping the pace, running the distance. And delivering the medicine, whatever form that takes.
---