RCBJ-Audible (Listen For Free)
Cat Activists Calling On Public Officials, Humane Society To End Suffering Of Neglected Cats Living In Deplorable Conditions In Condemned House
By Tina Traster
On June 21st, a concerned citizen filed a cruelty report with the Hudson Valley Humane Society, detailing horrifically shocking conditions for cats living in a Pearl River home. At the time, Rockland County Health Department and the Orangetown Police Department were aware of the situation but long-time cat activist Judi Doherty reached out to the Hudson Valley Humane Society because it is the only entity in the county, aside from the police, that has the power and authority to seize animals from an abusive situation.
The elderly homeowner, whose identity we will protect, had been hoarding cats for years. In early May, she broke her hip and remains in a rehabilitation facility. She has a son, but he too spent four days in the hospital for an unknown illness, which left the cats without any care at all. This is when the situation grew more dire.
This is not the first time Hudson Valley Humane Society in Pomona was unwilling to intervene and "do its job," said Doherty, who is schooled in the way cat management functions, or doesn't, in the county.
In a dire crisis like this, abused sentient beings find themselves at the mercy of public officials from the Town of Orangetown and Rockland County who count on intervention from a nonprofit like the Hudson Valley Humane Society, which answers to no one except its board.
Worth noting is that the Hudson Valley Humane Society, according to Howard Phillips – the man who is leading the effort to build a county-wide animal shelter with taxpayer funds – will likely be tapped to run the new facility, if it is built. Phillips is Chairman of Rockland Green (former Solid Waste Management Authority), which took over animal management services on Jan. 1 2023.
The Pearl River hoarding is not the first situation to go awry but this egregious instance, with more than a dozen cats locked in a scalding sealed house strewn with feces, cat urine, and garbage, points to the systemic failures around animal management in the county. Rockland County has one 60-year-old shelter that does not have the authority to seize animals in an abuse or neglect case. The county has never addressed its feral cat problem; scores of people using their own treasure feed thousands of ferals, sometimes in outdoor colonies. In some cases, good-intentioned people become hoarders and their domestic living conditions become untenable.
Amid this crisis, the Rockland County Health Department on May 11 condemned the house, declaring it uninhabitable and a health and safety risk, and last week went to court to get an "order to vacate."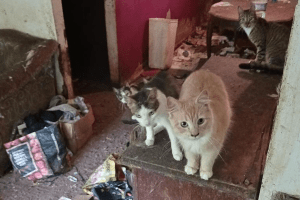 But as of July 3, the surviving cats are still there – being fed by Doherty, who enters the house in a Tyvek suit and a respirator. When she reached out by email to Anne Marie Gaudio on June 21, she wrote that "the situation is truly shocking." She also wrote: "The stench is eye-watering, and you cannot walk anywhere without stepping in excrement." She continued to describe the deteriorating condition of some of the cats, including those that were deceased. She told Gaudio she would feed and water the cats, but begged Gaudio to spring to action.
"Anne Marie and the other Humane Enforcement Officers who work for her — they are the ones we count on," said Doherty. "They are the only ones who can seize an animal in distress. They did nothing for those animals, day after day after day.  Shame on them.  Shame on a board that lets this happen."
RCBJ reached out to Gaudio, asking her if she was planning to seize the cats, if so, when, and what she'd plan to do with them.
Gaudio did not return an email seeking comment.
On June 22, a day after Doherty made an urgent plea to Gaudio, she wrote: "Thanks for reaching out. Sadly, there are a number of locations in similar conditions, and we are addressing them. Is 4 Legs Good willing to accept some of the cats?"
FourLegsGood, which Doherty founded but has since handed off to Nixie Gueits, is a nonprofit organization based in a residential house in New City that traps, fosters, and adopts cats. There are a couple of other small nonprofits in the county that trap or provide medical care for sick cats, but none are equipped or authorized to seize animals.
Still, it is often this core group of animal activists that rise up when there's a crisis to fill the vacuum Hudson Valley Humane Society leaves. In a long and heightened thread of emails shared among about a dozen animal activists, one after the other laments that Hudson Valley Humane Society cannot be relied upon in situations such as these.
Gaudio did go to the house after she received the complaint on June 22 – though not inside it – and told Doherty she would "start collecting the cats, one at a time," but that she couldn't start because she didn't have veterinarian appointments. It is unclear whether Gaudio is planning to seek medical treatment for the cats or euthanize them.
The Hudson Valley Humane Society's website lists its missions. The first bullet point is: "Vigorous enforcement of laws prohibiting cruelty and abuse of domestic and wild animals. Its Humane Agents, trained New York State peace officers, investigate complaints of abuse or neglect and prosecute violators." The facility also says it is a "no-kill" shelter.
In May, the Hudson Valley Humane Society was awarded a $200,000 grant from New York State to upgrade dog kennels, replace cat enclosures, and increase animal capacity. The funding was provided through the New York State Companion Animal Capital Fund.
Only the Hudson Valley Humane Society is in the position to seize animals when there is cruelty and abuse. Police officers from any town or village also possess these powers, but when Doherty contacted the Orangetown Police and Orangetown Supervisor Teresa Kenny, she was told her "the county and Anne Marie Gaudio" were handling the situation.
While public officials play pass the potato, the animals continue to suffer and die.
The Hudson Valley Humane Society, which also defines its mission as a shelter for abandoned and unwanted animals, has flown under the radar for decades. Visitors to the sprawling 4.5-acre wooded Pomona campus dotted with new buildings have witnessed that at any given time there are just a handful of dogs or cats for adoption. The Humane Society also has a boarding operation, as well as a veterinarian practice adjacent to its facility. The Hudson Valley Humane Society has over time taken in everything from geese and ducks to goats and other farm animals but "but they want nothing to do with hoarding situations," said Doherty.
According to its most recent federal filings, it has assets valued at more than $3.25 million, holds a portfolio of publicly traded securities valued at $1.6 million, and has an operating budget of about $750,000 per year.
Orangetown, too has distanced itself from its responsibility for its cats. In 2021, when Kenny and the Orangetown Town Board no longer wanted to pay Hi-Tor Animal Care in Pomona for its services for both cats and dogs, the town struck a deal for its stray and abandoned dogs with the Hudson Valley Humane Society. It made no provision for cats.
For many years, cat activists had tried to educate public officials on the need for TNR (trap neuter return) programs, which pare down feral colonies and blunt reproduction and population explosions. When activists took their campaign to Clarkstown Supervisor George Hoehmann and Haverstraw Town Supervisor Phillips, they met with resistance. The Supervisors would not get behind any kind of TNR program. At the time, Phillips reduced his animal control officer's duties to dealing only with dogs.
Only a couple of years later, Phillips, who is also the Chairman of Rockland Green (former Solid Waste Management Authority), and Hoehmann, who sits on Rockland Green's board, led the effort to take over animal management via Rockland Green, and a subsidiary it has formed.
Phillips recently announced a TNR program at the May Rockland Green meeting, but no resolution has been passed to fund such a program. Nixie Gueits, who runs FourLegsGood from the former Dr. McGuffie house she owns on South Mountain Road, thanked Phillips profusely at a recent Rockland Green board meeting and on his radio show, but there is no documentation on a TNR program, nor has Rockland Green's board voted on a specific plan with any clear logistics. Cat activists say Rockland Green has loosely promised somewhere between $10,000 and $30,000 in TNR funding, but nothing can be verified. A FOIL to request the details of a TNR program from RCBJ to Rockland Green yielded nothing.
TNR may not stop hoarding incidents but paring down colonies of feral cats is an important part of the equation to fixing the systemic countywide crisis.
Phillips has said repeatedly in public he is planning to tap Gaudio and the Hudson Valley Humane Society to run the shelter he plans to build for an estimated $18 million of taxpayer money on 427 Beach Road in the Village of West Haverstraw.  Late last year, Rockland Green awarded an organization Gaudio is affiliated with $10,000 for animal consultancy advice.
How Gaudio will run both the proposed county-wide shelter and her own organization is unclear. For now, county officials and cat activists are trying to get their minds around Hudson Valley Humane Society's indifference to the horrific hoarding situation in Pearl River.
---