RCBJ-Audible (Listen For Free)
Landowner/Developer Eric Bergstol Plans To Build A 454,000-Square-Foot Distribution Center On Beach Road; Site Is Close To Peck's Pond Park, Joint Regional Sewage Authority, and A Proposed Warehouse Conversion Site For A County-wide Animal Shelter
By Tina Traster
An attorney representing a landowner/developer who wants to build a massive warehouse/distribution center in the Village of West Haverstraw on Beach Road told Village planning officials on Wednesday it plans to submit a scale model of the project and DEC remedial recommendations next month.
Attorney Matthew Liponis of Whiteman Osterman and Hanna LLP of Albany told village officials the applicant had been waiting to complete its application with New York State because the proposed project requires an environmental cleanup and capping of the former construction landfill.
Applicants Eric Bergstol, a local landowner, and New Jersey developer Efrem Gerszberg have been working with New York State Department of Environmental Conservation (NYSDEC) to determine the scope of cleanup and remediation needed on the 34-acre vegetative site sitting in the crook of Railroad Avenue and Beach Road. The site, owned by North Rockland Associates since 1969, was an active construction landfill through the mid-1990s, according to Bergstol. Before that the site was a clay pit quarry used when Haverstraw was a brick-making center. In 2019, the North Rockland Associates site was transferred to a new entity, Grassy Point Bend LLC, owned by Bergstol.
The North Rockland Associates site, as it was known, is listed on the NYSDEC's Solid Waste Site Mitigation and Remediation Priority List.
The proposed distribution center sits in a Planned Light Industrial district on the edge of the Village and abuts sites in the Town of Haverstraw including the Joint Regional Sewage Authority, the former Haverstraw Town Landfill, and a newly built but vacant warehouse on Ecology Lane. Haverstraw Supervisor Howard Phillips, who is also chairman of Rockland Green (former Rockland County Solid Waste Management Authority) is in contract to buy the 15,000-square-foot Ecology Lane warehouse and hopes to turn it into an animal shelter. Residents at Rockland Green's meetings have repeatedly raised concerns about the proximity of a future animal shelter near a distribution center that would generate 24/7 truck traffic and air pollution.

Commercial development appetite for warehouses and distribution centers, particularly structures exceeding 250,000 square feet, in the Village of West Haverstraw and in Rockland County continues at a fast clip with controversial projects in Orangetown that impact Route 303, conversion of a pharma campus in Suffern, and the recently-approved Lincoln Equities project in Clarkstown, also on Route 303. Residents in both Clarkstown and Orangetown have pushed back on large warehouse projects, raising issues of truck traffic, air, noise and light pollution, marred viewsheds.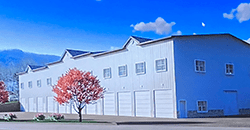 The Village of West Haverstraw's Planning and Zoning boards on Wednesday also heard an application from a developer (Balls To The Walls Two Steps From Heaven) for a 15,000 square-foot warehouse that would be built on three lots. The project, which abuts the Village Fairgrounds housing development, would erect a warehouse comprising eight units to be used by plumbers, HVAC, contractors, painters, according to attorney Frank Phillips, who is representing the applicant.
Former Construction & Demolition Debris Landfill
The proposed 454,000 square-foot warehousing and distribution center would have 76 bays and operate 24/7, according to the applicant's documents. Bergstol has said the footprint of the warehouse would likely cover about 30 percent of the site, with parking and vegetation making up the balance. He said the DEC looks for solutions like this to capped landfills.

"It was a C&D landfill," said Bergstol, using the acronym for construction and demolition debris. "It's been closed for 30 years. It's been sitting vacant and unused. We are turning this into a cleanup operation and re-use for a ratable."
In the early 2000s, the Town of Haverstraw considered acquiring the property, remediating, and using it for sporting fields, but did not secure the grants it sought to offset the costs of remediation. According to the DEC, the site accepted construction and demolition debris from 1962 to 1986 at which time it closed.
C&D landfills typically receive roadwork material, excavated material, demolition waste, and other castoffs from building projects.
On Wednesday, neither zoning nor planning officials questioned Bergstol's representatives about concerns over noise or truck traffic, but officials off the record have expressed concerns. Those same officials also point out that there is frequent flooding along Beach Road.
The site is close to Cedar Brook Pond to the east and Minisceongo Creek to the south, which feeds into the Hudson River. The general vicinity is a mixture of industrial uses, such as Rockland Green's transfer station on Beach Road and other industrial warehouses. But it also abuts Peck's Pond park.
The warehouse proposal does not need a use variance but is subject to a State Environmental Quality Review Act (SEQRA) review, and possibly a detailed Environmental Impact Statement (EIS)  if the Planning Board gives the application a "positive declaration." The Grassy Point Bend project is before the Village's Planning Board and will need to go before the Village Zoning Board of Appeals for several variances, including approvals for a 42-foot height in a zone that allows 35 feet, according to public officials. Code requires 908 parking spaces for a 450,000 square foot warehouse. The applicant has asked for a variance for only 342 spaces.
---