RCBJ-Audible (Listen For Free)
Rockland Green Chairman Howard Phillips Responds To Questions With Misleading Answers; Public Documents Reveal Progression of Purchase & Architectural Fees for Project
By Tina Traster
Rockland County residents like Charlene Palmer have been attending Rockland Green's monthly board meetings to ask questions and express concerns over the planning of a county animal shelter in the Village of West Haverstraw. Rockland Green (former County Solid Waste Management Authority) late last year took over animal management in the county after Rockland County Executive Ed Day divested the county of Hi-Tor Animal Shelter's oversight.
When Palmer asked Howard Phillips, who is both the Chairman of Rockland Green and the Town of Haverstraw Supervisor, how a proposed 450,000 square-foot warehouse across from 427 Beach Road will impact the shelter because of its proximity to the warehouse that's slated to be converted to a shelter, Phillips said the project had been denied its permits.
That is not true.
The applicant for the proposed warehouse has not been denied a permit to proceed with the project, said Mayor of West Haverstraw Robert D'Amelio. In fact, Eric Bergstol, who plans to build the 24/7 truck distribution center on 30 acres atop an uncapped contaminated construction landfill across a narrow road from the proposed shelter site, is due to come before the Village planning board soon.

Bergstol, a local landowner, and New Jersey developer Efrem Gerszberg are working with New York State Department of Environmental Conservation (NYSDEC) to determine the scope of cleanup and remediation needed on the 34-acre vegetative site sitting in the crook of Railroad Avenue and Beach Road. The site, owned by North Rockland Associates since 1969, was an active construction landfill through the mid-1990s.
Palmer, a Palisades resident, also expressed concern about the location where the warehouse building is located. She told the board, which is comprised of the town supervisors, a mayor, town legislators and a county representative, she's worried about flooding. She accurately cited that the building is in a flood zone.
"All of Rockland County is in a flood zone," said Phillips, another statement that is false.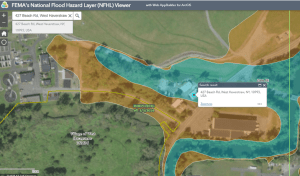 In fact, the warehouse building, which is located close to Cedar Pond Brook, a tributary of the Hudson River, is prone to flooding. The area is in an "AE" flood zone, under FEMA (Federal Emergency Management Agency). AE zones are subject to 100-year floods, which have been occurring more frequently due to climate change.
There are 7,400 properties in Rockland County that have greater than a 26 percent chance of being severely affected by flooding over the next 30 years, according to RiskFactor.com, including the Beach Road site. This represents 11 percent of all properties in Rockland County. The flood zones are mostly located along the Hudson River shoreline north of the Village of Haverstraw, the Mahwah River in Suffern, the Sparkill Creek in and around Piermont, and along some areas where creeks cross through residential areas. The current Hi-Tor building in Pomona is not located in a flood zone.
The Ba Mar Manufactured Home Park in Stony Park, the Squires neighborhood (Lonergan Avenue) in Suffern, and the new shelter location at 427 Beach Road all share the same FEMA risk designation.
AE flood zones are areas that present a 1 percent annual chance of flooding and a 26 percent chance over the life of a 30-year mortgage, according to FEMA. These regions are defined in Flood Insurance Rate Maps and are paired with detailed information about base flood elevations. Most AE flood zones sit in close proximity to floodplains, rivers and lakes, though low-lying regions without large bodies of water may also be classified under this designation. AE flood zones along the eastern coast of the U.S. are subject to flash flooding and impacts from hurricanes, according to FEMA.
Other residents who've attended Rockland Green's meetings have raised concerns over noxious smells emanating from the Joint Regional Sewage Board, which is located just to the west of the proposed warehouse conversion. They have also posed questions about the site's inaccessibility in the county, worry over where shelter dogs will be walked twice daily, and the spiraling cost of the project, which is now estimated to be up to $15 million but will likely exceed that target.

Arlene Kahn of Pomona has pointed out that the alleged concern officials made over smoke coming from the Fireman's Training Center, which is next door to the Hi-Tor Animal Center in Pomona, was a false flag. She told the board that Gordon Wren, the former fire official, said "burn houses have not been used for three to four years and they're switching to propone for flames and artificial smoke." To that she added, "So smoke is not an issue."
In response, Phillips said the issue of smoke was something that originated in a petition that was used to protest the nearby fireworks from Clover Stadium. He's also publicly stated more than once that the petitioner was asking for the animal shelter to be relocated.
Two false statements.
Wayne Kleinman's petition, signed by more than 3,000 people, was asking for the Stadium to switch to noiseless fireworks. That was it.
Phillips has said at Rockland Green meetings that the proposed building will not be sound-proofed.
Noise may become an issue at the proposed shelter site, which is next to a closed former landfill that is used by the Hudson Valley Radio Control Club.  Founded in 2008, HVRCC has 75 members. The hobbyists fly a variety of aircraft powered by nitro, electric powered airplanes, helicopters, and gliders as well. These aircraft, which generate loud noise, fly just like large scale aircraft with the exception that the pilot is flying with a ground transmitter.
Phillips has said at Rockland Green meetings that the proposed building will not be sound-proofed.
Questions over the proposed new shelter seem to be exclusively handled by Phillips during Rockland Green's meetings. Rockland Green has formed a subsidiary, RG Cares, which comprises the five towns and its supervisors to handle animal management.
When Phillips mentioned that estimates were heading toward $15 million at Rockland Green's January meeting, he also erroneously said the county had planned to spend upwards of $20 million plus for the new shelter. That had to be clarified by Rockland Board member and County Legislator Lon Hofstein who said the county's revised ask had been capped at $18 million.
Rockland Green in January entered into an agreement to lease the animal shelter that has been home to Hi-Tor for 50 years. The Public Authority, which does not answer to the county, has been given the responsibility of animal management. Residents asking questions about the proposed plan must rely on Phillips or their own independent research when possible, to get questions answered with accuracy and truthfulness.
Here's what we do know based on public documents.
The Authority has confirmed that "contracts have been signed" to purchase the warehouse building for $3.8 million to retrofit into an animal shelter. In the meantime, Rockland Green is leasing the building for $225,000 a year in 2023.
Things are moving fast for Rockland Green's proposed conversion of a warehouse to a shelter at 427 Beach Road. In January, Rockland Green executed a one-year lease agreement for the 2.2-acre, 15,000 square-foot building. The monthly lease payment is $18,750, for a total obligation of $225,000. The term runs from Jan. 15, 2023 to Jan. 14, 2024.  Under the terms of the lease agreement, the only permissible use for the building is as an "animal shelter".
The lease agreement obligates Rockland Green to purchase the property for $3.8 million dollars (above and beyond the $225,000 rent obligation) and to close on the purchase on or about, but not before January 5, 2024, according to documents. The reason for the deferred purchase, according to Phillips was to help the seller mitigate his tax obligations on the sale.
The seller is Beach Road Industrial LLC, whose sole member is Susan A. Oelkers.
Architect Agreement
Rockland Green has engaged the New Mexico-based architecture firm BDA Architecture, P.A. for "design services for the renovation of an existing building for an animal shelter."
Rates for architectural services range from $355 per hour for senior architects, $190-$275 per hour for principal architects and project managers, and $130-$150 per hour for administrative, technical and design professionals. Rockland Green is also responsible for travel, airfare, car rental, hotels, and similar expenses.
The contract is broken into several stages as follows:

The total fees due BDA under the agreement are $388,960. Additional fees for Mechanical, Electrical, Plumbing & Structural Engineering will up the costs but are marked in the agreement as "To Be Determined."
The county had already spent $524,000 in architecture and engineering fees for the Hi-Tor rebuild project, which was quashed. Those fees were a loss to taxpayers. Rockland Green is starting from scratch and does not plan to use work from the team of architects who worked on the County project.
---