RCBJ-Audible (Listen For Free)
Church Proposal Includes Demolition of Former Girl Scouts HQ on West Clarkstown Road
Plans to demolish the former Girl Scouts office and training facility at the intersection of Red Hill and West Clarkstown Road and build a new two-story church structure for the St. Mary's Indian Orthodox Church are underway.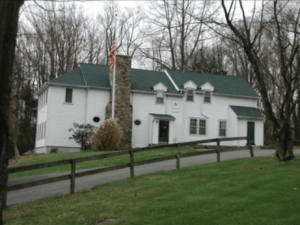 The proposal was presented to the Clarkstown Technical Advisory Committee (TAC) for the 2.48 site, which was purchased by St. Mary's in 2019 for $690,000. Proposed is an 11,672 square-foot structure (5,836 square feet per floor), site improvements, new parking lot and driveway. The TAC is the first stop for proposed developments to be reviewed for compliance with zoning and building codes.
Demolition plans include the two existing structures, parking areas, and site accessories including walkways, the wooden bridge, stone wall, trees, and utility connections. Ninety parking spaces are planned – 20 more than the town code requires. According to the plans, access and egress are designated for both West Clarkstown Road and Red Hill "to ensure there won't be any significant impact on the traffic to both roads and the traffic on site does not get blocked after Sunday mass," according to the documents submitted.
The plan calls for removal of most of the trees on site, and replacement with new ones.
The circa 1900 Girl Scout House was deeded to the Girl Scouts by Addisone Boyce in 1956. Boyce was a well-known and highly regarded gynecologist and surgeon.
St. Mary's is located in Suffern, NY.
Members of the local citizen's group, CUPON (Citizens United To Protect Our Neighborhoods) have raised concerns about over-development on and in the vicinity of West Clarkstown Road. A number of projects have been approved for the road and several are pending, including the redevelopment of Camp Champion and a proposed girls' school.

---
Gov. Hochul Forms Hate & Bias Prevention Unit To Combat Antisemitism, Other Forms of Hate
New York Gov. Kathy Hochul has formed a "hate and bias prevention unit" to combat antisemitism and other forms of hate.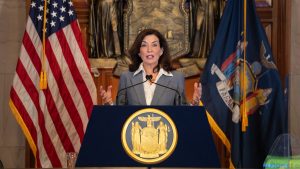 The unit will include public education and outreach efforts, a "rapid response team" to assist communities affected by a bias or hate incident, and regional councils where community members can share concerns, host events and conduct training, among other functions.
Hochul says the new prevention unit will be implemented statewide and embedded in the Division of Human Rights.
"It's not just going to be sitting in a bureaucratic office," Hochul said, adding the new unit will also be used as "an early warning system." The new unit will also mobilize support to "areas and communities in which a bias incident has occurred," according to a press release from the governor's office.
The new regional councils will be organized by the Division of Human Rights.
Hochul's announcement follows her signing of a bill in late November that requires mandatory hate crime prevention training for individuals convicted of hate crimes.
The state also made $50 million available to strengthen security measures at organizations at risk of hate crimes, as well as $46 million in federal funding for 240 such organizations across the state.

---
New York Mall Owner Falls Short on Interest Payments
After securing a five-year loan extension on its 2.4 million-square-foot Destiny USA mall in Syracuse, Pyramid Management Group, which also manages The Palisades Center in West Nyack, has failed to fully cover its interest payments on more than $400 million in loans, according to S&P Global Ratings.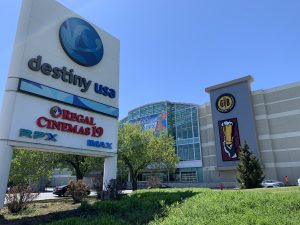 As a result, the bond-rating firm lowered its rating on five classes of bonds issued through commercial mortgage-backed securities deal JPMorgan Chase 2014-DSTY. S&P lowered its rating to D, a designation assigned upon failure to pay a note when due.
"According to the Nov. 10, 2022, trustee remittance report, the trust experienced $1 million of monthly interest shortfalls ($4.1 million in accumulated interest shortfalls) due to reduced debt service payments from the loan sponsor," or Pyramid, S&P reported.
Destiny USA is New York state's largest shopping mall. In June, Pyramid successfully worked with its lender to extend the CMBS loans. Pyramid said then that the five-year extension would allow it to reinvest in the shopping center.
"Destiny USA emerged from the pandemic maintaining its position as the dominant retail and entertainment destination in the region," Stephen Congel, CEO of Pyramid, said in a statement. "The resilience and strength of the shopping center, along with Pyramid's continued efforts to reimagine, redefine and enhance the guest experience, enabled us to successfully extend the loan."
---