RCBJ-Audible (Listen For Free)
Legislators Approve 2023 County Budget; No County Property Tax Increases, Program Cuts Or Layoffs
Rockland property owners will not see a county tax increase in 2023 for the second consecutive year under an $812.4 million budget adopted by the Legislature.
The spending plan maintains the average county property tax bill at an estimated $1,292. The county bill is the lowest compared to taxes paid to school districts, towns and villages. Residents also pay into special government funds like sewers and garbage and recycling collection.


The budget is projected to be supported by $261 million in sales tax revenues and $130.7 million in property taxes. The 2022 budget of $789 million depended on $240 million in sales tax and $130.7 million in property tax.
Rockland County legislators voted 10-1 to amend and approve the 2023 county budget that has no property tax increases, no program cuts and no layoffs.
"I am grateful that by working together, all sides were able to come to agreement on a budget that will continue vital county services and maintain our county workforce – all without raising county property taxes a single cent," County Budget & Finance Chairman Legislator Aron Wieder said.
While there will be no increase in the county property tax, taxpayers are in effect also realizing the equivalent of a tax cut of at least 9.54 percent after the county's Motor Vehicle Tax and Residential Energy Sates Tax were both eliminated in time for the new budget year – neither will be collected in 2023.
The budget also reflects a reduction of the county's portion of sales tax on motor fuel purchases, capping the tax charged to the first $2 of a gasoline purchase, resulting in a roughly $5 savings for a typical fill-up. It is in effect through February of 2023.
Also, the county is also opting into the state's new law that increases the income eligibility for seniors seeking a reduction in property taxes from $29,000 to $50,000 for people 65 and older.

---
Hudson Gateway REALTOR® Foundation Donates More Than $36,000 to 23 Hudson Valley Charities and Non-Profits in 2022
The Hudson Gateway REALTOR® Foundation (HGRF), the charitable arm of the Hudson Gateway Association of REALTORS®, (HGAR) donated a total of $36,500 to 23 charities and non-profit organizations throughout the Hudson Valley and beyond in 2022. As it enters its 10th year of fundraising, the Foundation is gearing up for another year of providing financial assistance to those organizations dedicated to helping the needy in the New York metro area.
"As Realtors and engaged members of the communities where we live and work, our Foundation is committed to giving back to those in need around us and helping where we can," said Gail Fattizzi, President of the HG Realtor Foundation. "Providing grants and volunteer support to local non-profit organizations is one way we do that. We are extremely grateful for the generosity of our Realtor members, friends and sponsors who give of their time, money and energy to support the Foundation's mission of helping our neighbors."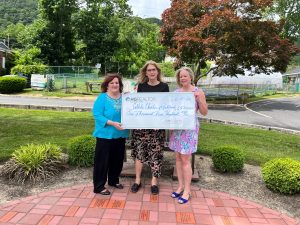 The 23 recipients include four Rockland nonprofits: Catholic Charities of Rockland in Haverstraw, Center for Safety & Change and United Hospice of Rockland in New City and Christ Church in Ramapo.
The Foundation's 2022 events, which included a series of popular Pub Nights, the Runway for Hope Fashion Show, and the Holiday Party, are earmarked for its 2023 donations.
"We are thrilled that our live events were able to return this year and we're looking forward to an even more successful 2023," said Bonnie Koff, Chair of the HGRF Fundraising Committee.
The Foundation is seeking applications from charities and non-profits for 2023. For more information or to apply for funding from the Hudson Gateway REALTOR® Foundation, please visit www.hgrealtorfoundation.com.
Photo: Roberta Bangs, HG Realtor Foundation; LuAnn Kelley, Associate Director, Catholic Charities Community Services of Rockland;  and Mary Prenon, HG Realtor Foundation

---
Time Mission® To Open Dec. 11 at Palisades Center With Charity Challenge To Benefit Several Nonprofits and Girl Scouts
Time Mission®, an immersive challenge game concept launched in Rhode Island in 2021, will expand it footprint with a second location at Palisades Center. To celebrate its opening, the entity will hold a charity challenge on Sunday, Dec. 10th on Level Three, next to the food court.
Several nonprofit organizations will compete for up to $4,000 in funds, including CANDLE, Wonder Girls, Meals on Wheels, People to People, United Way, and several area Girl Scout troops.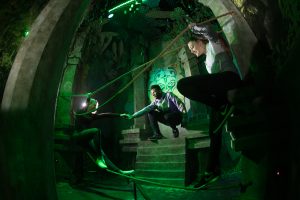 Time Mission sends teams up to five people through 32 different portals into spaces where they collect skill points by completing challenges in under five minutes. Teams can be made up of individuals of different ages as some will excel at one skill, while others will be better at another, making it a perfect family or group activity. There are portals for different skills, such as intelligence, strength, coordination, and skill. Each portal transports players to the past or future in an immersive experience.
"There's so much creativity in this gaming experience," said John Purisima, General Manager of Time Mission Palisades Center. "It's not anything like what you expect just looking at it. It's way more fun than I can describe in words, whether you're competitive or not."
Time Mission is geared to corporate team building, family events, birthday parties, Bar Mitzvahs, etc. Recommended age is 6 years and up. Sessions generally run 90 minutes and teams are encouraged to reserve time online at www.timemission.com.
---
Frank Squeo's Baking Memories 4 Kids To Send Cassidy Ulrich & Family On Trip Of A Lifetime
A decade ago, cancer survivor Frank Squeo made good on a promise to help heal the hearts and minds of children stricken with life threatening illnesses and their families.  Baking Memories 4 Kids (BM4K), founded by Squeo, recognizes that it's not just a child's little body that is bruised, beaten, and torn apart by critical illnesses but their spirit as well.  But it's not their fight alone, watching someone you love as they struggle each day, deals its own emotional, financial, and physical blows to those around them.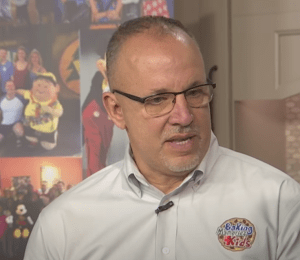 Baking Memories 4 Kids attempts to help heal those wounds by creating uplifting, unforgettable memories for brave families whose battles may be far from over.
In February of 2020, when Cassidy Ulrich was just seven months old, doctors found an apple size, grade IV tumor in her brain.  On top of the cancer diagnosis, Cassidy was also diagnosed with epilepsy shortly after her first brain surgery.  After two years and a new medication Cassidy's parents are hopeful that her seizures are now finally under control.
Every holiday season, Squeo travels the country making families dreams come true. BM4K has awarded more than 230 all-expense paid Florida vacations to families in need of an escape.
On Dec. 9, Squeo and the West Nyack Fire Department will gift Cassidy and her family with a trip of a lifetime.
To help families create Memories of a Lifetime – Baking Memories 4 Kids is hosting its Annual Holiday Cookie Fundraiser.  Baking Memories 4 Kids signature Chocolate Chip Cookies are available through the end of the year:  bm4k.com.
---