RCBJ-Audible (Listen For Free)
Communing In Nature Year Round Is A Strategic Post-Pandemic Option For Company Gatherings In Tents, Tiny Houses & Airstreams
By Tina Traster
The pandemic mostly feels like it's in the rearview mirror. Businesses have been finding a way to get out there again; to network, commune, re-connect. And for some, getting out there literally means getting out there.
Take for example Google Pixel, which was scouting for a location to host its recent Camp Pixel Summit. Rather than book a stodgy hotel with cookie cutter rooms and serviceable food and mind-numbing conference rooms, the company opted for AutoCamp Catskills, a versatile and hip "campground" that opened in June on 37 acres in upstate Saugerties,
Campground, yes, but we're talking a collection of upscale glamping tents, gleaming luxury appointed Airstreams, and tiny luxe suites dotted around a gorgeous soaring common area building with vaulted ceilings and large glass windows evoking Frank Lloyd Wright's architectural philosophy of melding the inside and the outside.

Ulster County, an hour or so from Rockland, is a hot bed of interesting hospitality offerings. The recently opened Wildflower Farms, an Auberge Resort in Gardener, is a knock-your-socks-off retreat with $1,000 nightly cabins spread amongst nature's bounty. From the Mohonk Mountain House, an impressive Victorian pile, to a new generation of boutique hotels in Kingston and Saugerties, our northern neighbor is rich with hospitality offerings that mix it up for business retreats. A former Kingston brickyard has been transformed into a glamping site.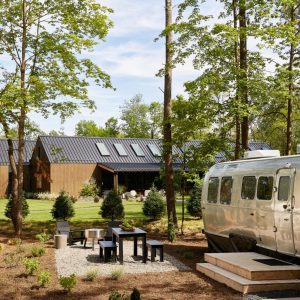 During #TeamPixel's three day retreat, its employees built bonfires, hiked along the Esopus Creek, practiced archery, did forest bathing sessions. A heck of a good way to get to know your workmates, to bond, to do team building. An experience likely to be remembered, not to mention Instagrammed.
Guests hole up at AutoCamp's 65 converted Airstream trailers, 10 sleek tiny-home cabins, and 10 "basecamps" (an Airstream plus a luxury tent). The centerpiece is the clubhouse, where there are games, craft cocktails, and morning meditation. At night, guests gather around firepits. Saugerties is a stone's throw from the camp site.
For all the fun and games, the campground is business ready with wifi and access to screens – even outdoors. For meetings, there are open-plan rooms with huge walls of glass and huge doors that allow people to connect directly to the outside.
"There are lots of transactional hotels where guests check in and check out, don't talk to anyone or make connections," said AutoCamp's manager Evan Pravda. "That's not the kind of experience guests have here. People are communing with nature. There's the shared Club House and fire pits. It's an experience – and for many – it might even be the first time they've camped. COVID really brought people outside."
AutoCamp, which is heading into its first season, is winterized and designed to be a year-round destination. The concept is the brainchild of CEO and founder Neil Dipaola, who founded the first location in Santa Barbara, California in 2016. It started as a basic Airstream rental concept, but viral publicity blew up the property, which sold out for the next 52 weekends.

Fast Company called AutoCamp "the ultimate summer camp for adults" and named Dipaola one of the most creative people in 2019, while Airstream's manufacturer, Thor Industries, has partnered with AutoCamp, creating the world's first Airstream hotel chain. There are campgrounds in Cape Cod, Yosemite, Zion, Joshua Tree and California's Russian River and three more are on tap in Sequoia, Asheville, North Carolina and Hill Country, Texas.
"The demand for outdoor hospitality is growing exponentially every year," said Pravda. "It's really bringing people back to what the soul of hospitality is all about."
In 2021, the global glamping market was worth $2.3 billion and is anticipated to grow at an annual rate of 10.9 percent in the next eight years and reach $5.94 billion by 2030.
There's something romantic about camping: nights under the starry skies, campfires with strumming guitars and ghost stories. But not everyone can pitch a tent or tow a camper. AutoCamp packages the experience and makes it palatable for the camping curious, as well as for companies that want to "go camping" with the luxury of haute design, ready-to-roast s'mores, and locally sourced Hudson Valley amenities.
AutoCamp, which hopes to lure companies to reinvent corporate meetings and retreats, has been attracting Fortune 100 companies like Google and Netflix. But it's also a good setup for small businesses and nonprofits that want to meet and bond without breaking the bank.