RCBJ-Audible (Listen For Free)
2022 Clean Water, Clean Air, and Green Jobs Act Ballot Question Would Initiate Streamlined Funding For Statewide Environmental Projects
By David Carlucci
On Nov 8, New Yorkers will be voting for more than just elected officials; they will determine whether New York state will issue a $4.2 billion bond dedicated towards environmental protection projects.
Called the 2022 Clean Water, Clean Air, and Green Jobs Act, this ballot question would initiate a streamlined funding process for various environmental projects throughout the state. More specifically, the comptroller would have the authority to sell bonds for initiatives focused on climate change mitigation, flood risk reduction, land conservation, and water quality improvement.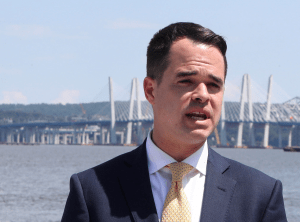 Additionally, the Clean Water, Clean Air, and Green Jobs Act works to address environmental issues through an equitable lens by requiring 35 percent of funds to be given to projects in disadvantaged communities, especially those working to reduce air and water pollution within these areas.
New York has a long history of passing over $30 billion in environmental bond legislation. Since the 20th century, New York has introduced 12 environmental bond acts, and all but one have been approved. The trend began in the 1910s with funding to establish and preserve state parks. In the 1960s and 70s, New York saw a rise in the popularity of environmental policy, leading to bond acts that tackled pollution and reorganized New York's environmental authorities. Most significantly, the bond acts of 1965 and 1972 invested the greatest amount of funds into the environment in New York's history, equaling a combined $15.3 billion in today's money.
In 2019, the State Legislature passed a $3 billion version of the Clean Water, Clean Air, and Green Jobs Act called the "Restore Mother Nature Bond Act," which was placed in the state budget for the 2020 fiscal year but unfortunately postponed due to the extreme financial demands during the COVID-19 pandemic. But now the program is back under the direction of Governor Hochul with $1.2 billion in extra funds to remedy the climate change crisis.
Issues of Importance
The 2022 Clean Water, Clean Air, and Green Jobs Act is mainly focused on four critical issues: water quality, land conservation, flood risk reduction, and climate change.

$650 million from the Bond Act will be used to improve New York's water quality by upgrading current infrastructure and addressing issues such as agricultural irrigation, stormwater pollution, harmful algal blooms, and lead pollution through sustainable programs.

Also receiving $650 million are projects dedicated to conserving New York's natural landscapes and beauty. The Bond Act funds open space and land conservation projects that protect existing conservation land as well as increase access to public parks. $300 million of the allocated bonds will go towards expanding open space conservation.
$1.1 billion of funds will focus on flood restoration and risk reduction within communities near the water. Since Hurricane Sandy, it has become evident that improvements must be made to New York's storm resilience efforts. The Bond Act considers this issue by implementing solutions such as coastal rehabilitation and shoreline restoration.
Lastly, climate change is a global crisis whose expenses will exponentially skyrocket if not addressed now. States like New York must take preliminary steps to protect the environment before climate change has truly devastating effects on the economy, public health, and every aspect of daily life. The Bond Act will invest $1.5 billion into the state's climate change resilience projects.
To learn more about the issues and to request an early voting ballot visit: https://absenteeballot.elections.ny.gov/
David Carlucci consults organizations on navigating government and securing funding. He served for ten years in the New York Senate.