RCBJ-Audible (Listen For Free)
REAL ESTATE DEVELOPMENT
Yet another self-storage facility is slated to be built in Rockland County — but a large facility planned for Orangeburg must first clean a contaminated site that was once part of the Orangeburg Pipe property. The application has been long in the making but the cleanup has yet to begin.
Developers RD Management and BF Orangetown LLC are planning to build a self-storage facility at 5 Greenbush Road in Orangeburg behind Lowes on Route 303. The project plans calls for a two-story, 118,323 square foot, multi-tenant, flex-warehouse/self-storage facility on 5.84 acres located in the LI zoning district. The first floor will have about 64,000 square feet and serve as a multi-tenant flex warehouse space. It will also house a 3,700 square foot lobby for accessing the second floor which will host a 48,000 square foot self­-storage facility.
Necessary variances and site plans for the storage/warehouse facility were approved several years ago and several extensions and renewals were granted during COVID, which delayed the project. Zoning on the site allows for warehouse use.

But before any shovel hits the ground at this site, an environmental cleanup, supervised by the New York State Department of Environmental Conservation (NYS DEC) has to be undertaken and a Certificate of Completion must be issued.
The former Orangeburg Pipe, which manufactured paper cylinders impregnated with coal tar pitch, asbestos and wollastonite, ceased operations in 1973, and the facilities were demolished shortly after a fire destroyed the then-existing structures. The sites to the east of this project (home to Lowes and Stop & Shop) were cleaned up years ago, but this parcel was not part of that cleanup.

When Rockland County Department of Planning evaluated the site as part of its assessment under NY's GML review it wrote, "[t]he site was formerly a State Brownfield site, and remediation has been completed under the New York State Department of Environmental Conservation Brownfield Cleanup Program. A Site Management Plan is in place to control the potential for direct contact with subsurface soil and groundwater contamination remaining on site."
But the County Planning Department's report that remediation had been completed was erroneous. RCBJ reached out to the county for comment but has not received a response.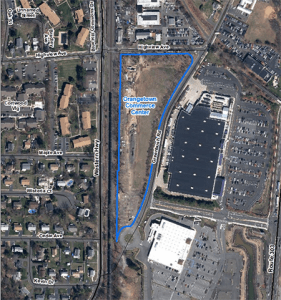 According to the DEC, the remediation is only now set to begin this month and is expected to be completed within 15 months.
The key components of the cleanup include excavation and off-site disposal of petroleum impacted soil/fill, dewatering and off-site disposal of petroleum-impacted groundwater and non-aqueous phase liquid (NAPL), collection and analysis of end-point samples to evaluate the performance of the remedy with respect to attainment of the Commercial Soil Cleanup Objectives (SCOs), and installation of a site cover system consisting of a concrete building foundation, asphalt parking areas, or clean soil.
A site-specific Health and Safety Plan (HASP) and a Community Air Monitoring Plan (CAMP) will be implemented during remediation activities. The HASP and CAMP establish procedures to protect on-site workers and residents and include required air monitoring as well as dust and odor suppression measures.
Once the Certificate of Completion is issued, the developer will be able to redevelop the site and commence construction, and also be eligible for tax credits to offset the costs of performing cleanup activities and redevelopment of the site.
New York's Brownfield Cleanup Program encourages the voluntary cleanup of contaminated properties known as "brownfields" so that they can be reused and redeveloped. A brownfield site is any real property where a contaminant is present at levels that exceed certain delineated environmental standards that vary based on the reasonably anticipated use of the property.
According to the developer's engineers, the estimated cost of the clean-up will be $2.015 million.
As all approvals are in place, the developer will be able to break ground as soon as the cleanup is complete.
---