RCBJ-Audible (Listen For Free)
Benbrooke Tappan, Which Is Redeveloping Tappan Plaza Shopping Center With A Lidl Supermarket, Sells Wendy's Parcel
RETAIL NEWS
Despite higher interest rates and inflationary pressures, investors are hot on the trail for strategic strip center assets. The robust appetite suggests that investors see value coupled with potential as larger malls struggle to reconfigure and downtowns revitalize.
Benbrooke Tappan LLC of Haddonfield, NJ last week sold an outparcel from its Tappan Plaza Shopping Center on Route 303 in Tappan to 2310 86 Street LLC, based in Tuxedo, NY for $1,98 million. The site is home to Wendy's Hamburgers. The buyer, 2310 86 Street LLC, is owned and managed by Simon Bukai, President of Vista Health Solutions based in Suffern.
Benbrooke acquired the properties on Route 303 and Oak Tree Road in April of 2019 for $7.25 million and embarked on a subdivision plan of the 11.75-acre site.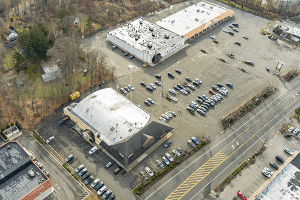 In January, Benbrooke sold off a 2.5-acre parcel at the center to LUS, LIDL's American arm, for $4.5 million. The LIDL parcel has the exclusive rights to sell most grocery and pharmacy items in the shopping center, but allows for the leasing and sales of pet store items, fast food, ice cream, coffee shops, sandwich shops and juice bars.
Benbrooke is also selling the Retro Fitness site adjacent to Tappan Plaza at 47-51 Route 303, asking $2,84 million for the parcel. LIDL has demolished the former Bon Fahyr building to erect a 25,000 square foot building. The building will be turned on a 90-degree angle, detached from the rest of the stores in the strip mall.
More recently, Benbrooke sold the Wendy's site, which sits on .76 acres. The building is 2,872 square feet and was remodeled in 2015. Wendy's has operated in this location since 1986 and recently extended its absolute triple net ground lease for another ten years. According to Locate.com, the fast-food retailer's annual sales at this location are $2.03 million and it ranks 58 out of 191 Wendy's franchises regionally.

The sale came with some strings attached that bind the seller and were intended to protect the buyer. A restrictive covenant limiting the sale of fast food and/or the leasing to a quick service restaurant that sells hamburgers or chicken sandwiches as its principal menu item, such as a Burger King, McDonalds and Five Guys. However, the covenant does permit sit down restaurants that serve hamburgers and chicken sandwiches, such as Panera, Corner Bakery, Chipotle or Qdoba.  There is an "absolute bar" on leasing anywhere in the shopping center to Chick-Fil-A or Pollo Tropical.
These restrictions terminate when the Wendy's ground lease terminates, or if the Wendy's building is used for something other than fast food.
There are reciprocal restrictions precluding the new owner of the Wendy's parcel from leasing to any entity that would violate an exclusive use provision for any other tenant of the shopping center.
The restrictions are valid for 99 years.
In other news, the Bricktowne Square Shopping Center at 236-244 Route 9W in Haverstraw was sold to an investor group in May for $2,52 million. The 13,400 square-foot shopping center, built in 1986, was last purchased in 2016 for $1.35 million. The seller previously sold an outparcel pad-site to a Popeye's franchisee for construction of a new QSR with a drive-through. Popeye's is expected to open in the spring of 2023. The buyers of the main center were a consortium of LLCs made up of JLG Realty Group, Bricktowne Realty LLC, and Cutler Equities LLC, as tenants-in-common.
Also, the shopping center that has been home to Del Arte Italian Restaurant at 20 Mountainview Avenue in Orangeburg sold last week for $3.2 million. The property is 5.6 acres. The buyer is NELA Realty, a New Jersey LLC based in Lyndhurst, NJ and owned/managed by Nela Skender. The shopping center was last purchased in 2000 for $1.3 million.
---