RCBJ-Audible (Listen For Free)
Hudson Park Group's Proposal Is A Mix of Market-Rate Housing; Plan Does Not Include The Acquisition Of Patriot Hills Golf Course
By Tina Traster
A regional developer that has built nearly 2,000 residential units in the tri-state area and the Hudson Valley is proposing to build a multi-faceted community-oriented mix of residential and senior units on nearly 30 acres of the town-owned and largely abandoned Letchworth Village property in Stony Point.
Glen Vetromile, managing principal of Hudson Park Group LLC, a real estate development and investment firm, during a Stony Point town board meeting Tuesday presented a flexible plan to build an estimated 450 market-rate units including townhouses, condos, multi-family, and 170 assisted and independent senior housing apartments. The project does not include retail or commercial components.
The proposal includes a community clubhouse with an outdoor pool, fitness center, yoga studio, coffee bar, cycling studio, movie room, and a community room.
The renderings envision a planned community with sidewalks, lush vegetation, and walking trails, as well as building a town recreation center adjacent to the baseball fields. The plan also calls for repurposing the Kirkbride building to include Stony Point's town court and offices, and to lease the building back to the town. The developer is planning to demolish the bulk of the decaying buildings and remediate environmental issues including asbestos and lead that was used when the former psychiatric center was built more than a century ago.
The 30 acres the town plans to sell abuts Patriot Hills Golf Course to the east and is situated to the west of Knapp Road. The developer is offering to relocate and redesign the 16th and 17th holes on the Town-owned course because the land is contiguous with the proposed housing developments. No selling price has been revealed but previously the town had been planning to sell the site for roughly $3 million to Raja Amar, a Stony Point resident.
"This is a proven developer who's done high-end projects in the past and has a reputation for delivering a good product," said Town Supervisor Jim Monaghan. "There is a need for this type of housing. In 2014, we created an overlay district to encourage these kinds of development uses."
The proposal is in accord with the Patriot Hills Redevelopment Incentive Overlay — a zoning district passed by the Town of Stony Point in 2015 and revised in 2019 to promote private redevelopment of Letchworth Village.
Monaghan, in a standing-room-only crowded with residents, repeatedly stressed that Hudson Park's plan is simply a proposal – not a done deal — and a complete SEQRA (State Environmental Quality Review Act) would need to be undertaken to evaluate traffic, drainage, view shed and other issues on the property and how the development would affect surrounding neighborhoods. Monaghan is handling this proposal more cautiously than the one with Amar because residents had felt that a Memorandum of Understanding had been inked without adequate public input.
This time around, Monaghan and the town council invited the developer to present the project at an early stage.

The proposal comes in the wake of a failed effort by Amar to buy 26 acres along with the Patriot Hills golf course to build a luxury hotel/conference center, and to upgrade the golf course facilities with a new clubhouse. In November, Amar's plans were defeated by a narrowly won referendum on the election ballot. Residents had organized against the plan because many believed Amar did not possess the experience to redevelop the complex site. Many expressed worry he might ultimately re-sell the property. Additionally, some citizens were concerned over the fate of the publicly run golf course.
The new proposal does not include the acquisition or management of the town-owned golf course.
Vetromile said he roughly estimated the project would generate $1.2 million annually in tax revenue.
Letchworth Village has remained a ghostly relic of the past for nearly 26 years since it shuttered its facility. Over the years, developers have come and gone with proposals ranging from senior living to a waterpark. The towns of Stony Point and Haverstraw bought the properties to build town-golf courses in 1998.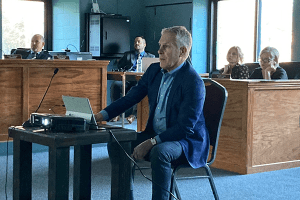 "This is special piece of property," said Vetromile, who made clear that functionality and aesthetics are a hallmark of his developments. "Developments like this downplay the importance of cars. They encourage walking. They're more social, with pocket parks and green spaces."
Hudson Park's portfolio includes residential developments in Tuckahoe and Croton in Westchester County. The developer is underway with a multi-family development on nearly 18 acres on the former Stony Lodge Hospital site in Ossining. The plan, originally proposed in 2014, has over time been scaled back. It is slated to become 95 55-and-older townhouse condominium units known as River Knoll. Ten of the units will be priced as affordable housing, and Hudson Park intends to preserve more than half the site as green space.
Similar to projects Hudson Park has completed or are underway, the buildings are one to three stories, with contemporary "farmhouse" designs.
Hudson Park focuses many of its projects on reviving defunct properties and transforming them into housing developments through adaptive re-use. Although most of the buildings on the site will be razed and remediated, Vetromile spoke of conserving the iconic Kirkbride building, which will house the courthouse.
Stony Point, along with most of Rockland County's towns, is suffering from a dearth of housing for millennials and empty nesters. It lacks facilities for the aging and those who need assisted living and memory care.
"We call this a multi-generational project where people can age in place," added Vetromile.
In Stony Point, the overall population decreased 1.6 percent to 14,183 in the 2020 census.
"It's difficult for young people to buy a house, and Stony Point is made up of mostly single-family homes," said Monaghan. "There are not a lot of rental opportunities or attractive communities for younger people."
The town Planning Board recently approved Eagle Bay, a riverfront development of 256 condos and rentals, aimed at attracting younger people. The controversial development has been in the works for a decade.
Vetromile, a seasoned developer, previously served as a Senior Vice-President at The Related Companies for fourteen years. He is also a board member of Community Capital New York, a CDFI lender that provides grants and loans to start-ups and businesses that are typically underserved by traditional lending institutions.
At the end of the presentation, Monaghan opened the floor to a handful of questions. Residents asked questions about the height of the buildings, road patterns, the relocation of the two golf holes, and open space.
"This is at the very early stage," the supervisor added. "This was an exciting presentation."