RCBJ-Audible (Listen For Free)
RCC Begins National Search For College's 8th President
By Tina Traster
Dr. Michael A. Baston, who has navigated Rockland Community College through a dynamic era of social upheaval, a progressive educational movement, and a pandemic, is leaving his post in July.
He will be replaced by an interim president to be selected by the college's Board of Trustees, while a national search to tap a successor is underway.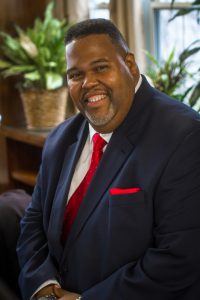 Baston has accepted a new position as President of Cuyahoga Community College located in Cleveland, Ohio, according to a release issued by the college.
Baston, who has served at the Suffern-based college since 2017, has been broadly hailed as a thought leader in diversity, inclusion, and educational initiatives. There is broad consensus that he has been a popular and accessible figure whose accomplishments include launching the Hospitality and Culinary Arts Center in Nyack, introducing a guided pathway academic school model, adding Career and English Skills Academies to address middle-skills workforce needs, to name a few.
Under his leadership, the college has secured $30 million in grants, capital, and other fundraising efforts, including back-to-back Title V Developing Hispanic-Serving Institution awards, the largest grants in RCC's 62-year history.
Baston serves on the Board of Directors of the American Association of Community Colleges (AACC), the primary advocacy organization for the nation's community colleges. He is also a contributing author to Race, Education, and Reintegrating Formerly Incarcerated Citizens, and the Handbook for Student Affairs in Community Colleges. Recently, he was elected to the Board of Trustees for Teachers College, Columbia University.
Most recently, Baston, who has been a teaching adjunct at the college, initiated an outreach program to recruit professionals from the community to become adjuncts. "From Industry To Instructor: Teaching For Professionals" just wrapped a four-week program that oriented 25 community professionals on teaching at the college.
"We are appreciative of Dr. Michael Baston's leadership and inspiration during his time at RCC, especially in light of the unique challenges we faced over the past two years," said Martin Wortendyke, Chair of the Board of Trustees. "We are committed to finding a new president for the college who will continue to amplify and expand on the mission and vision of RCC. Rockland Community College has been serving the surrounding community for over six decades providing educational opportunities for individuals at all ages and stages of life. We will continue to fulfill that mission while embracing and moving forward with many of the initiatives developed over the past several years."

The next president will continue to carry forward the work we have always done in serving our diverse community," Wortendyke added.
Under Dr. Baston's leadership, the college initiated the Beyond Statements Initiative that helped identify specific steps educational institutions can take to foster inclusive excellence.
"He never stops tinkering or thinking about the next potential partnership," wrote Chris Bert in University Business, a trade publication that profiled the president in February.  "But what he is most focused on is students and getting them what he calls "real-world ready."
Bert went on to say that Baston understands his college's unique position in serving a very diverse population of learners and knows that the statistics over the past two years haven't very been positive: 700,000 students lost at two-year institutions, according to data from the National Student Clearinghouse Research Center.
Rockland's demographics also have changed significantly from 25 percent students of color 30 years ago to 52 percent today. Those students have a lot more options, including a variety of education paths, certificate options, and the workforce. Baston has emphasized the importance of preparing students for four-year college programs.
"This was a difficult decision." said Baston. "I have truly enjoyed leading Rockland Community College over the past five years and while the pandemic presented unique challenges, I believe the RCC campus community is stronger and more prepared for the future than ever before. I am proud of what we have accomplished together, and I know my successor will be welcomed with open arms and lead RCC into the next exciting phase of its history."
---