RCBJ-Audible (Listen For Free)
Target, Walgreens, CVS &  Stop & Shop Slapped With Lawsuits Last Week For Nonpayment Of Fines
LEGAL NEWS
Rockland County is stepping up collection of unpaid fines via a spate of lawsuits filed last week in the Supreme Court of Rockland County.
County Attorney for Rockland County Thomas Humbach has filed more tha 15 lawsuits to pursue satisfaction of unpaid fines from retailers and contractors including national chains Target, Walgreens, CVS, and Stop & Shop Supermarkets, as well as local contractors.
Plaintiffs County of Rockland and James J. Elcik, as director and public advocate of the Rockland County Department of Weights and Measures are seeking to convert unpaid fines into judgments.
The violations, ranging from $250 to $2,750, include selling expired food products to failure to maintain insurance to insufficient signage. There are also cases pertaining to food labeling violations and for unlicensed contractors. In total, the county is pursing $13,745 in back fines.
For example, in the suit filed against Suffern-based Mauricio Roque Carpentry, the county is seeking multiple unpaid fines for failure to display a job site sign, failure to provide workers compensation insurance, and failure to provide company lettering on a vehicle. In total, Roque owes the county, according to the suit, $2,750, which includes the fine and penalties.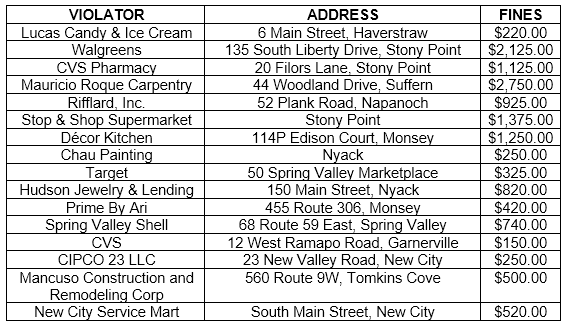 In another suit, the county is pursuing Walgreen at 135 South Liberty Drive in Stony Point, for offering 17 different food items as available for sale beyond their expiration dates. Each violation carried a penalty of $125. Similarly, CVS at 25 Filors Lane in Stony Point, Stop & Shop in Stony Point, and CVS at 12 West Ramapo Road in Garnerville, were also slapped with violations for offering food beyond its expiration date.

At least two entities were fined for failure to maintain liability and property damage insurance. Décor Kitchen at 114P Edison Court in Monsey, was fined in July 2019 but did not show up to the administrative hearing at the county, according to the court file. Décor was fined $1,250.
And Cipco 23 LLC, a New City home-improvement contractor, also failed to carry insurance, and was fined $250 in 2019. Mancuso Construction and Remodeling Corp. at 560 Route 9W in Tomkins Cove was also sued for various failures to issue and comply with contracts with customers.  New City Service Mart on South Main Street in New City was sued for $520 for unpaid administrative fines.
All the violations date back to 2019; payment was due ten days from the date of the notification. Fines are typically paid between 30 to 60 days.
It is unclear why the county is pursuing payment of the fines now but County Executive Ed Day said, "We recently changed our policy to collect these fines. We want to deter individuals from repeating these offenses."
He added, "The actions being taken are so the County can collect low-end fines, many of which are under $1,000, which wasn't being done prior. These suits are just the action needed to lay the groundwork for collection and if needed, file for a judgment."
But Elcik said efforts now to convert the fines to civil judgements is a decision made by Rockland County Attorney Thomas Humbach. Though he said in the three years he's held his job, he's never seen a spate of lawsuits like these, he added that he did not believe the timing was related to COVID-19.
"This is the first time this has happened," he said. "I don't know the reasoning. We issue the violations. The county attorney sought the judgments."
---
---