RCBJ-Audible (Listen For Free)
Local Gen Zers Work To Put Turtle Fitness On the Map With Tees & Hoodies
By Tina Traster
Even Gen Zers with an entrepreneurial impulse sometimes begin with a lemonade stand.
Eric Bonkoski was eight when he "went into business" selling that old-time staple from his driveway. Today the Generation Z 20-year-old – part of the cohort born between 1997 and 2003 – is a serial entrepreneur studying sales and marketing at Ramapo College in New Jersey and working on Turtle Fitness, a branded clothing company with an online presence.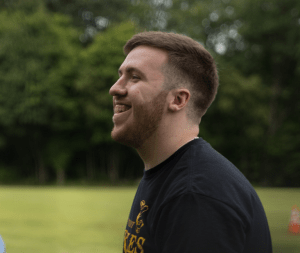 The Sloatsburg native, who moved from lemonade to lawn care and snow plowing through his teens, has only laid the seeds for this fledgling business. But it is worth noting that his entrepreneurial drive and energy is worth spotlighting in RCBJ. Bonkoski is a foretelling of what a generation of young strivers may look like: They understand Internet marketing, they understand branding; they understand merchandizing. And frequently, like Bonkoski, they build their companies from their parents' homes, where they still live.
When Bonkoski mowed and plowed "for a living" as a teen, he used to make tee-shirts with a logo and disseminate them to clients to thank them for their loyalty.
In high school, the entrepreneur borrowed inspiration from his pet turtle Frank – he said the family never had a cat or dog – and put the reptile on a tee-shirt.
"I've always enjoyed designing," said Bonkoski, who is not an artist but sketches conceptual ideas before outsourcing his projects. "I did this when I was on the high school ski team. In fact, that's where the turtle logo began. I put Frank on stickers. And a friend suggested I put him on tee-shirts."

And that's what he – and a recruited phalanx of his "buddies" did: In 2018, in his senior year of high school, the team produced the tee-shirts for $15 and sold them at school, and to friends and family. The team includes Santiago Balbuena Jr, marketing director, graphic artists Hector Gutierrez and Kevin Gonzalez, and photographer Matt Cioffi.
Interest in their tees – which at first Bonkoski admits were poor quality – picked up steam because they became a source of local pride. They were Sloatsburg's turtle; it was personal because it spread via the enthusiasm of young people. Along the way, the turtle slowly, as turtles do, found its way to Mexico, because some of Turtle Fitness's team have family there. The group also donated tees to a turtle charity in Long Island and more recently teamed up with New City's Petey Wheaty's for a promotion.
But they got a big bounce after a stunt (that was not appreciated by school administration) in which the company launched 18 beachballs with Turtle Fitness's Frank during the 2019 high school graduation ceremony.
Excitement over the turtle led the team to post on social media, especially on Instagram and SnapChat. They also produced workout videos. During the height of the pandemic, Turtle Fitness "dropped" a woolen beanie.
"It was a total failure," said Bonkoski. "It took the wind out of my sails. I thought, maybe this isn't going to be successful. It made me take a step back."
Lesson One for every entrepreneur: That first failure will either put you out of business or bring you back twice as strong.
For five months, Bonkoski looked at the overstocks in a box in his bedroom. It kept reminding him that he failed but needed to do better. That he knew his turtle had legs, so to speak, and that this was a 'COVID turtle.'
As the world reopened, Turtle Fitness doubled down. The team upgraded the merchandise to a better quality. It raised its rates to $20 to cover costs and expenses. It moved production from an online company to a Promofect Screen Printing in Suffern, a tee-shirt and print shop.
Late last year, the company incorporated and launched an e-commerce website.
Products are released in "drops," which means a tee shirt, and now the added line of hoodies, are available for a limited period of time.
"Limited editions make the product more competitive," said Bonkoski.
Bonkoski, who will graduate college his spring, along with his team, who are pursuing careers in photography, technology and marketing, knows it will take time and perseverance to grow this baby. But they have time.
Revenues to date have been modest — covering most costs — but Bonkoski says he believes it can be scaled up with time and hard work.
"Business is hard," Bonkoski mused. "I wish it was easier. But I've learned that you should not give up after a failure. It doesn't mean you're a failure. It's a lesson."
A speedy revelation for a young entrepreneur who's branded a turtle.