RCBJ-Audible (Listen For Free)
15th Annual Simona & Jerome A Chazen Business Luncheon To Honor The Late Jerry Chazen At Hotel Nyack On April 12
The lifelong legacy of Jerome Chazen will be honored at the 15th Annual Simona & Jerome A. Chazen Business Luncheon, hosted by Center for Safety & Change on Tuesday April 12 from 11:30 -1:30 at the Hotel Nyack in Nyack.
Chazen, former Chairman and CEO of Liz Claiborne and well-known philanthropist, died at age 94 in February. Chazen championed the movement to end domestic violence. He motivated many businesses to develop socially-responsive programs aimed at domestic violence awareness, education, and prevention.
Simona Chazen, his wife and partner, is a psychotherapist with a private practice in Rockland County. She is also the founder of Center for Safety & Change, formerly Rockland Family Shelter, which opened in 1979. Her commitment to ending domestic violence led to the naming of the Center's Simona & Jerome A. Chazen Comprehensive Advocacy & Support Services (CASS).
Center for Safety & Change is a Rockland County-based not-for- profit organization providing services and support to women and all victims and survivors of gender-based violence and other crimes, including domestic violence, sexual assault, and human trafficking, while working toward justice by creating social change. In 2021 Center for Safety & Change served nearly 2000 victims and survivors, including 562 children and youth, 478 victims of sexual trauma, and 187 victims of human trafficking.
The 15th Annual Simona and Jerome A. Chazen Luncheon will be chaired by Paul Adler, Esq., Phyllis B. Frank, Chief Program Officer at Center for Safety & Change, and Jonathan Schlosser, DOO.
Sponsorships for the luncheon are available at the $5000, $2500, and $1000 levels. Journal tributes to Chazen are available at various levels ($500, $300, $200. and $100).
Luncheon sponsorships, tributes and tickets can be purchased here: https://www.centerforsafetyandchange.org/businessluncheon/
---
St. Thomas Aquinas College (STAC) Names Thomas Flood Vice President of Institutional Advancement
Thomas Flood brings over 30 years of advancement experience across numerous Catholic based education institutions, including Regis High School, R. C. Diocese of Brooklyn, and most recently, St. Francis College.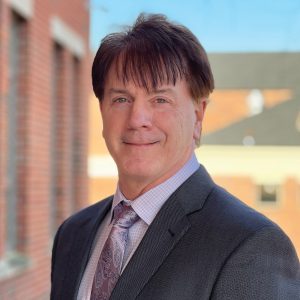 In every role he has held during his career, Flood has implemented significant donor retention and recognition programs and has launched and galvanized a multitude of partnerships with community, education, and faith-based organizations.
"Thomas is a proven leader who embodies the mission-driven mindset that is found throughout our college," says STAC President Ken Daly. "Throughout his career, he has demonstrated extraordinary results due to his drive and commitment to helping students pursue their dreams. He will be instrumental in implementing our new strategic vision at STAC and supporting our commitment to ensure access to an affordable education for all our students as we approach our 70th anniversary."
Under his leadership, the Robert J. McGuire Scholarship – Fred & Judy Wilpon Challenge was launched and selected as one of just six founding members of the Kessler Collaborative, a scholarship initiative that provides funds, experiential learning, and wrap-around services that are essential for first-generation student recipients.
"I am thrilled to be here at STAC," said Flood. "Do well, more, and better – St. Thomas Aquinas College has always done well, is committed to doing more, and treats every opportunity to do better. These words will serve as our call to action and lead us through and beyond where we are, and get to where we could go, because the students and families we serve need STAC in their lives for many generations to come."
Flood serves on the board of numerous non-profit organizations and holds a B.A. in Communications from Boston College.
---

RCC Street Team Marketing Students Team with Nova North To Launch New Logo and Branding Kit
Nova North Commercial, a recently launched New City-based commercial real estate firm, rolled out a name, slogan, logo and brand identity developed by the Rockland Community College's Street Team.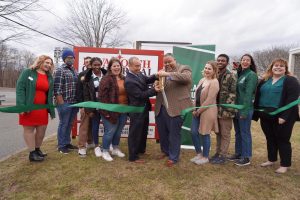 RCC's Street Team is a part-time employment and learning opportunity in RCC's Strategic Marketing Department. The entity includes ten full-time students who are pursuing careers in photography, writing, videography, graphic design, web design, or communications.  Students work collaboratively on projects, including market research, guerrilla marketing, advertising, analytics, and social media marketing.
"It is one thing to have a vision and another to have a dream," said Dr. Michael Baston, RCC's president. "It is a very powerful thing when that dream and that vision come to pass. Our mission at RCC has always been for students to become real-world ready—able to be creative, confident and to make a meaningful contribution–and that's happening right here today."
The students worked on developing market research, compiling SEO keywords, performing a competitor analysis, branding the company through name and slogan, creating a color palette and font guide, designing the logo, and animating the logo into a motion graphic.
Zion Ham, a Street Team member who worked on competitor analysis for the project said, "It is so exciting to see our hard work pay off in the real world."
New York State Senator James Skoufis awarded the team with certificates to recognize their work.