RCBJ-Audible (Listen For Free)
Planned RiverWalk Will Be A Game Changer For Rockland County
Efforts are afoot to complete a trail connection on the Eastern side of the Hudson River that will link the Shared Use Path to destinations along RiverWalk, including the Tarrytown Train Station.
RiverWalk is the planned pathway parallel to the Hudson River that will eventually span 51.5 miles — stretching from Yonkers to the Bear Mountain Bridge. It will connect village centers, historic sites, and riverfront parks. To date, some 33 miles is available to pedestrians and cyclists.
The project has been a collaboration with Westchester County, waterfront towns, not-for-profit organizations, and private developers.
Creating an accessible trail between RiverWalk and the Mario M. Cuomo Bridge's Shared Use Path will open foot and bike traffic from Rockland County to RiverWalk.
The project, which is being spearheaded by Westchester County, the Village of Tarrytown and Scenic Hudson, with active involvement from Metro-North and New York's Department of State and Thruway Authority, will ease traffic congestion, create regional recreation and boost tourism.
Advocates include business leaders, historic sites, tourism groups and elected officials. Bicycle organizations in Westchester, New Jersey, and Rockland, including the Rockland Bike Club, are optimistic about the completion of this project.
In other news, the Village of Nyack has received a $3 million under the Water Infrastructure Improvement Act (WIIA) grant to replace approximately 13,000 linear feet of water main.
---
RCC To Host April 12 Job Fair In Person And Virtually
Rockland Community College will host in-person and virtual Job Fairs on April 12 from 11 to 3 in the Fieldhouse on RCC's main campus in Suffern.
COVID protocols will be followed.
The virtual job fair will be hosted on ZOOM the next day, April 13 from 2 to 7.
Entry is free for job seekers and open to the public for both fairs.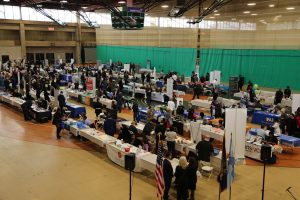 More than 100 companies are expected to participate with openings for part-time, full-time, entry-level, and professional positions.
Regional employers are invited to participate and must register at: https://bit.ly/3B1C4n8 by April 1, 2022. Early bird registration fee (by March 11th) is $85, the non-profit registration fee is $85 and the general registration fee is $100. Registration fee includes both April job fairs and access to an exclusive virtual job fair on Wednesday, June 8, 2022, 11 am – 3pm. The in-person fair includes a 6-foot table, 2 chairs, free parking, and a light lunch.
Registration is not required for students or community members.
The virtual job fair link is: https://sunyrockland-edu.zoom.us/j/88459940677 (Meeting ID: 884 5994 0677) and will be posted on the RCC website. Job seekers will be able to view participating employers two weeks prior to the event.
The Employer Profile Search will open on March 28, 2022. For more information, contact Yonaira Sanchez in the Job Placement Office at 845-574-4216 or ysanchez@sunyrockland.edu.
---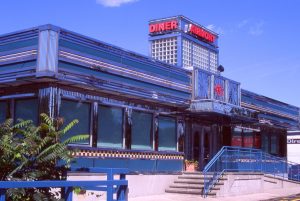 The Airmont Diner Has Served Its Last Meal
A beloved Rockland County eating spot has closed its doors for good.
The Airmont Diner on Route 59 in Suffern has shut down after 40 years.
Owner Dino Kyriacou posted on the diner's Facebook page "To All Our Friends. Yes, it is true that we are closed for good. We will miss each and every one of you. Our best wishes to you and your families."
He added on the diner's website: "The customers of Airmont Diner were not strangers, they are friends and family. I have enjoyed seeing the children grow and bring their families in to meet me. We truly wish our friends a fond farewell."