RCBJ-Audible (Listen For Free)
Splash Car Wash Is A Fast-Expanding Brand That Offers No-Touch Service; Application Is Pending Before Clarkstown Planning Board
By Tina Traster
If the Jetsons took their car for a wash, it might have looked like a trip to a Splash Car Wash – a hands-off, spiffy drive-through experience with lots of lit-up boards ushering you seamlessly through the process.
If you're not old enough to remember the Jetsons, not to worry. The Splash Car Wash chain, which also operates under WashCo brand, is planning to open its first Rockland County location on Route 59 in Nanuet on a former car dealership lot.
Splash Car Wash, a fully automated full-service car wash presented its site plan to the Clarkstown Planning Board last month. The applicant needs a special permit to satisfy buffer requirements. Board members expressed concern over traffic patterns and the ability to maneuver a firetruck through the site located at 140 West Route 59.
But they were dazzled by the idea of the state-of-the-art, two lane, automated service that washes cars in 15 seconds, with a capacity to wash at least 1,000 cars a day.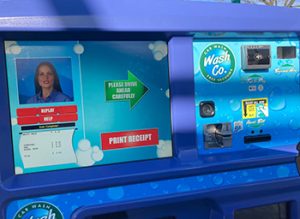 The trip begins at an ATM-type check-in machine, unless you are one of the "tens of thousands" of customers who have subscriptions for the service. If you do, a license plate reader ushers you through quickly. Then, you move along to one of two car washing tunnels, where a sign tells you to put your "car in neutral, feet off pedals, hands off wheel, antenna down." A basic wash is $9. The transaction requires zero human interaction.
But you might have to put your foot on the brake and wait a bit to get to the popular, very powerful free vacuums that are lined up in ropey geometrics that look more like an art installation than a place to suction out dead leaves and other detritus.
Splash Car Wash, a chain of 45 locations, was founded in 1981 in a single location in Greenwich, CT. The company opened its first New York location in Bedford Hills in 1995. The company has more than 20 locations in Westchester and Connecticut, including the recently opened WashCo at 208 Tarrytown Road in White Plains.

The company, growing quickly, is aggressively expanding by acquiring existing car washes and building upon its Splash Car Wash brand. Aside from Nanuet, there are plans to open locations in Newburgh and in upstate Geneva.
Splash Car Wash recently acquired 17 Classy Chassy car washes in the greater Buffalo and Rochester, New York, areas. Splash also purchased four Buckmans express washes in Rochester.
Splash has more than 10 new express sites under development.
"This would be our first location in Rockland County," said Mark Curtis, the company's CEO. "We prefer to open automated car washes where there are dense populations but few car washes that offer automated services."
Curtis said fully-automated car washes are a new generation, though the experience will feel slightly familiar as we have become more accustomed to automation due to the pandemic in everything from the bank to the supermarket to the doctor's office.
Many of the Splash locations include automotive detailing operations. Six locations provide oil change services, and one includes a laundromat.
Back in the early 80s, Curtis was a young commercial loan officer at a local bank in Greenwich, where he grew up. He spotted an ad for a single-location car wash for sale. He and a friend Chris Fisher, bought the car wash and renamed it the very literal The Car Wash, expanding to a full-service hand-washing entity.
In November 2021, Curtis and Fisher sold a majority stake in the company to Palladin Consumer Retails Partners, a Boston private equity firm. Curtis, 64, remains as CEO and the management team is the same.