RCBJ-Audible (Listen For Free)
MPact Collective LLC, Developer Specializing In Revitalization, Hopes To Tie Riverfront Peninsula With Village's Main Street
By Tina Traster
After a long and deliberative process, the Village of Haverstraw has chosen a developer to reshape a critical waterfront property, which in turn is designed to breathe life into the entire village.
In naming the Huntington Station, Long Island-based MPact Collective Inc., LLC, the lead agent in a redevelopment team, village officials are betting the proposed mixed-use project for the former Chair Factory site will be a much-needed and long over-due catalyst for economic growth and vitality. The proposal includes market rate and affordable housing, retail, commercial, and a hotel for the vacant nine-acre Hudson River peninsula.
"We've have been planning, hoping, and wishing for development on this site since 2007," said Mayor Michael Kohut, at a press conference Thursday overlooking the vacant riverfront site to announce the partnership. "This is a long time coming."
Kohut stressed the conceptual plan is not a housing development that's separated from the downtown – as was the oft-criticized Harbors at Haverstraw, which is underway with its final 250 rental units. "This is designed to enliven the downtown. These developers understand that to be successful, Main Street has to be successful."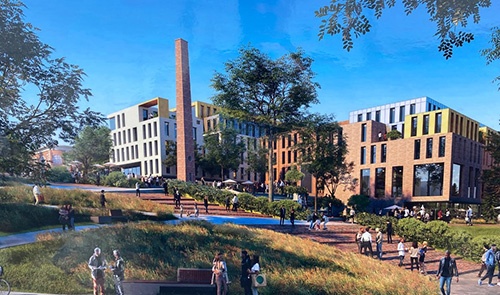 MPact has partnered with a team of affordable housing developers, engineers, architects, and consultants who envision a pedestrian-oriented hub that will include a 150-room hotel, between 200 and 400 housing units, with a significant portion of affordable housing, 14,000-square-feet of retail that connects with Allison Avenue, and green spaces lacing the perimeter of the site to make the Hudson River accessible for kayaking and boating and build in protection for climate change flooding.
"Haverstraw has amazing bones," said Ryan Porter, managing partner with MPact Collective. "It's not our plan to compete with Main Street but to complement it."

The village released a Request for Expression of Interest (RFEI) for development of two waterfront parcels known as the Chair Factory and Damiani Properties in July. The parcels sit on a peninsula at the foot of Main Street at the widest point of the Hudson River with views of High Tor Mountain, Westchester, and Bowline Point Park.
Both the development team and Kohut stressed how important it has been to collaborate with the community, to earn its trust, to be on the same page.
Key to the plan is the proposal to build affordable housing targeted between 30 percent to 80 percent of the total Area Median Income (AMI) for Rockland County, said Dylan J. Salmons, regional vice president for Pennrose, a Brooklyn-based affordable housing developer. A second affordable housing developer, Georgica Green Ventures of Long Island, is also attached to the project. Salmons said affordable housing will be based on the county's AMI $113,000 median income standard for a family of four.
"We like to operate in towns that are coming into a renaissance," said Salmons. "This is that moment in time for Haverstraw."
The village recently won a $10 million downtown revitalization grant from New York State. Kohut expects a portion of the grant will be used for infrastructure on the site.
Thursday's announcement comes after months spent deliberating over four prospective plans.
The mayor said the developer plans to buy the parcel, rather than lease it. No purchase price has been determined but the village has sunk $6.6 million into the parcel to date.
The village is in talks with the developer to acquire properties along Allison Avenue to connect the riverfront building with Main Street. The mayor emphatically added, "this project will not involve condemning any property through eminent domain."
Village officials understand the distinct importance of making this future development integral to the village at large. Many had hoped developer Martin Ginsberg's Harbors  at Haverstraw riverfront housing projects would connect the waterfront to the rest of the village, but that coalescence never materialized. Bringing residents to the waterfront did not have a significant impact on lifting the village's downtown.
Brooklyn Hotel Group, a hotel developer with three Brooklyn projects noted on its website, envisions a 150-room boutique hotel with a hospitality component and a restaurant.
Among other ideas, MPact Collective told village officials it plans to devote a portion of the proposed hotel lobby to expand the Haverstraw Brick Museum, which now occupies a small space at 12 Main Street. In addition, the renderings include the last-standing smokestack used from Haverstraw's brick-making days as a preserved nod to history.
Barretto Bay Strategies' Paul Lipson, a consultant on the project, described the development vision as a community with an urban fabric, "where housing is cheek-to-jowl with business and hospitality." Though the village streetscape has an urban feel, this planned development would elevate the downtown live, work, play vibe. Architect Jonathan Marvel, who is attached to the project, is a descendant of Cuban brickmakers.
MPact Collective is headed up by managing partners Porter and Sean McLean. The pair have been involved, in conjunction with Renaissance Downtown, with four other ambitious revitalization projects in New York. The City of New Rochelle tapped RXR Realty and Renaissance Downtowns to develop more than 11 million square feet downtown, including city-owned sites and Transit Oriented Development (TOD) clusters.
A decade ago, the MPact team, formerly Renaissance Downtowns, was named Master Developer in a public-private partnership with the Village of Hempstead in Long Island. The project, which includes more than five million square feet of development, the purchase of 30 acres of developable land and site plan approvals for five projects has been bogged down by legal wrangles and political winds for a decade.
One observer in the development community said, "Long Island is not a 'big thinking' place. But the developer is doing well considering all the setbacks. The project involves a lot of empty parking lots, commercial space, offices, and retail. They're working on getting all the pieces to fit together."
In what is good advice for both the developer and the village, the observer added, "It's all about process before plan. It's important for a developer to work with the community on an agreed set of goals before its put's pen to paper."